Waterbased Finish Schedule for a Cherry Kitchen
Finishers share their schedules for Cherry kitchen cabinets. January 29, 2009
Question
I'm struggling with my finishing right now. I keep trying new things and that's getting me in trouble. I'm looking for a good schedule for finishing kitchens, baths, and library cabinets. I'm building a cherry kitchen right now. I would like to use all water based products if possible. I have used oil stain then seal with sealcoat then my wb topcoats.
With all this new technology, is there a good start to finish water schedule? I have also tried transtint dyes. Should I spray the dyes and not wipe or should I spray and wipe? A full schedule that you are currently using with water would be greatly appreciated.
Forum Responses
(Finishing Forum)
From contributor B:
Most of the cherry I spray is stained to a mid tone level. I use Fuhr waterbase products now and just did a full sample line.
1.) Sand to 220
2.) Wash coat using sanding sealer (5% solids). Spray it 3-5 mils. Allow to dry 10-15 minutes.
3.) Once over with a maroon scotch.
4.) Spray Fuhr's dye stain even and slightly wet. Don't wipe. Let dry for 20 minutes.
5.) Spray another wash coat of 5% sanding sealer 3-5 mils. Allow dry 10-15 minutes.
6.) Spray wiping stain and wipe of with "rag in a box". Work the stain out and blend even with the grain. Don't squeegee it off or rub it off hard. Allow to dry 20 minutes.
7.) One good coat of sanding sealer full strength. Allow to dry 15 minutes.
8.) Once over with maroon scotch pad.
9.) Spray on glaze and work it with "cheese cloth". Remove until you get the look you want. I leave mine a little heavy. Allow to dry 20 minutes.
10.) One more coat of the sanding sealer (full strength) 3-5 mils and flat sand with 400 and once over with maroon pad again. Allow to dry 20 minutes.
11.) Spray one coat of final finish coat full strength 3-5 mils.
12.) Once over with maroon pad to get all the final nips out.
13.) Spray final coat heavy around 5 mils. My final coat flows out a little better when you lay the last coat heavy when using waterbase.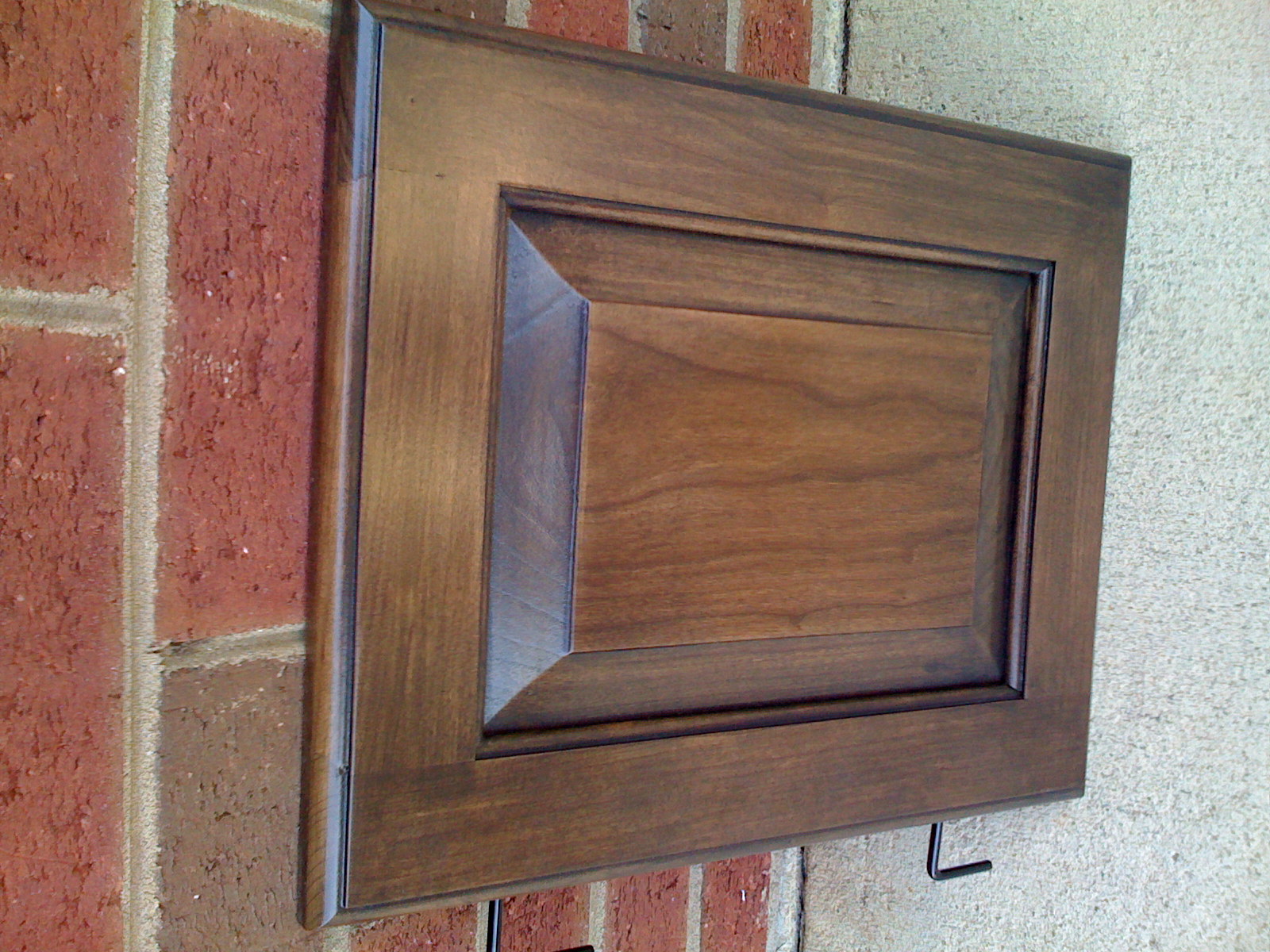 Click here for full size image
---
From contributor O:
Nice work! Which Fuhr products do you use for seal coat and finish? Also, do you use the same for glaze? Which color stains did you use for that great looking door?
---
From contributor B:
I used the following:
360 or 365 sanding sealer for all my wash coats and seal coats.
155 spray dye stain (Driftwood) as my first stain.
165 spray and wipe (Black Walnut) as second stain.
195 spray glaze (Black) for my highlight glaze.
375 Waterborne Pre-cat Lacquer (satin) for my topcoats

---
From contributor D:
I have done the waterbourne over oil stains with a shellac tie coat, but you can get crazing with some waterbases (Fuhr) over shellac. You said you would like to use waterbased, but if you're open to solvent based please read how simple a good stain/glaze finish can be.
Regarding the sample door photo and finish schedule – it's way too complicated for anything outside of a small project. We just finished a kitchen this week with solvent based finishes. This is only six steps and most likely more durable than waterbased topcoats.
1. Sand 120- you can sand plywood to 150 if your concerned about hardwood and plywood exactly matching.
2. Wipe on Gemini stain - wipe off 1 min. No blotching. Work sample boards to find stains that are easy to apply.
3. Seal - SW CV.
4. Sand 220.
5. Wipe on Van Dyke Brown glaze-wipe off 1 min.
6. Heavy topcoat SW CV.

---
From contributor B:
Your right solvent can be done quicker and with less steps, no doubt. I use to use Gemini and SW solvents myself. I'm in Atlanta area and they are readily available. However, I made the switch this year to water because my spray schedule is not as demanding as it was three years ago and the desire for a "safer" product was also a major consideration. I also have a quickie finish process as well using Fuhr: (I usually use this process for my kitchens under 25-30K).
Sand to 220 wood 320 ply.
Dye stain.
Wash coat and scotch.
Spray and wipe.
Wash coat and scotch.
Glaze.
Heavy top coat.
Final finish was every bit as good looking of a finish as I ever got with the Gemini and SW solvents.
By the way the door sample and process used in the image was for a 64K kitchen in The Country Club of the South outside Atlanta, GA - not too small.

---
From contributor L:
To contributor B: Where do you get your Fuhr products? And how about the sprayable glaze product - is it ready to spray or do you still have to reduce it somewhat?
---
From contributor B:
I bought all my Fuhr directly from them. I ordered about $800 worth of product to come up with in-house color sample selections. I ordered gallons of their sanding sealer, topcoat in three sheens, white pigmented lacquer in two sheens, pints of 9 dye stains, 9 spray and wipe, and 4 spray glazes (all pre-selected as to colors that seem to be liked in my area).
I then spent three days spraying samples on 3x6 cherry and maple blocks. This gave a great indication as to what dye stain/wipestain/glaze combinations looked and worked best. Very time consuming but a great help in achieving a baseline for selecting a stain color product line. I highly recommend doing this.
I cut the spray glaze about 10% to make it last a little longer when doing the samples (pint). However, I didn't need to when production started.