Webbing Spray, or Veiling Stain
Advice on guns and tips for achieving this unusual look. January 21, 2010
Question
I've been asked to make a table with this finish. Since the sample is a production piece, I assume it is sprayed on with some sort of spray gun. Has anyone tried this? Or have any information on this? We do faux finishes, but this is a first for us.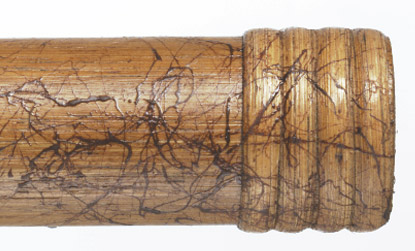 Click here for higher quality, full size image
Forum Responses
(Finishing Forum)
From contributor V:
If you pull the outer (pattern cap) off your spray gun it will do this. You could also just drizzle it with a brush or something. You will most likely need to put a drying accelerant in your finish to keep it from spreading. Or leave a can open for a day or two to thicken it up. Maybe a glaze would be best.

---
From contributor I:
It's done with a webbing gun/tip. I think Devilbiss makes them.
---
From contributor R:
How about mixing up some colored lacquer and putting it in one of those glue bottles a lot of the hardware suppliers hand out. Cut off a small area of the tip and squeeze away.
---
From contributor P:
Becker Acroma makes a product that does that with a conventional gun. It's called a veiling stain. You have to minimize the air on the gun to apply. It's pretty simple and can be tinted to any color. You then should topcoat it with a quality clear.
Steps are:
1. Stain
2. Seal
3. Sand 320
4. Veiling Stain
5. Topcoat

---
From contributor G:
Veiling stain it is. Chemcraft invented it in the mid-90s, then MLC made a version. I marbleized a couple of pool tables for a manufacturer once and sprayed a Jack O'Lantern with black webbing for Halloween. It's fun stuff to use. Dilution and gun settings change the effects. It comes out of the gum as webs, specks, lumpy (as in the pic) or it can lie down flat. It can be tinted with UTC or mixed with metal powders for gold streaks or dust.
---
From contributor J:
If this is a one time thing consider this alternative in an aerosol.
---
From contributor N:
A veiling gun is a pressure-feed internal mix gun does this look using veiling lacquer. Veiling materials are often used in making cultured marble. DeVilbiss does not make a veiling gun. They do make a decorator's gun, model #MSA-510-DEC but all that gun does is shoot flyspecking. Graco used to make a veling/spatter gun, model #600 N. That this gun is no longer in production. Iwata bought the Graco the and makes an identical spatter/veiling gun, model SGD-71, costing about $450.