What Tree Species Will Hold Their Bark?
Some species will keep bark on when they're felled and sawn, but it also depends on the time of year. April 20, 2011
Question
I need to cut a lot of slabs for a customer, but they want the bark intact. What species, in the Midwest USA keep their bark on when dry? I think basswood does, yes?
Question
(Sawing and Drying Forum)
From contributor C:
Iím not sure if any particular species retains their bark after milling as much as when the felling of the tree took place and possibly the milling as well. Summer felled will shed their bark.

---
From the original questioner:
Well, I've been to animal shows, where people are selling cat-climbers. And the branches on those things are nice and dry, and the bark is in-tact. Sort of looked like basswood to me but there must be other species.
---
From contributor R:
Do they want it kiln dried? I don't know if I've ever seen any kiln dried with the bark on. If it's not kiln dried, you may be selling him some powder beetles too. I agree with the time of year cutting. I don't think any wood will hold the bark when the cambium is soft and growing.
---
From Gene Wengert, forum technical advisor:
I agree that time of year is extremely important.
---
From contributor A:
Basswood and sassafras are two of the best and you can get ERC and walnut to hold it if cut in the fall and winter time. Sometimes logs just hold it and other times let them go. Hickory will shed it no matter what as will ash most of the time. I have had a few cotton woods hold but it was thin bark for cotton wood.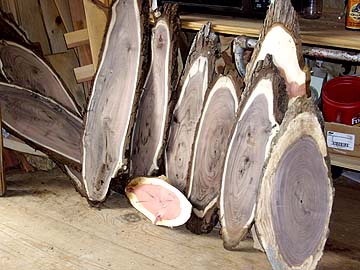 ---
From contributor H:
Any wood will keep its bark on but don't use spring cut logs! The best success is to have the tree go from stump to kiln and within days the bark will stick at that point. We make bark trim and mantles with great results. If you have a piece that feels loose use a brad nailer to hold the bark on you can't see the small nail holes.