What's Better for Built-Ins: A Dull or Satin Finish?
Finishers consider the practical and esthetic aspects of dull, satin, and glossy wood finishes. December 23, 2014
Question (WOODWEB Member) :
Lately we have been re-thinking our finishing processes. One of the topics of discussion is sheen. We build/install mostly built-ins in rooms other than the kitchen: guest rooms, libraries, etc. Some of the cabinetry is left natural with only clear coats. Most are stained (dyed) then clear-coated. Occasionally we get some paint-grade projects. We have been using a water-borne clear topcoat in Satin (35) sheen. The same product is also available in Dull (15) sheen.
The questions that we have fall in two categories. First, what does the customer want? Second, are there any technical issues that we need to know about if we start using Dull sheen? This may simply be a matter of personal preference, but we would like to know what some other professional finishers have experienced and would be willing to share with us. We would be very appreciative.
Forum Responses
(Finishing Forum)
From contributor K:
Sheen really does come down to personal preference. Dull is always better for the finisher as it hides imperfections better.

---
From contributor A:
I would think that semigloss (over 65) would be more typical. I would think that gloss would be more common than dull. However, it definitely costs more.
---
From Contributor C
:
The following is a purely logistical opinion. Through my own experience, whether for built-ins (which is a typical utility app) or in general usage, flatter finishes, per vertical or horizontal surfaces, will become dust magnets and difficult to clean and maintain. One exception might be a flat finish protected from dust collection via wood/glass doors or panels, though in time, debris (especially smoke) does have a way of penetrating even the most tightly-sealed compartments. Personally, as a prospective purchaser or product provider I'd stick with some amount of sheen on the utility finish.
---
From contributor R:
Are you talking about production work, or custom? I'd say it is the customer's preference. Why the discussion in your shop? Don't you take finish samples to the customer for final approval?
---
From Contributor G
:
If they make the sheen with flattening paste then the duller you go the softer the finish will be. The correct way to get the proper sheen is to do all of your coats with gloss and the last coat is your sheen coat. This makes the coating as hard as it can be. Putting layers of 15 sheen on a cabinet will lead to a softer finish than if you put on gloss then one final coat of 15 sheen.
The higher the gloss, the more defects it will show. If someone asks for semi or gloss I up charge for the extra amount of labor that will go into the job to make the small defects less noticeable. When I first started finishing I used dull. Then I went to satin after getting better equipment and gaining experience. I still don't like to do anything higher than satin because of the amount of extra work you need to put into it. Most clients will not understand the extra work as they figure you just spray the finish on and there is no scuffing in between. Which of course is the hard work, the spraying is the easy part.
This took about a week to do, if it was just satin it would have taken an afternoon. QSWO has a deep grain structure. Full fill, two triple layers of level sealer with two days of drying each with a full sand out to level the finish.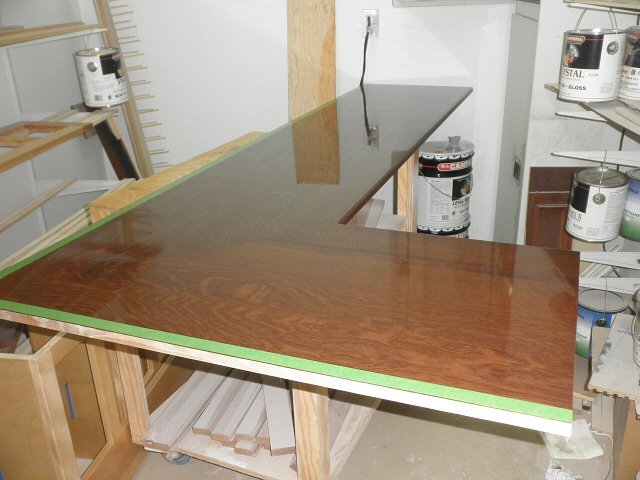 Click here for higher quality, full size image
---
From contributor B:
For years I always did flat finishes unless otherwise directed by the client. Not all MFG's sheens are the same. The MFG I use their flat is what I would consider closer to a matte. A flat finish to me looks more like a traditional waxed finish giving it a nice warm look. Also satin, matte or flat finishes hold up better over time as they don't show scratches as obviously as a gloss or semi finish. For the last couple over years I've been going with a satin finish that it's a little on the matte side (I blend my own using gloss and flat). As Contributor G noted the sheen choice is only for the final coat.
---
From contributor F:
My personal preference has to do with the color and the wood grain. Darker woods and stains look better to me with a 35 sheen or higher. If you go much lower than that the flattener can start to produce a whitish cast that obscures the color and the figure of the wood. The effect is not too bad with a 20 sheen but a 10 or 15 just looks cheap to me on darker finishes.
---
From contributor A:
Threee coats of a clear less than semi tends to cloud the finish. That is the primary reason for using build coats of gloss. Cabinets painting with flat look like you sanded them and forgot to topcoat. The only thing in a house that is flat would be the ceiling.
---
From contributor X:
I tend to use flat finishes on distressed jobs that I want to look old, otherwise I use satin unless specified by the customer. The problem with flat/dull finishes is they will develop shiny spots where they get touched or rubbed often and can't be fixed without re-spraying. I agree that sealing with gloss can give a harder finish but the tradeoff is it won't sand as good as a lower sheen finish or sanding sealer.
---
From contributor M:
For painted items, dull. Otherwise they just look like cheap plastic to me, and my clients. For stained and natural items, we still prefer dull, but satin definitely has its benefits on natural wood. Darker items, we prefer dull for sure though. For simplicity sake, we only do dull. Most of our customers don't care between the two.