Wood Gate Lumber and Joinery Choices
Pros discuss lumber choices and joinery details for fancy custom garden gates. September 7, 2011
Question
I am primarily a cabinetmaker, but a past client wants me to build a pair of arched entry gates for his courtyard/entry. It's a 5 foot wide opening with the active door to be 3 feet and the inactive 2 feet. They will be 63' at the hinge and then taller at top of arch. He wants 2 1/4" thick by 5 1/2" stile and rails with a 3/4" centre v-groove panel. I'm located in the Pacific Northwest so will be in a wet climate.
Originally I had thought to use clear cedar, but one of my suppliers suggested sapele or white oak, which he has in 12/4 thickness and are both very decay resistant. What are your thoughts on this?
Do I use the same for the center panel or possibly something more stable, such as Medex (exterior grade MDF), and route in the grooves and not have to worry about expansion, etc.? It will be painted and each gate will be on three ball bearing hinges.
Forum Responses
(Architectural Woodworking Forum)
From contributor A:
Stick with cedar or redwood. White oak is indeed rot resistant; however, it doesn't look very good painted. Sapele is a fine wood which would work in your application. The current standard on the east coast would be Spanish cedar. It satisfies all of your requirements. Exterior grade MDF is good stuff. Make sure you get the real stuff and not that moisture resistant junk.

---
From contributor M:
I don't know that frame and panel type construction is a good idea without any cover. Traditional solid gates used either a horizontal clapboard type panel or tongue and groove attached to a frame, bottom rail having the edge pitched to remove water.
---
From the original questioner:
I realize this is a lot of wood for a hostile environment, but this is what he wants. I had planned to bevel the bottom rail; in fact, that was the owner's idea.
I wondered about the oak also - I don't believe we have the Spanish cedar around here and was concerned how soft the red cedar is.

---
From contributor J:
Can you skip the panel dado on the bottom rail? If you use the Medex, you could just butt it to the rail, bevel both sides, and shoot a few screws through the rail from the underside to hold the panel straight. Not a typical construction, but I don't like the idea of that groove collecting water with your panel soaking it up.
---
From contributor T:
I would also second the use of cedar, clear if your client can afford it. 8 years ago I made a rail and stile gate with floating tenons with cedar lattice panels in dadoes. I have painted it once and it is still in good shape despite rain and snow and my son's pucks hitting it. If I had to do it again I would have filled the dadoes where the lattice is open on the bottom rails with some blocks.
---
From Gary Katz, forum technical advisor:
I've gone around and around with materials for gates, too. I'm in the process of building these out of western red cedar. I may use Timbertech deck boards for the vertical paneling. Copper pipe for the grill. I'm cutting mortise and tenon joints for the stiles and rails, but the panels and short stiles I'm installing with dominoes, no grooves.

Click here for higher quality, full size image
---
From the original questioner:
Thank you for the replies. I think I'll go with the red cedar. I can get clear cedar easily in 12/4 and 4/4.
With a 5 1/2" rail, I don't like the idea of a long screw for structural reasons, and also this is in a marine environment and therefore corrosive to metal. I am also concerned about the moisture from the bottom, but thought about spacing the panel up off the bottom of the groove and possibly adding a few weep holes.
I was also going to use the floating tenons in construction. I agree that the paint should last fine - I have painted cedar siding on my house and it was only repainted once after 10-11 years. I plan to paint the panels before construction, so if there is shrinkage, it won't show by the paint.
Gary, you definitely have more joinery issues than I will, it but will be very cool when you're done.
This customer has been waiting for me since March and wants me to have fun with it - good type of customer to have. Also, as I'm finally feeling the slowdown, I'm hoping they might decide to remodel their kitchen!

---
From contributor G:
Gary, I have no direct knowledge here, but intuition is telling me there might be color change issues where the copper and the red cedar meet.
---
From Gary Katz, forum technical advisor:
I expect there will be. I'm hoping it will be dramatic. I plan on aging the copper with salt and vinegar first.
---
From contributor G:
I see. I think the vinegar and salt will clean the copper and, if you don't rinse it, will allow the tannin in the cedar to form verdigris.
---
From contributor D:
The panels should tenon into the lower rail to prevent the v-joint from funneling water into the joint. The sticking should help shed water, and top rails should have a 5 degree bevel also. This gate has beveled top edges, tenoned panels and the boards are spaced to allow movement. They float only in their own width, not as a whole.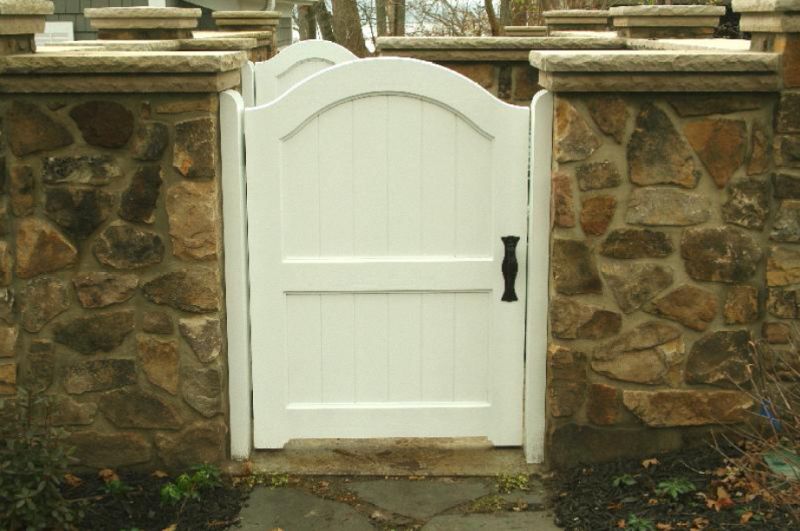 Click here for higher quality, full size image
---
From contributor D:
Another method of preventing the V-groove water traps in the lower rail is to reverse the construction. That is, machine a groove in the underside of the panel and a tenon on the top side of the lower rail. That way the panel straddles the spline, allowing both movement and water shedding.
---
From Gary Katz, forum technical advisor:
I was going to use dominoes for all the panels and short stiles flanking the panels, and not groove the rails at all. Those grooves would have to be stopped for the pipe grills, and I don't want to hassle with that, I just want to drill holes for the pipe. I know the panels and planks will probably have light around them from shrinkage, but that's okay with me.
---
From contributor S:
What kind of glue will you use for these gates? And Gary, have you used Dominoes for exterior applications? Good results? Love these kinds of projects. They are fun, as well as low stress, but challenging.
---
From Gary Katz, forum technical advisor:
I've used Dominoes for exterior trim, but never for anything like this. I've managed to scrape up enough time to assemble the first gate and I have to say, the Domino machine worked a lot better than I expected. I was pretty surprised. And I learned a lot - learned that I can actually rely on the precision of the index pins and the view windows a lot more than I thought. It made the job very easy. I didn't have to worry about cutting stopped grooves for the panels or any other nonsense like that.
Here are two photos - one showing the index pin on the outside of the stile, and one showing the view window aligning with the layout line on the rail.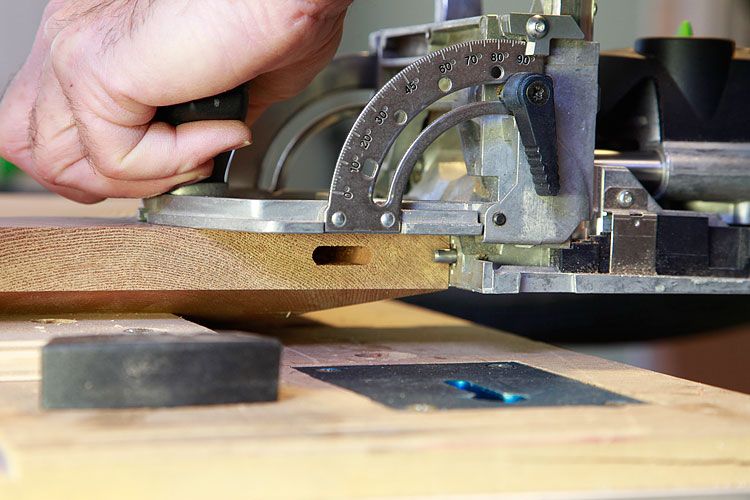 Click here for higher quality, full size image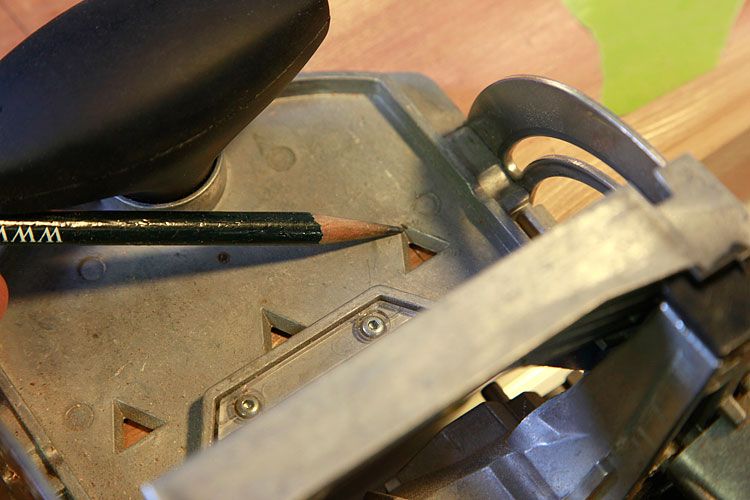 Click here for higher quality, full size image
---
From contributor S:
Probably the best way to patina copper is with a solution of copper sulfate. This can be obtained from stained glass supply stores and sometimes at the hardware store as copper patina solution.