- Spatter Finishes and Faux Solid Surfaces
Faux finishing techniques can be used effectively to make wood look like solid surface materials. July 26, 2005
Reprinted with permission from Custom Woodworking Business.
Faux finishing techniques can be used effectively to make wood look like solid surface materials.
By Mac Simmons
Sales of solid surface materials are growing by leaps and bounds. These attractive, durable and versatile materials are now being used to cover more than just counters, cabinets and vanities. They also are being used for vertical and horizontal applications, interior and exterior lighting, wall paneling, shelves and racks, windows treatments and more. They have proven their worth and value over the years with their beauty and attractive appearance.
Today, solid surface materials are being combined with chrome, stainless steel, tiles, granite, glass and other materials, including a multitude of woods. (Hmmm, wood; now, that rings a familiar bell to me.)
As a finisher, after looking at samples of some solid surface materials and seeing their coloring and patterns, I knew they would be easy to duplicate. By using faux finishing techniques, the look of solid surface can be replicated on wood mouldings, window frames, backsplashes, table bases, adjoining walls, doors, cabinets, vanities or wherever your design imagination takes you. You can use the faux finishes to complement or match the same color as the solid surface material. And by combining the two media (faux finishes and solid surface materials), you can offer a wide variety of choices to your customers as you design their projects.
Start with the Base Color
All finishing starts with samples, so be sure to write down each formula and the process you use to achieve any color and final finish. When making up samples, remember that they are only a test, and it may take more than one sample to get the right colors and finish. Always keep in mind that you cannot tell the true colors until you have applied clearcoats over the wood and colorants. The faux solid surface finish samples done for this article were quite easy to do. With a little adjustment, you should hit or at least come fairly close to producing the same background colors. Always start lighter, adding a little color at a time while making it darker. A perfect color match is not needed, as the colors blend together rather well. Apply a clearcoat if you use a stain or tinting toner for your base color, so you can see the true colors. If you use an enamel or gloss-colored coating, a clearcoat is not needed.
Some solid surface materials are translucent. In this case, I suggest using a thinned-out, pigmented tinting toner, which provides a better color match.

This sample set shows the progression of a faux solid surface finish, starting left to right with a base color coat, after the spattering has been done and after application of the final clear coats.
Colors, patterns and effects
The faux solid surface samples in my photos show different background colors with a variety of various-sized dots. These dots are sometimes referred to as flyspecking, distressing or spattering. You can create them by making a simple distressing stain using an oil, Japan or universal pigmented paste colorant. All of them come in numerous colors, and they can be purchased at a finishing supplier or arts and crafts shop.
Here is a sample paint stain formula you can use to make up a trial batch of distressing stain:
• 1 teaspoon of any one of the above paste colorants
• 2 tablespoons of mineral spirits
• 1 tablespoon of boiled linseed oil (to act as a binder)
Mix well and cover tightly when not in use.
Thinned-out paint can also be used for doing spattering.

This photo series shows four different methods for adding dots onto a base coat to create a solid surface-like pattern. Top to bottom, they show: Flicking color with a stiff bristle brush; tapping color using a piece of wood; using a spatter brush; and using a special effect air and fluid nozzle on a spray gun, for production finishing.
There are several techniques that can be used to create the dots and patterns (see photos):
• Flicking colors – Use a stiff bristle brush. (I prefer using a stencil brush). Dip it into the distressing stain and with your finger, flick the brush bristles onto some old newspapers and look at the size of the dots. You will find that the wetter the brush, the larger the dots; when the brush is drier, the dots are smaller and finer.
Look at the solid surface material you are duplicating to check the size of the dots. Once you have obtained the right size dots on the newspaper, you can flick the paint stain onto your sealed base color sample.
• Tapping colors – Another technique is using a piece of wood and tapping a flat bristle brush against it. This creates scores of dots. Again, always do a test on newspaper until you get the right size dots.
• Spatter brush – This tool is specifically made to produce spattering. It can be purchased in most arts and crafts shops.
• Spray distressing/spattering – If you are doing production finishing, you can buy special-effects air and fluid nozzles and a needle valve for your spray gun and create your dots that way. Also, some airbrushes have nozzles that do spattering. Contact your spray gun or airbrush manufacturer or its distributor to ask about these applications. Spraying techniques allow you to increase production. Again, do a test on some newspaper before you apply the colorants onto your work.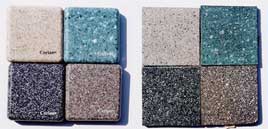 These two photos show how closely a faux finish can duplicate the look of solid surface materials. At left are pieces of Corian solid surface material. At right are four samples of faux finishes that replicate them.
Protecting the Finish
As with all finishing, I strongly suggest you make up complete samples, which include the colors and final clearcoats. If any adjustments are needed, do your tweaking on your samples, not on your finished work. Once you have completed the coloring part of your finish and it is thoroughly dry, you should protect it with a coating. Be sure the colorant you use is compatible with the coating you apply.
The coating you select should be able to withstand normal wear and tear. As all coatings have their weaknesses and strengths, choose the right coating for its moisture and chemical resistance and durability, according to the end use. Just as solid surface materials are attractive and durable, your coating should provide the same features.
Reprinted with permission from Custom Woodworking Business.