Harness the power of on-line video and tell your story to thousands of WOODWEB visitors.

With a Click-to-Play Video Ad your richly engaging message is always available to the customer. Video advertising receives premium high-targeted exposure; your potential customer may play and re-play your on-line video as often as they wish - with no additional cost to you.
You can create your own click-to-play video ads (up to two minutes play time) or a WOODWEB designer will create one featuring your products and aimed at an appropriately targeted audience.

Click-to-Play Video Ads are available in each discussion thread in the Professional Woodworking Forum of your choice (pending availability). These targeted ads place your video in high traffic articles of particular interest to your potential customers.
sample Video Ad:
back to top
---

Billboard Advertising

Billboards (85 pixels wide x 140 pixels high) are available throughout the WOODWEB site. The monthly rate is $75.00 per pair at www.woodweb.com/Resources/RSNewVisitor.html and www.woodweb.com/woodweb.html, combined. The monthly rate for all other locations is $25.00 per billboard (per page). All are invoiced annually or quarterly.

back to top
---

High-visibility Banners are located at prime locations throughout WOODWEB and offer the best exposure to our huge audience at an entry-level price. Banners link directly to your web site and are priced well under the industry standard CPM rate.

back to top
---
In-Feed Advertising (100% x60px)
Ads are embedded in a forum thread or list of topics (feed), seen inline as users scroll down. These can be a mix of images and text.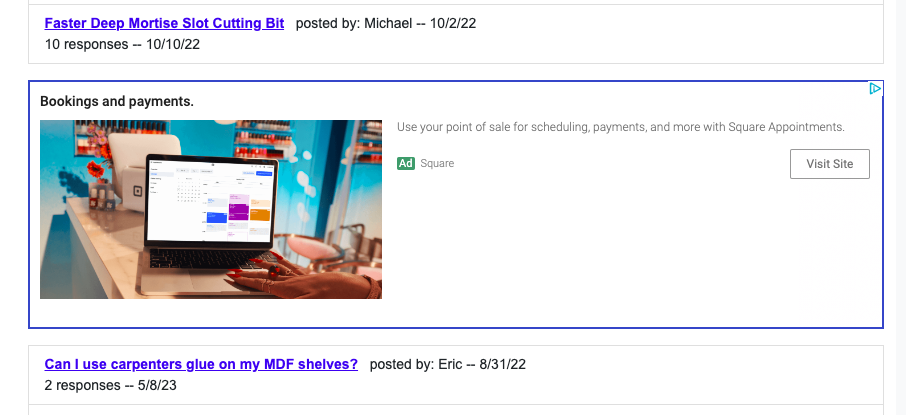 back to top
---
Leaderboard Banner (728x90px desktop, fluid on mobile devices)

High-visibility Leaderboard Banners are located at the Woodweb Forum or Exchange of your choice (pending available inventory). Banners link directly to your web site and are rotated for the entirety of the term.

Availability varies per location.
back to top
---
High-visibility Rectangle/Box ads are located at the Woodweb Forum or Exchange of your choice (pending available inventory). Banners link directly to your web site and are rotated for the entirety of the term.

Availability varies per location.

back to top
---
---
E-Grams

WOODWEB's exclusive E-Grams are read daily by a vast audience of opt-in subscribers (they have asked to receive these daily messages). You can target your advertising to lumber or machinery buyers by advertising in the Lumber-Gram or Machinery-Gram or the many recipients of WOODWEB's Job-Gram.
The cost for daily insertion of your ad is just $300.00 monthly.

back to top


---
Do you have questions about our advertising programs?
If so, feel free to email our sales team
or call 610-427-2900