Message Thread:
Need advice on large panel raise
11/3

Website: http://adamsarch.com
I have a contractor asking if we can build a door with a large panel raise. My guys in the shops have discussed several ways that we could possibly do it but we can't settle on one way or the other. Attached is a picture of the door. Here are a couple ideas we have in the shop.
1.) Put the panel on the CNC and step route it out. And then sand the heck out of it to get rid of the ridges.
2.) Buy a large knife and put on a shaper and then run through. Very scary due to how long the knife is.
3.) We have a shaper that has a spindle that runs horizontally. Put a knife into spindle a run the part. In order to put the raise on the other side we will have to make a jig to hold the panel straight and level.
Do you guys have any other thoughts or experience with running long raised panel profiles safely and effectively?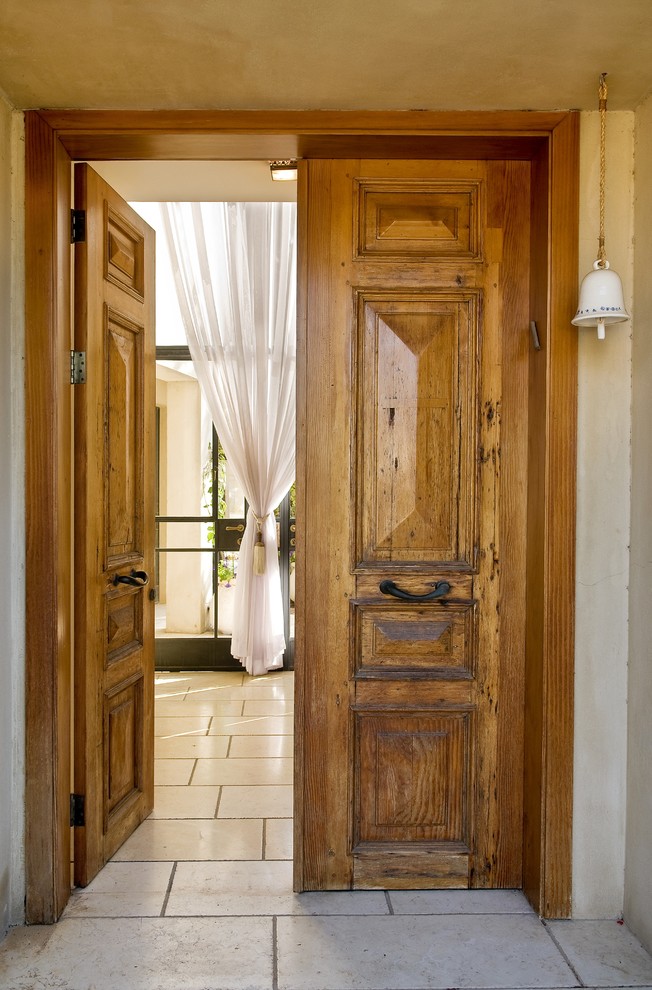 View higher quality, full size image (652 X 990)

---
11/3 #2: Need advice on large panel raise ...

If none of the panel raise profiles exceed 7" run then on a W&H (open ended).
---
11/3 #3: Need advice on large panel raise ...

It looks like you could do the outside profile of the raised panel with a standard shaper and appropriate cutters.
I would do the pyramidal inner profile with hand planes. I'd use a plane with a radiused blade, like a scrub or jack plane to rough it out, and a smooth plane to finish. It will probably take a lot less time than you think it will.
---
11/3 #4: Need advice on large panel raise ...

If you can run it through the horizontal spindle I think that's how I'd do it, or if it's only a one-off Rick's suggestion would be pretty good.
I would not raise both sides of the same piece of wood. I would instead have two panels back to back.
good luck,
JeffD
---
11/4 #5: Need advice on large panel raise ...

Are the existing panels one piece?
I did something similar to the pyramidal(sp?)
panels some time ago, but paint grade. Made the panels in the planer with a taper sled and cut the ends on a tablesaw with a 16" blade- as I remember, had to finish the end cut with a handsaw and plane smooth.On some wide panels, made in two halves and glued back together.
If the existing panels are one piece and you have to follow suit, I'd say get knives ground to run them vertically if you have a shaper with the space under the nut.
Another way might be to resaw the panel portion off the blank, mill the panel and glue back together to keep the grain (mostly)matched. One last way would be a router jig, but that may be slooow.......
---
11/4 #6: Need advice on large panel raise ...

The pyramidal portion of the panels can be programmed fairly simply in V-carve Pro. Or any 3d cad/cam package. I would think it would take about fifteen minutes per pane side to run the pyramid then run the tongue in V-carve. Clean up would be perhaps a handplane then sand to remove scallops.
---
11/4 #7: Need advice on large panel raise ...

bandsaw bevel, clean up on jointer, shape perimeter with shaper or saw. looks like enough of offset.
---
11/4 #8: Need advice on large panel raise ...

Website: http://www.adamsarch.com
Thanks for your responses. With your feedback I would say we are leaning towards using the horizontal spindle shaper or programming it on V-carve and cutting it on the CNC.
I do like the idea on the W&H, however we sold ours about 2 years ago and hard to justify a new machine for one job at this time.
We have also made a sled for our planer in the past to make wooden sills for windows or thresholds for doors.
It is nice to get some feedback that is along the same lines as what we are thinking - it gives you a lot more confidence in moving forward.
---
11/4 #9: Need advice on large panel raise ...

If it were me, I would run the basic raised panel such as the one on the bottom, which looks like the same profile that is repeated on the perimeter of the upper panels.
I would band the perimeter raised panels to prevent wood movement.
For the pyramids, I would miter together a pyramid out of 3/4" veneered panels, and attach it to the panel with the perimeter raise. This would prevent a sizeable area of end grain and be easier to finish, and if you used veneered panels for the pyramid it would prevent wood movement.
If this were a painted door, I would do the panel parts out of fiberboard. If this were an exterior door, I would pass on the project, as it would be a warranty nightmare.
My two cents.
TonyF
---
11/4 #10: Need advice on large panel raise ...

Hi Tony - thanks for your feedback.
Although the picture makes it look like I am building this for an interior door - the contractor needs this door for the front entry of a house.
---
11/4 #11: Need advice on large panel raise ...

seems it would be a nightmare to sand machine marks from cnc. thats a lot of cross grain to shape even if you gang then rip then do long grain
---
11/4 #12: Need advice on large panel raise ...

I have done several variants of this a few times. This one is easy because you can make the panel in 3 pieces, maybe 4.
Plan on the two pyramid faces to be made and then attached to the flat panel "perimeter". If you prefer, do it as one flat panel or two thinner ones, then pair them up and put them in the rabbets.
Make the pyramids one of three ways: Bandsaw and joiner, as mentioned; horizontal shaper with a knife of lesser projection; a 12" or 14" table saw with a fixture to fasten the bottom - flat - side of the panel to; a large planer and a jig to sit the panel into and subsequent passes.
I think in all cases, I would make the pyramid parts loose and apply to the panel afterwards, instead of all out of solid.
But all that is moot since a CNC can do anything (insert some damn emoji thing here denoting cynical humor). Sand out the steps?!? Can a CNC do that?
And as for those lower panels in the photo, my CSI door skills tell me that those panels are replacements as the originals rotted away.
---
11/5 #13: Need advice on large panel raise ...

I too agree with others on the point that I wouldn't make that 1 panel raised on both sides , that would be two loose panels back to back .
In our shop that would be done on our CNC . That's a fairly easy cut in alphacam . The run time would be some where around 20 minutes with very little sanding when it came off . I just wouldn't justify the cost of a custom knife for the horizontal shaper .
Looking back 3 years ago , our only option would of been to run these with a horizontal shaper . Which when I look at that point , I wonder if the feed rollers will just break or flatten that point . And also foresee you needing to make a sled to push those through anyways .
Best of luck and keep us posted on your end result .
---
11/5 #14: Need advice on large panel raise ...

By programming the cnc to ramp down on the angle of the bevels the only clean up required is a small scallop between the parallel toolpaths. You can determine the best compromise between cnc run time and sanding when you decide on the closeness of the tool passes. A 1/2" ballnose will make quick and clean work of it.
---
11/7 #15: Need advice on large panel raise ...

just curious, how long does it take to program something like that?
---
11/7 #16: Need advice on large panel raise ...

I just did a quick test run on programing it in Alphacam, took me 10 minutes to draw and create the tool path.
---
11/8 #17: Need advice on large panel raise ...

I've done similar pyramid projects on our CNC using Enroute software. With a step over of .025" per pass on a half inch core box bit it made for surprisingly little sanding.
BH Davis
---
11/18 #18: Need advice on large panel raise ...

Chad, I am curious to know how you ended up going about this?
---