Message Thread:
Why didn't this work. Elliptical routing
2/9

I use an elliptical routing jig. Two dadoes at 90º angles to each other with a trammel that has two sliders. I needed to make a template for a ellipse of a certain size.
I route the inside dimension 1st and then move the router away from the "center point" on the trammel. In this case I moved it so I would leave a 5 1/2" wide template.
After I routed the outside dimension, the start, finish and center are at 5 1/2", but the centers between those points taper down to 5 1/4"
Since I moved the router I expected it to be eccentric. Why am I not getting a consistent measurement throughout the template?
---
2/9 #2: Why didn't this work. Elliptical ro ...

Website: http://www.willmade.com
Have you ever compared the shape generated by your slider, to one generated by auto cad?
---
2/9 #3: Why didn't this work. Elliptical ro ...

I have not.
---
2/9 #4: Why didn't this work. Elliptical ro ...

Looks like AutoCAD give the real life results.
I still don't understand why. Should be eccentric.
I've already remade the temeplate. Just copied the ID with a flush bit and hand drew a 5 1/2" line. Cut and edge sanded it.
Sure would be easier if the router jig worked. I have many different sizes of these to make. (grumble)
---
2/9 #5: Why didn't this work. Elliptical ro ...

Did you move the router on the arms with the same pivot points as the outside pattern to get the smaller pattern, or did you change the centers points on the arm?
---
2/9 #6: Why didn't this work. Elliptical ro ...

Moved the router. I thought this would ensure eccentricity.
---
2/9 #7: Why didn't this work. Elliptical ro ...

It's been a while since I have used this method, but I think you have to reset the pivot points as previously mentioned.
---
2/9 #8: Why didn't this work. Elliptical ro ...

I give this little lecture on a regular basis.
There is no such thing as parallel ellipses.
Your inner shape is a true ellipse. If you just move the cut point out 5 1/2" you will have another true ellipse that is 11" wider and 5 1/2" higher (actually half ellipses are what were talking here).
What you are seeing at the mid-points is the distance between two true ellipses. But since there is no such thing as parallel ellipses the distance between the lines gets smaller........as you discovered.
A true elliptically shaped window will only have a true ellipse shape at one point. That can be the outside of the frame, the inside of the frame, the outside of the sash, the inside of the sash rail etc. It can only be one of them. All other points will be parallel to the true ellipse.....but will not be a true ellipse.
So in your case you have to create the elliptical shape on the inside edge of the 5 1/2" template. Then using a marking gauge create a parallel line which you will have to cut with a jig saw or band saw.
Don't feel badly that you discovered this the hard way. We get drawings to make mouldings from architects on a regular basis where they tell us to "follow our lines exactly". However all too often they've drawn two ellipses at a given distance apart AND THEY ARE NOT PARALLEL !! A 10 minute phone call later I'll hear them say "oh.......I see my mistake".
BH Davis
---
2/9 #9: Why didn't this work. Elliptical ro ...

That's what I did. Inside diameter ellipse and used trammel points to make the OD parallel.
---
2/10 #10: Why didn't this work. Elliptical ro ...

B H Davis has it right, as he should. He has made more than a few of these and while logic would appear to make for parallel lines, it does not do so in ellipses. Must go back to initial conditions in the first billionths of a second in the Big Bang.....
When we do an ellipse, we first determine which method to use to lay it out. We usually use the 'connect the points' method since it is fast to lay out, attractive and easy to change one or the other axis on. If you need 17.25 altitude (half height) and 43.875 (full) width, you have it quickly and easily. Other methods are CAD (?), trammels as Leo's router, and the string and two points. The two radii ellipse is not a very attractive ellipse under a critical eye, but can be used at times. All the above methods generate ellipses of differing proportions.
We will also give some thought as to which line should be the true ellipse. Typically, it is the line at the inside sash and the glass (if we are making a window), since this is the most obvious line that defines the ellipse.
---
2/10 #11: Why didn't this work. Elliptical ro ...

Leo, I don't want to sound like the word police, but rather than eccentric, I think what you were looking for was concentric.
Not that it would have helped you here for this situation, but just for better understanding, adding or subtracting the same amount from both the long and short radii changes the ratio between the two.
Usually when I'm trying to get my mind around a conundrum like this, if find it useful to push or pull them out to something more extreme. Just for example, lets say you started with a short 10" and long 20", you have a 1-2 ratio. Now lets subtract 5" from each, which gives 5" and 15, which is 1-3 ratio. Then subtract another 5", and well you see it all crashes.
Another way of thinking of ellipses, is that it is a circle viewed from an angle other than straight down the center axis. Like if there is a glass out on the table in front of you, and you are viewing it from an angle of 60º from the plumb axis, the short R will always be pointed toward you and get shorter as you swing around an arc for your viewing angle.
If you draw a bunch of concentric circles, then you see the relationship of the ratios of each size stays the same as you tilt your viewing angle, which shortens the or lengthens the length of the short axis relative to the long, depending on whether you are getting smaller or larger.
---
2/11 #12: Why didn't this work. Elliptical ro ...

Attached is a rough, first cut video of an article I'm doing for TIC. It is taken directly from the drawings in Benjamin Asher's book on elliptical casings. While it is not a true ellipse, it is a close approximation that is based on radial lines
Video
---
2/12 #13: Why didn't this work. Elliptical ro ...


Thanks for posting that Keith. That is very good info.
Years ago we built a lot of doors with oval glass held by a narrow 1 1/2" or so wide raised moulding in a panel. The jigs were made with a router trammel with X and Y grooves cut into the jig blank. We discovered this non parallel issue even on the narrow moulding.
Our solution was to do the inside jig with the trammel for inside shaping. Outside curves are easy and accurate with the bandsaw and edge sanding to a line. We made this marking device in the picture and still do the outsides of our curve moldings this way. If additional shaping for rebates needs to be done we just use a dead collar or bearing.
The panel, usually 1 3/4" or so thick also needed a inside cut. To make this parallel we would use the same jig as the inside moulding only with a smaller diameter bearing for the required distance. We now have a adjustable dead collar for this but have not made a oval door in years.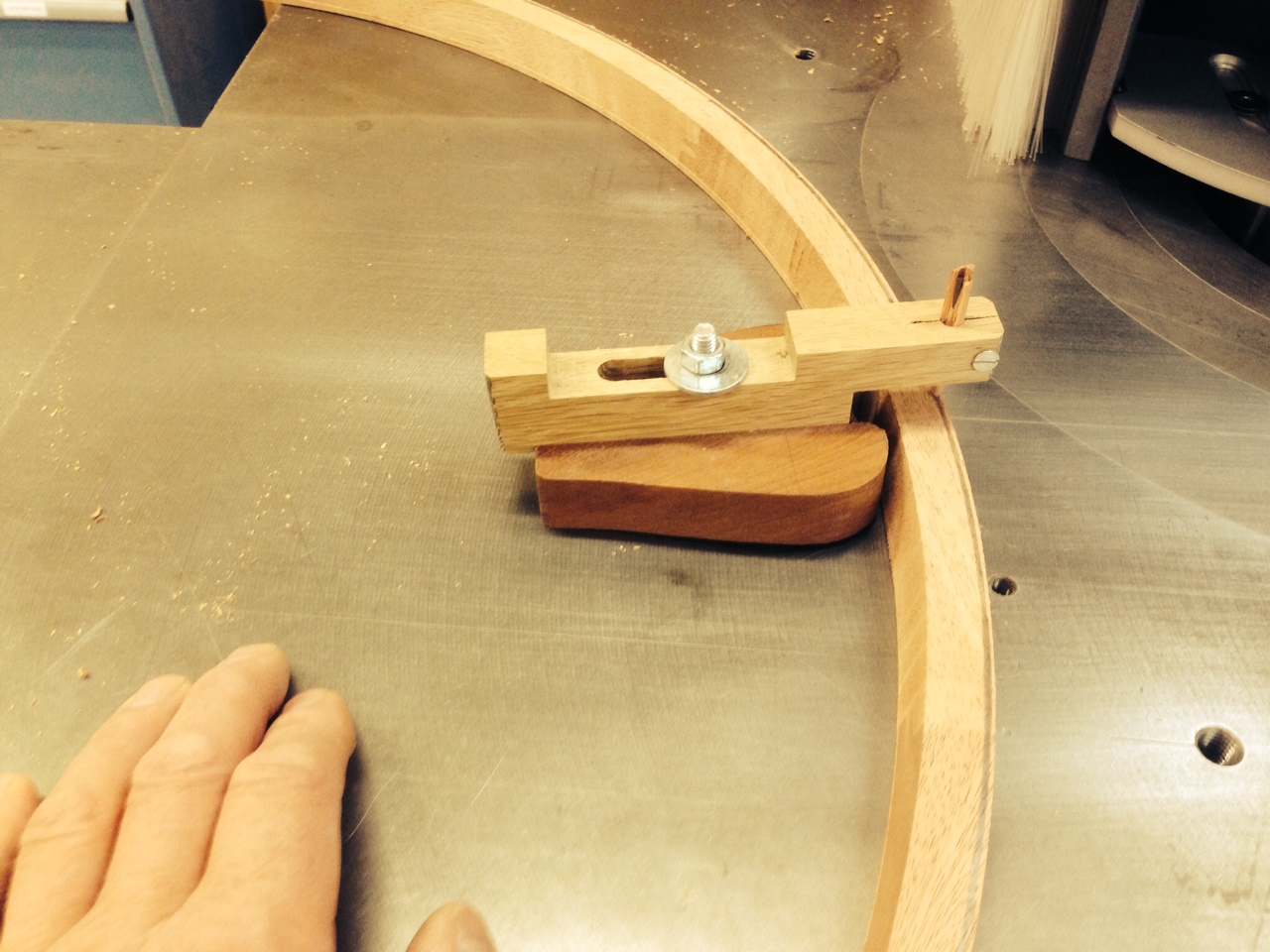 View higher quality, full size image (1280 X 960)

---
2/17 #14: Why didn't this work. Elliptical ro ...


Very informative Keith, nicely done!
---