http://www.sdcsecurity.com/magnetic-locks.htm
---
2/23/17 #8: Pivot Door Latching? ...


I am talking heavy duty roller catch, not a ball catch. Ives, Deltana, even Emtek has a fairly decent adjustable roller catch. Pivot doors don't weatherstrip well at all and we are in a cold winter area, just have to disclose up front. We have been mostly going to double adjustable brush sweeps top and bottom and a Rixson pivot. The challenge is of course if you center mount the door you may need extended strike plates.
---
2/24/17 #9: Pivot Door Latching? ...


David,
Your need to get with the times. Everybody has got a fingerprint or retinal scanner on every door in their house.
You need to get out of the shop more. Is about time to recycle that flip phone and pickup an iphone.
---
2/24/17 #10: Pivot Door Latching? ...


One of these pivot jobs would go for the retinal scanner or similar. He is using "switchable" glass in the sidelights, and fond of the James Bond type of technology.
How to replace the deadbolt? Nothing but long tall pulls on either side of the door. At 10' tall, I'd like to have 2 - 3 latch points if possible. Free swinging with roller catches, or a closer and no rollers, but how to lock?
I actually have a flip phone and one that is even less advanced in my junk drawer. Some of us are comfortable with our level of tech. Personally, I would get rid of my phone, altogether.
We now have what I term as a "private shop" that does not welcome visitors except by prior appointment. Customers can be an exception, but to not have random visitors showing up lets us stay focused on our work and enjoy the advance that every day presents.
---
2/24/17 #11: Pivot Door Latching? ...


Dave,
Are you referring to electronic tinting glass?
Joe
---
2/24/17 #12: Pivot Door Latching? ...


Yes. I have had several people ask about it, but this customer has a source and wants it in the sidelight panels. I'm glad I get to learn about it without supplying it.
---
2/24/17 #13: Pivot Door Latching? ...


We used Smart Tint brand on a job last year at the customers request. It was a nightmare. Operating windows, doors with electronic locks and operating windows in the doors with the film.
All Euro design so butt hinges with wire transfer would not work. We found out too late that Simonswerk makes some nice wire transfer hinges for Euro design. The wire transfers from Winkhaus were good but Smart Tint's were lacking.
Fix sidelights should be easy as long as the connection to the film is good.
No help on the pivot doors. We do some interior but hard to gasket in this climate for exterior. A good way to hinge heavy doors though.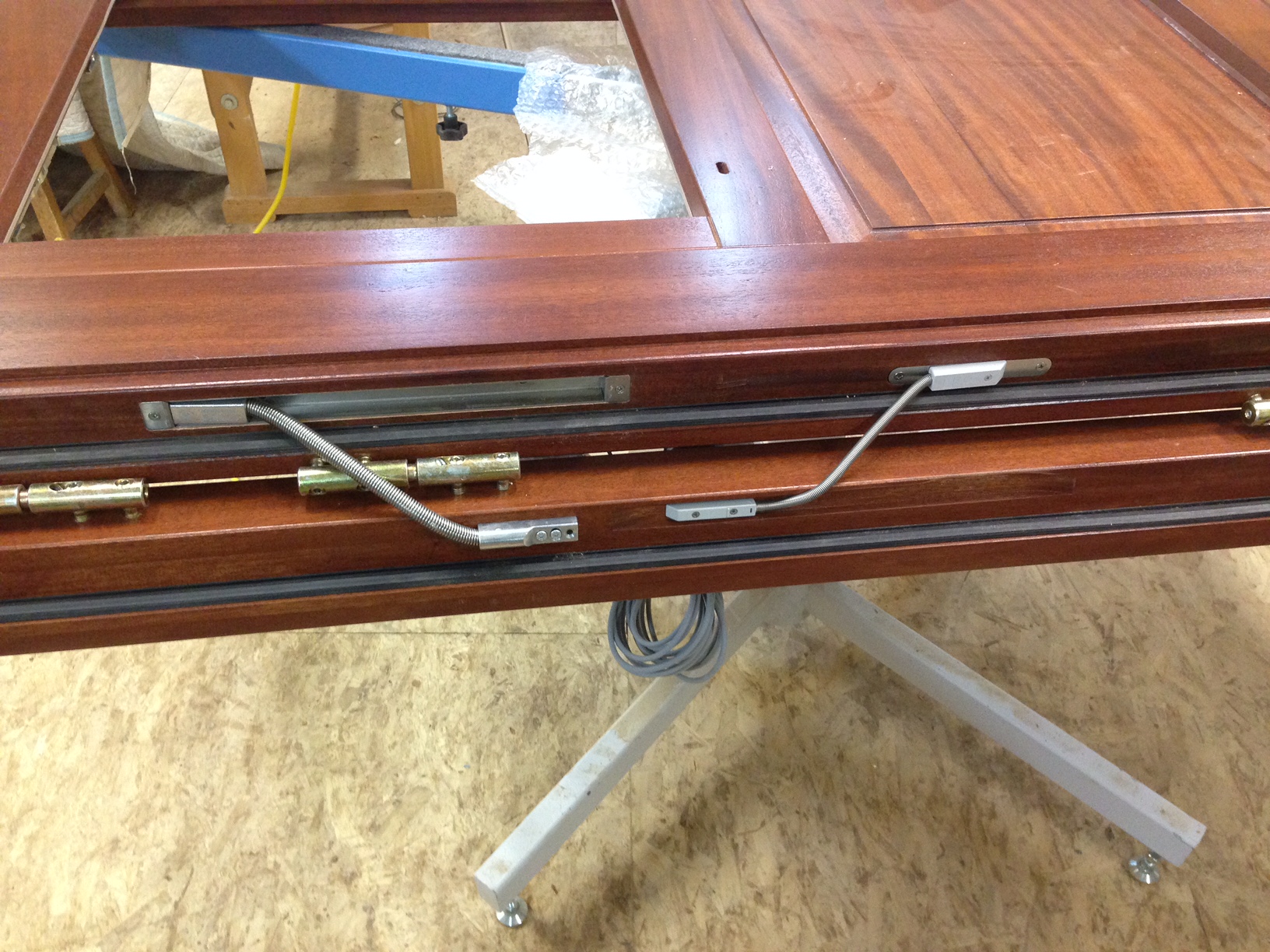 View higher quality, full size image (1632 X 1224)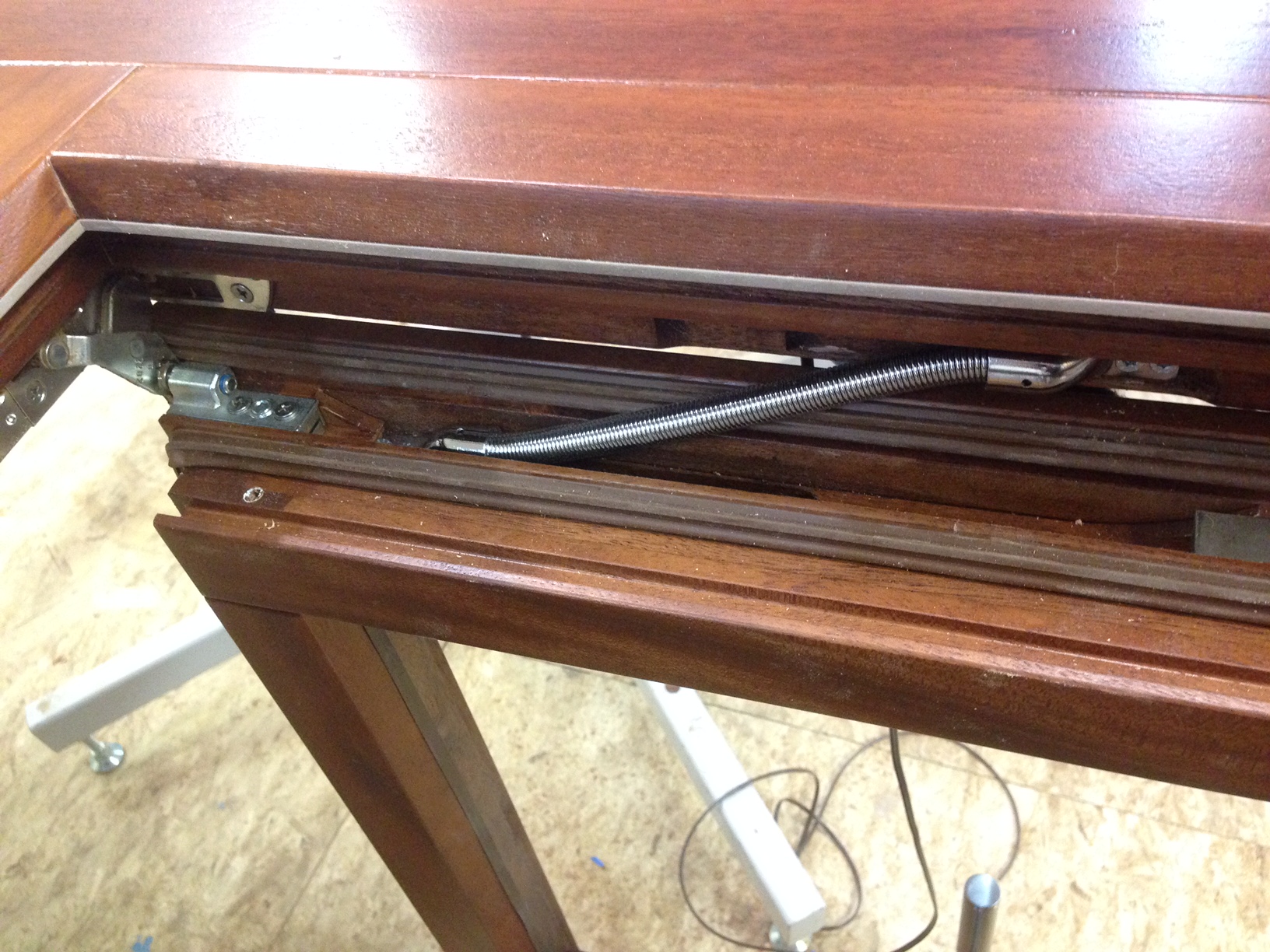 View higher quality, full size image (1632 X 1224)

---
2/25/17 #14: Pivot Door Latching? ...


I am saying things like "hard to gasket" and "originated in So Cal where the climate is so much more mild", "experiment" and such, but I don't think anyone is hearing me. Funny how some customer's eyes just glaze over as they say "pivot door" in nearly hushed tones. You know logic already left the room.
I think I can get past the w-strip if I can just get comfortable with the hardware. The Adams looks to be one good solution.
---
12/17/20 #15: Pivot Door Latching? ...


Website: http://www.mistymountainwoodworks.com
We are building a 4 x 10' offset pivot door right now. We chose to go with a 5-point multipont lock. Fortunately the architect was on our side. He visited someone who had a similar door with a large pull on both sides and he thought the idea of only having a deadbolt was bogus. He was all for the multipoint lock system. We decided to use a FritsJurgens pivot...talk about a beautiful piece of hardware!
---