Message Thread:
" Barn Doors"
7/12

Sliding " Barn Doors" are very popular right now. They " look" like they are basically vertical boards with horizontal battens. Not really a recipe for a flat door. Or is it ? Has anyone achieved this look while creating a flat and straight door ? If so what was the method that worked ?

---
7/12 #2: " Barn Doors" ...

would seem following your own recipe would be best if you want to be safe.
---
7/13 #3: " Barn Doors" ...

"Start flat, stay flat" My employees have hear me say it a hundred times over the years.
Use a flat bench, one where you have used winding sticks and string to insure there is no twist in the bench.
Joint all the boards and edge them so they are dead flat and straight. Center your T+G, and do not make it too tight.
Lay out the boards on the bench and fasten the battens with screws, pins and/or glue alone.
Finish the thing asap.
Sliding doors can handle twist better than a hinged door since it does not have to fit like a conventional door has to. That is no reason to not work to make a flat door.
This is a very primitive door style. As such, they were never expected to be perfect. Unlike today's consumer that has an expectation that everything must comply to. A brief explanation may help the customer understand.
Fortunately, the ship has sailed on the fashion of sliding doors. There will be less interest in them as the doors were just overdone.
I'd put them on the designer's scrap heap along with the iron grilles and speakeasy doors, live edge slabs, and art glass sidelights and transoms.
---
7/13 #4: " Barn Doors" ...

How large a door and paint or stain?
---
7/13 #5: " Barn Doors" ...

The door is approx 4' X 8'

---
7/14 #6: " Barn Doors" ...

David,
Do you really think the ship has sailed on that stuff?
Even Costco is selling the sliding doors now.
It was a good reminder to hear about the strings, I havenít seen that truck for many years.
---
7/15 #7: " Barn Doors" ...

Live edge is alive and well for us. More so than usual.
---
7/16 #8: " Barn Doors" ...

We did a house full of these a while back.
Material was knotty white oak. Customer was a great guy from England and knew what he wanted. I discussed the risks with him and he decided he could live with a little warping. Every door was different, some with just horizontal braces and others with Z braces. Some sliding doors, pairs and single swing doors.
The Z braced doors did better than the just horizontal braced ones. They actually stayed better than I thought they would. He brought back a couple of the horizontal braced pairs a couple years later and had us Z brace them.
Procedure was slabs T&G together with a little space for expansion, not glued
( gluing will turn it into a large piece of solid wood) grain alternated and all material well faced and planed. We screwed, glued and plugged the braces to the individual planks.
The old doors like this were held with clenched nails.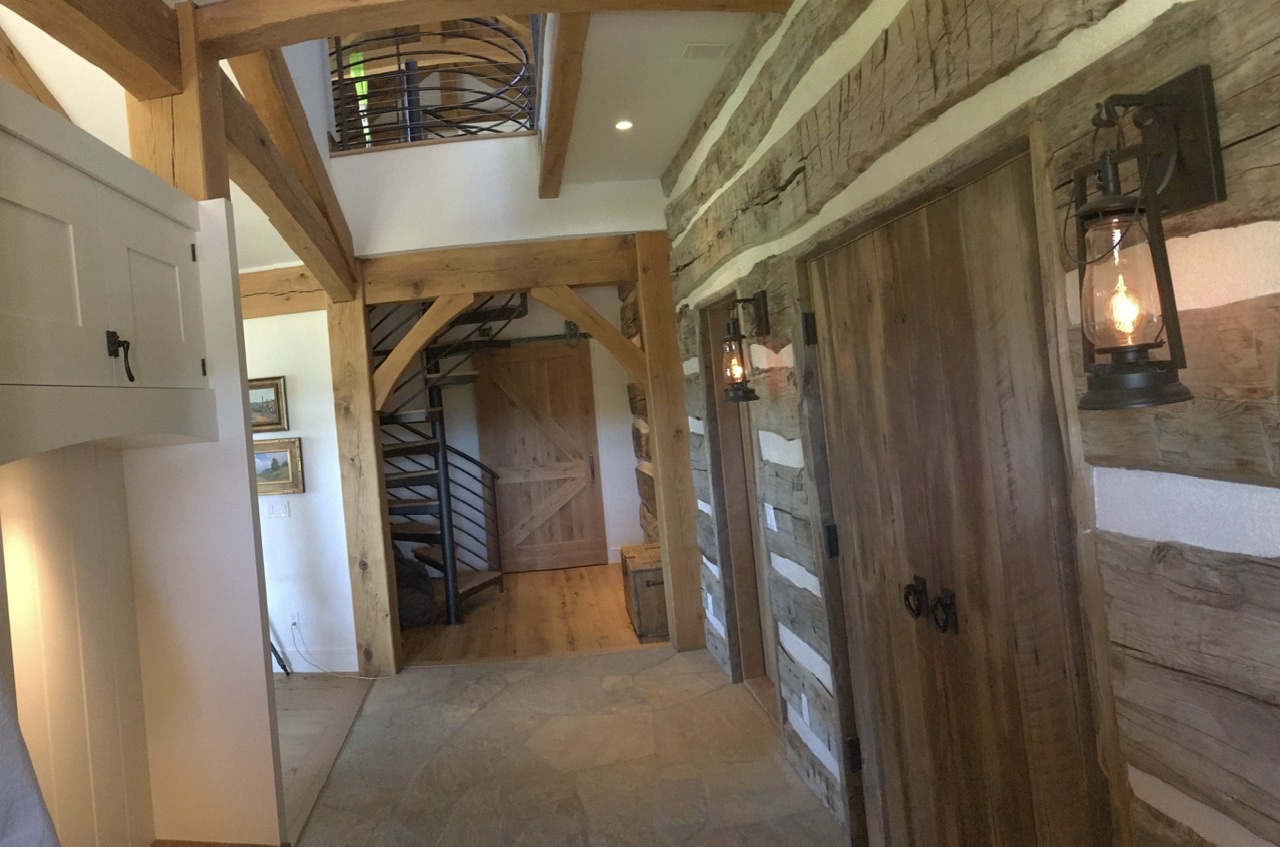 View higher quality, full size image (1280 X 847)

---
7/16 #9: " Barn Doors" ...

My experience with these sliding doors is that they often times become more of a fashion statement as opposed to a door and rarely eventually rarely get used.
Use to deal with this all the time in the GC days when customers would think pocket doors were so cool and you would try and try to explain to them that they are best used only as a last resort and even with high end hardware they are inconvenient for any door that needs to be used frequently.
The exposed hardware barn door thing seem to most often be a lower-end, pinterest/HGTV accoutrement so some warpage would fall into the "character" column
---
7/16 #10: " Barn Doors" ...

Mark- B I agree. While my geographical market is anything but on the leading edge of design and style, it is easy to see the bell shaped curve as these fads come on and then recede.
The first sliding doors I did were 20 years ago to close off an exercise room. Appropriate. I haven't done one in 3 years now. The carpenters are going to Walmart for the hardware, and stapling Poplar together until it is proclaimed a door. Are they flat? "No, can't be done" said one carpenter explaining a 3/4" potato chip look in his door.
Live edge was 20 years ago, also. I love the look of live edge when done right. It is just overdone now. Costco? Wayfair? Who will develop a live edge that can come out of an edgebander?
There is a development encroaching on the sacred Acorn Compound. $800,000 houses on 1/4 acre or less. The fad in these is a "fireplace" built on the edge of an outdoor patio, and above the fireplace is room for a flatscreen. Now to be clear, this is a fake fireplace with a tin flue in a wooden framed chimney with brick on the outside. It appears that most of these 140 houses will have this 'feature' .
In this contractors previous neighborhood, about 15 houses had fires in their "chimney' when the tin flue rotted and failed, so smoke backs up into the house, fire alarms, firemen, police. "Nothing you can do" I said ban that type of construction. Masonry or nothing. "Too expensive" they opposed. Nothing was done.
---
7/17 #11: " Barn Doors" ...

Iíve enjoyed the sliding barn door fad if that is what it is. Good hardware for these is in the $800 to $1500 range per opening.
I think some interesting designs are possible. The only plank and batten style we have done was the job posted above. Normally I build a substantial door for these.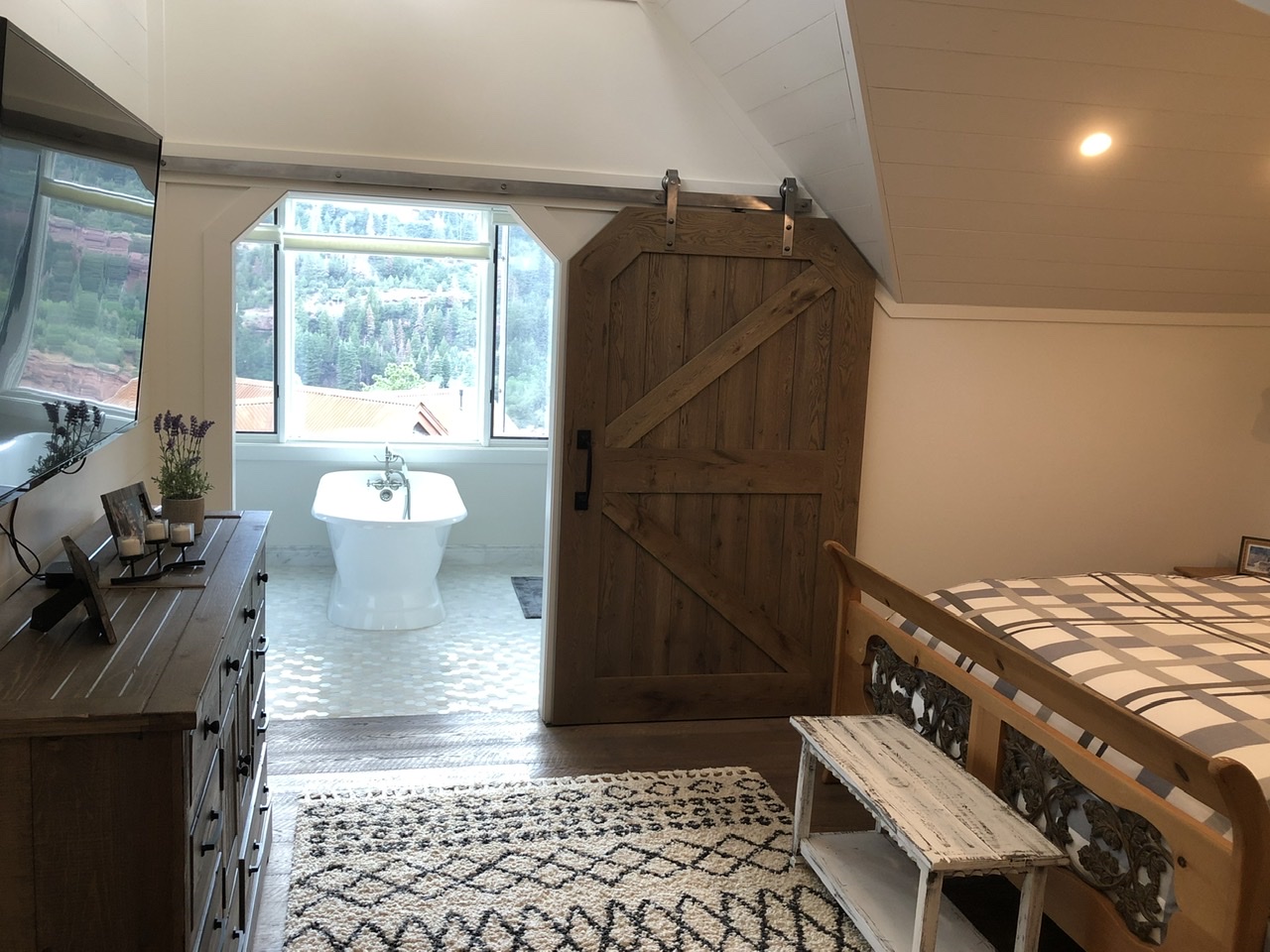 View higher quality, full size image (1280 X 960)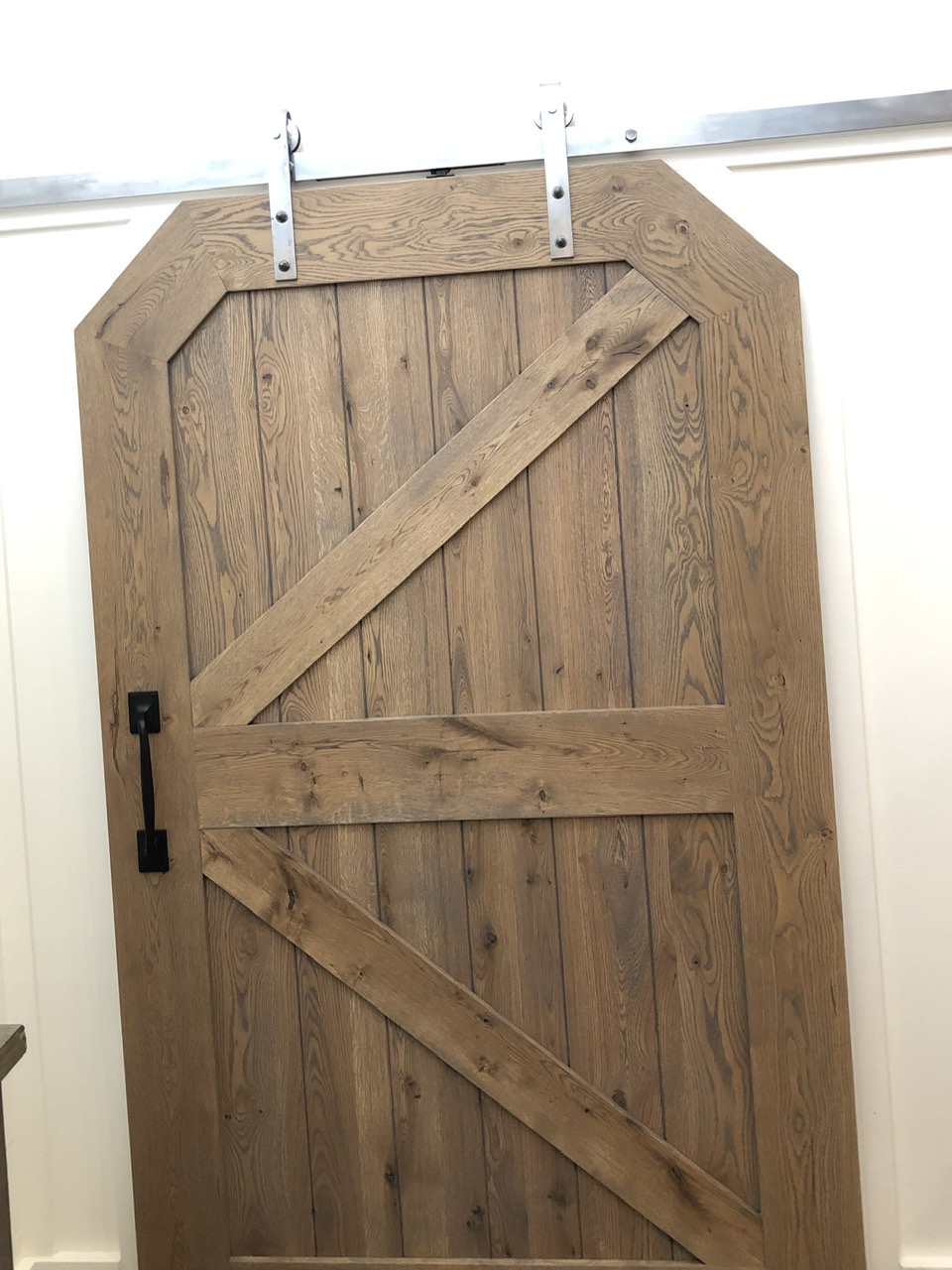 View higher quality, full size image (960 X 1280)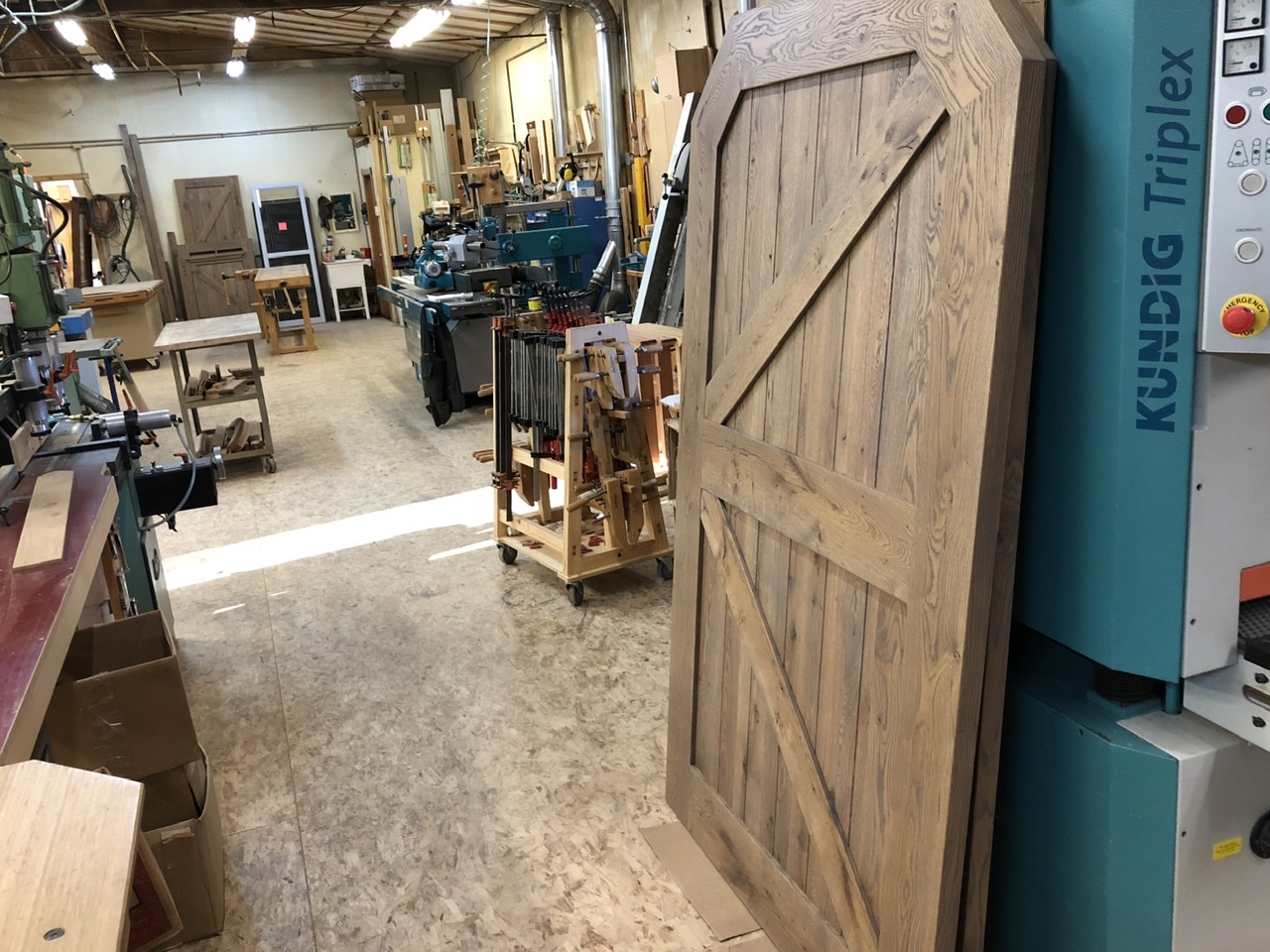 View higher quality, full size image (1280 X 960)

---
7/17 #12: " Barn Doors" ...

We liked the hangers and fittings from Penny at Better Barns. For some time they were the only ones with this type of hardware. Now the hardware is everywhere, but of a lower quality.
With the bubble passing on sliding doors, I would expect to see one or two a year. I liked doing them since there was no jamb or fitting. Getting the carpenters to locate hardware is difficult. When subverted, finger smashing can occur.
---