Message Thread:
Large interior door options
10/6

Hello,
We are being asked to make some interior doors and fixed panels that are up to 42" x 124" x 2 1/4" with a single panel. The design is also looking for stiles and rails that are much narrower than adequate.
My interest here is exploring an alternate method of construction that might allow us to provide a quality product with the look the customer wants. We are a professional shop that has made thousands of interior doors. This is one of those situations where I would prefer to present a viable solution to the customer rather than tell them all of the problems with their request.
I would really appreciate feedback and/or suggestions on the attached image as an option to construct oversized interior doors and panels.
I know it's a non-traditional detail for doors but I would love to hear from the professionals in this forum on where this option will fail or succeed.
It's essentially a 1" MDF panel with decorated edges to allow for butt hinges and hardware. I trust the strength of the detail but will the MDF be reliable?
Would a honeycomb panel make this viable?
Thank you in advance for your input.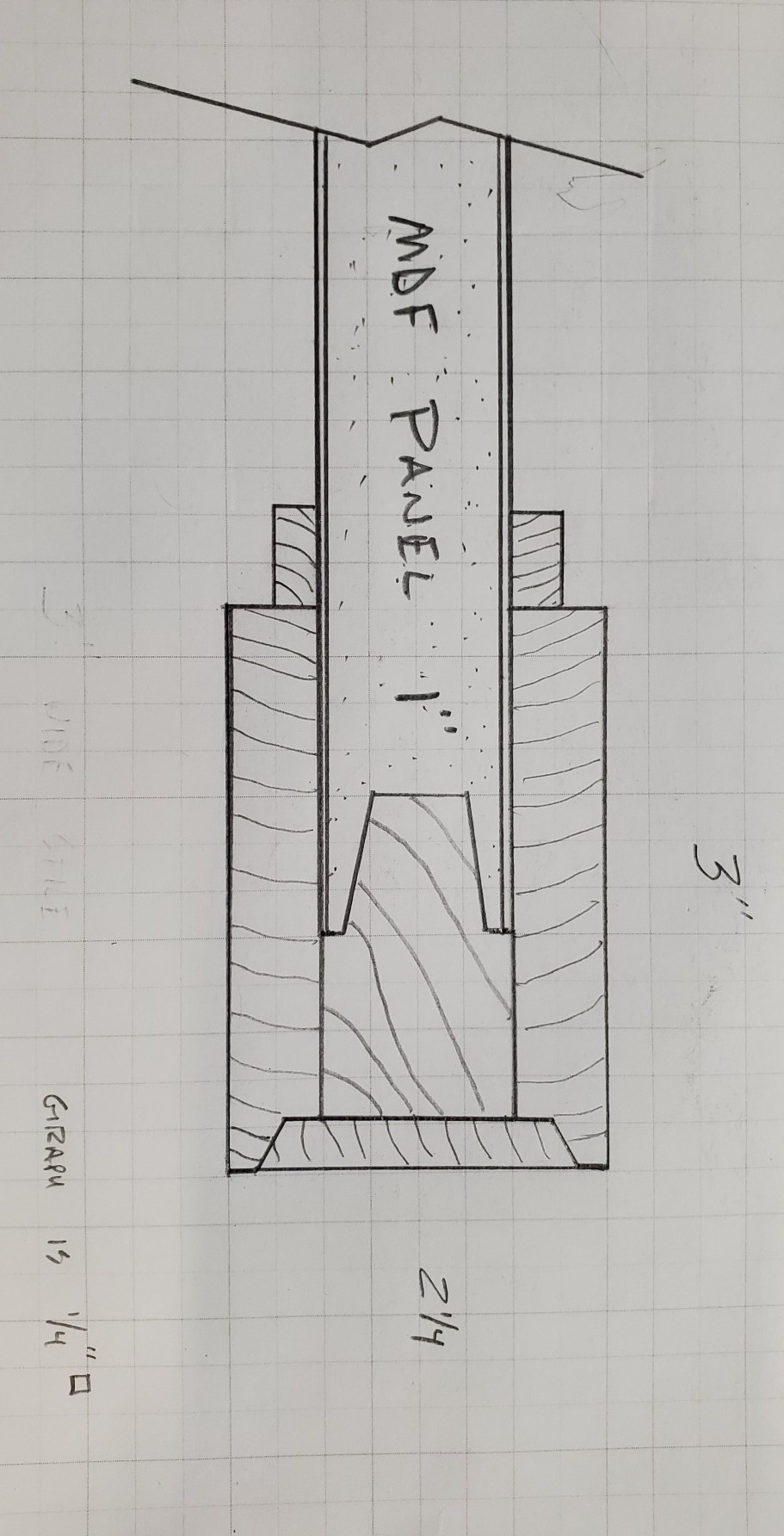 View higher quality, full size image (911 X 1784)

---
10/6 #2: Large interior door options ...

I always turn to torsion box construction when doors exceed conventional rail and stile norms. They can be dressed up in any way you wish, and the lighter weight is a blessing all through the process from building to installation to ultimate durability.
More time consuming than what you illustrate, but I'd be wary of hanging a piece of MDF out in space and hoping that it stays put.
I've never used honeycomb to make doors (have used it on boat interiors), so can't speak from experience, but it does much what a torsion box does and would be more expedient.
---
10/6 #3: Large interior door options ...

Thank you SG,
I like the torsion box construction as well but because the panels need to be so thin, that method didn't come to mind.
If the veneered panels were 3-5mm on each side, that only leaves about 18mm for the thickness torsion box. At that thickness, the honeycomb seems to be a better option.
What is the thinnest torsion box you feel is effective? I don't have concerns with the labor involved but have no experience using them thinner than around 1 1/2". I could probably go as thick as 1 1/4" on the panels, leaving about 1" for the torsion box core.
Thanks again for the feedback
---
10/7 #4: Large interior door options ...

I have always utilized torsion box construction on doors which have been either horizontal or vertical panel with no simulated rails/stiles, or radius doors with minimal reveals, and as such have never built a core less than 1.25" thick, and typically use 9mm skins, which seem a bit flatter than most 1/4", or 1/8", as you propose, though I don't think there is a structural advantage. With nothing other than intuition guiding the idea, I would be more inclined to go with honeycomb, given the relative thinness of what you're being asked to do.
That said, do you think they'd be open to either thickening up the panel, or perhaps the entire door? For something that size, 2.75" or 3.0" wouldn't seem excessively thick, to my mind.
---
10/7 #5: Large interior door options ...

Honeycomb is a torision box. We build entire boats out of honeycomb.
Do not use mdf. It expands greatly with humidity. It would be incredibly heavy in a door of that size.
Personally, I would treat it as a composite panel. Build it with marine grade core(honeycomb or foam) Not pink/blue. Itís structural foam designed to be skinned with resin/glass. Build that and then add the rest as trim.
Depending on where you are located you may be able to find a shop that will lay it up for you.
---
10/7 #6: Large interior door options ...

Thank you SG and Adam,
Yeah, the honeycomb is looking like the proper direction for this one. It will allow us to keep the panel on the thinner side maintain the other dimensions the architect is asking for.
Any advice on applying veneer directly to the honeycomb panel or having veneer laid up on a sub straight first and then applying them to the panels. I have never applied veneer directly to an aluminum panel on a large door panel. From what little experience we have applying wood to alum. honeycomb panels, the sound and feel is so much better when there is at least 1/8" of ply or HDF in between the metal and the veneer.
I am comfortable with the sound, feel, and performance of shop made torsion boxes but the honeycomb is a little outside my comfort range still. I will have to learn more and do some mock-ups to build that comfort.
---
10/8 #7: Large interior door options ...

I also would search out the honeycomb/torsion box solutions. It is asking too much of the MDF to stand on end without flopping over, in slow motion.
The edges can be dressed with hardwood similar to to your section.
Even so, I think the customer's design is marginal at best. 10' doors of honeycomb will bang and rattle against the stops when the air handling units turn on unless there will be some form of retention top and bottom.
If there is no top retention, then I would push for a thicker panel - 1-3/4" torsion box (1/8" skins) and a 3" frame of sorts.
---
10/8 #8: Large interior door options ...

You should also be sure of the hardware being used and it's location so you can block for it accordingly.
---
10/8 #9: Large interior door options ...

MDF is officially off the table:)
I like the 3" door also and I'm confident it will perform well. I will get some push back in several if not all locations at 3".
At this point I feel that the thickness expectation will drive the decision between shop made torsion box cores and honeycomb cores. If the honeycomb is necessary it will allow for a thicker skin and reduce some of the issues Dave mentioned. I certainly have an interest in making these sound and feel like a "real door" and not an airplane wing.
Good point on the hardware blocking. These are butt hinges so were good on that side but I will be sure to address the strike side and any hardware needs.
Thanks again to all, I appreciate all of your feedback and advise!
---
10/9 #10: Large interior door options ...

This is an interesting project that highlights the situations we often feel when presented with a "challenge". They have designed something that really can't - or shouldn't - be built, and yet we still have to build it, and make money at it, and hope your name is enhanced by being associated with it.
You are going to learn on this project. Please post back when done with a report on how the execution progressed.
And good luck.....
---
10/9 #11: Large interior door options ...

Well put David.
This is precisely one of those situations with great importance on producing the right product the first time. I enjoy learning from failure as much as the next guy but this cannot be one of those times.
It will be several months but I will follow up along the way and at the end.
---