Message Thread:
Freight Shipping
5/18

Hey all,
I crate and ship flat packed furniture throughout the US. It's low margin, so I can't go crazy on the crating. For the past couple years I've been using FexEx Freight. There have been some problems, but overall not too bad. The last 2 shipments, the customer went with Freight Quote to save about half the cost, and both times the crates got totally destroyed.
Does anyone have any recommendations for a carrier that is a good balance of cost and reliability?
---
5/19 #2: Freight Shipping ...

I recently had a chop saw I bought on ebay shipped from Ohio to Seattle. This was on a national freight forwarder that had a program on their website where you enter in the XYZ dimensions & weight of crated merchandise.
I went online and received a quote for $222. In order to get a bill of lading for this shipment I had to enter in a credit card. When the transaction was approved I would be assigned the bill of lading.
Everything went through as agreed until about one month after the saw arrived. I first received a notice that I may have a credit on my account and I could apply for a rebate check. This did not make sense so I ignored it. About 5 days later I received an invoice for $735. I could, if I wanted, apply the $222 credit against the bill but I supposedly now owed $513.
This took about six phone calls to resolve and I spent an interminable amount of time on hold listening to really loud & really shitty music. I can see now how they used to soften up prisoners by making them listen to the tapes that this freight company had on loop.
Moral of story, pay attention.
These freight forwarders are not altogether organized.
---
5/20 #3: Freight Shipping ...

Website: subercustomshutters.com
I too go round and round with shipping. I don't do a lot of it, but I feel it limits my ability to pick up work long distance. In many cases where I do ship, I let the customer make their own arrangements, if they have as much or more experience shipping than I do. For instance I have had several customers send me a packing slip by email, and I attach it after I box up their order. I charge in my quote a $40.00 or $50.00 crate or handling fee, depending on the order. I think some customers like it, in that they have an opportunity to shop for their own best price. I think they probably end up paying what I would get charged anyway from a carrier. Plus I a not responsible for damage from the carrier, at least so far. But I package the stuff like crazy. I do provide the customers when I box the shipment, the size of the package, and a guess to the weight. I cant weigh real heavy packages. I am not sure if adjustments are made when the customer gets a final bill, or if the amount is determined on my guess to the weight. I do try to tell people that shipping can get expensive, to prepare them for a surprising fee. I don't know how some small competitors do free or flat fee shipping, I have not seen how to make that work.
---
5/20 #4: Freight Shipping ...

Something to consider for the future is the impact of UBER litigation on independent drivers.
Many of these truckers are independent operators that work under the banner of a larger freight forwarder. Being litigated now is the question of whether or not they are actually entrepreneurs or instead employees entitled to employee benefits.
Throw in also the effect of Amazon moving laterally into freight hauling. This will put a tremendous pressure on the "last mile" haulers.
---
5/21 #5: Freight Shipping ...


I generally ask to have the freight shipments quoted for pickup at the nearest terminal. Being in a rural area this amounts to large cost savings.
They will be responsible for loading your truck or trailer with the forklift, and you can schedule the pickup for whatever day/time is convenient. This has saved me upwards of $300+ on a single shipment.
The convenience factor of being able top pick stuff up when I want is also major.
I got burned on one occasion where the freight company scheduled delivery at my shop between 7:00AM and 7:00 PM. They refused to even tell me if it would be the earlier, or later half of the day. They finally canceled the delivery at 6:00 PM, and rescheduled for the next day. Same crap. I read them the riot act that afternoon, got them to have the driver call.
Shipment arrived at 7:00 PM at the end of the route badly damaged.
---
5/21 #6: Freight Shipping ...

Even fully crated, LTL is hopeless. One thing that helps is to ask for a divided shipment. Your product will go in the nose of the trailer and have a plywood
& load bar separation from the rest of the load and not likely to be unloaded before arriving at destination. Drawback, higher cost, longer delivery times. If an order will fill 1/2 of a pup we will contract the entire pup, same with a 53' trailer.
---
5/21 #7: Freight Shipping ...

Larry,
Thanks for the response. I guess it's just the LTL business model to not care and stonewall claims as best they can.
Do you work with a rep? I know for sheet goods if I do a lot of business through one supplier, that rep treats me well when I have quality issues with his products. Does it work the same for shipping? Or is shipping just too impersonal for anyone to care no matter how much business you do with them?
---
5/22 #8: Freight Shipping ...

I don't have any answers.
But it might help if you go to double corrugated boxes.
We once shipped some big fixtures 5x10x1.5 that were MDF, with no problems in hundreds to almost all of the states. Using double corrugated boxes. They were all LTL .
I can't remember the company though.
---
5/23 #9: Freight Shipping ...

We ship nationally every day. We use a couple carriers. You have to form a relationship with the carrier. Call the local fedex terminal, Conway, R&L. Get a salesman out. Have them look at your packaging. They will send out the packaging specialist. They will likely ask for a bunch of packaging, throttle them back. They should work up a discount that works. As you have found the cheapest is not always the best.
If they help you with the packaging and there is damage they pay more easily.
Good luck.
---
5/23 #10: Freight Shipping ...

Bill,
You're exactly the person I was hoping would reply. So, which carrier do you use most frequently?
---
5/24 #11: Freight Shipping ...

There is no magic carrier and it changes over time. Invite them in and see who offers the best deal and who is interested/ Call the local terminals and ask for the terminal manager.
---
5/27 #12: Freight Shipping ...

I ship large freight out all the time.
I use FreightQuote and Unishippers currently to broker my freight quotes through various carriers.
FedEx Freight is very high quality and usually faster by a day or two, however you are paying a premium for them.
I have also used R&L, Estes, Saia, Conway, YRC, Central, Old Dominion, etc.
Main thing is make sure you package it correctly. Keep in mind everybody moving your freight on forklifts through terminals and on/off trucks doesn't give a shit about your 'fragile' labeled package. Assume everyone who touches it is a moron, and package it as moron proof as you can!
(no offense intended to the few freight handlers out there who REALLY care about their work and take pride in moving it correctly. )
Many of my shipments include large panels of glass up to 8ft x 10ft, and can be pretty fragile, however I use good quality pallets, and usually reinforce those pallets as well, and frame up crate with 2x4's and 2x6's, thick styrafoam sheets for padding.
Packaging sound expensive? Yes. but I'd rather the client get the product safely the first time, and not miss deadline because we had to build it again.
Insurance claims seem to be more work than the actual project. They hope you will give up the process before they finally issue payment.
So it's best to make sure its securely enough packed so that no matter how horribly the forklift operator is, your product will remain safe.
---
5/27 #13: Freight Shipping ...

Website: lagunabamboo.com
Modern Artist nailed it. If you have pride in your cabinets and want to ship them safely than you need to have pride in the crating.
First thing I do is sketch out how I am going to package everything. I like to sort by sizes. Base cabinets are usually the same height and the same with uppers. 2 base cabinets, back to back are usually 48 inches. So I'll get a custom pallet built
( usually cheaper than I can buy the lumber ) about 50 - 51 inches deep. This will allow for the foam and a good tight fit when I attach the plywood crating. The width of the pallet will depend on how I calculated the layout of the cabinets.
I allow a couple of inches on each side so I have room to screw a sleeper to the bottom of the boxes and screw them down to the pallet. ( see picture ) If I get 4 base cabinets to sit on the pallet, I will not only have them screwed to the pallet, but will run some cleats across the top and screw the boxes together. I also use the toe kicks as a way to attach everything together. Then I do the same with the next level of cabinets. Everything is attached to the base cabinets and attached at the top. If I have voids on the upper level I fill that with all my misc parts.
I wrap everything with foam and make sure no faces are facing the outside of the crate. Thus if a fork penetrates the exterior of the crate it will not hit a face. ( I mail a square drive bit to whom ever is going to be receiving the cabinets just incase they don't have one )
I use 3/4 plywood on the exterior. I extend 2 sides down to the bottom of the pallet and screw it off to create stiffness. The other 2 sides extend down 3/4" so I can screw it to the pallet and still allow room for the forks to pick it up. The top is inset
between the 4 sides and everything is screwed together.
When I am done I take pictures of the crating and e mail them to the contractor or owner so they know I care deeply about my work and their cabinets. ( not just final payment )
I calculated that it costs me about $500 per crate, labor and materials.
There's never a guaranty there won't be a problem, but I sleep well knowing I did the best I could.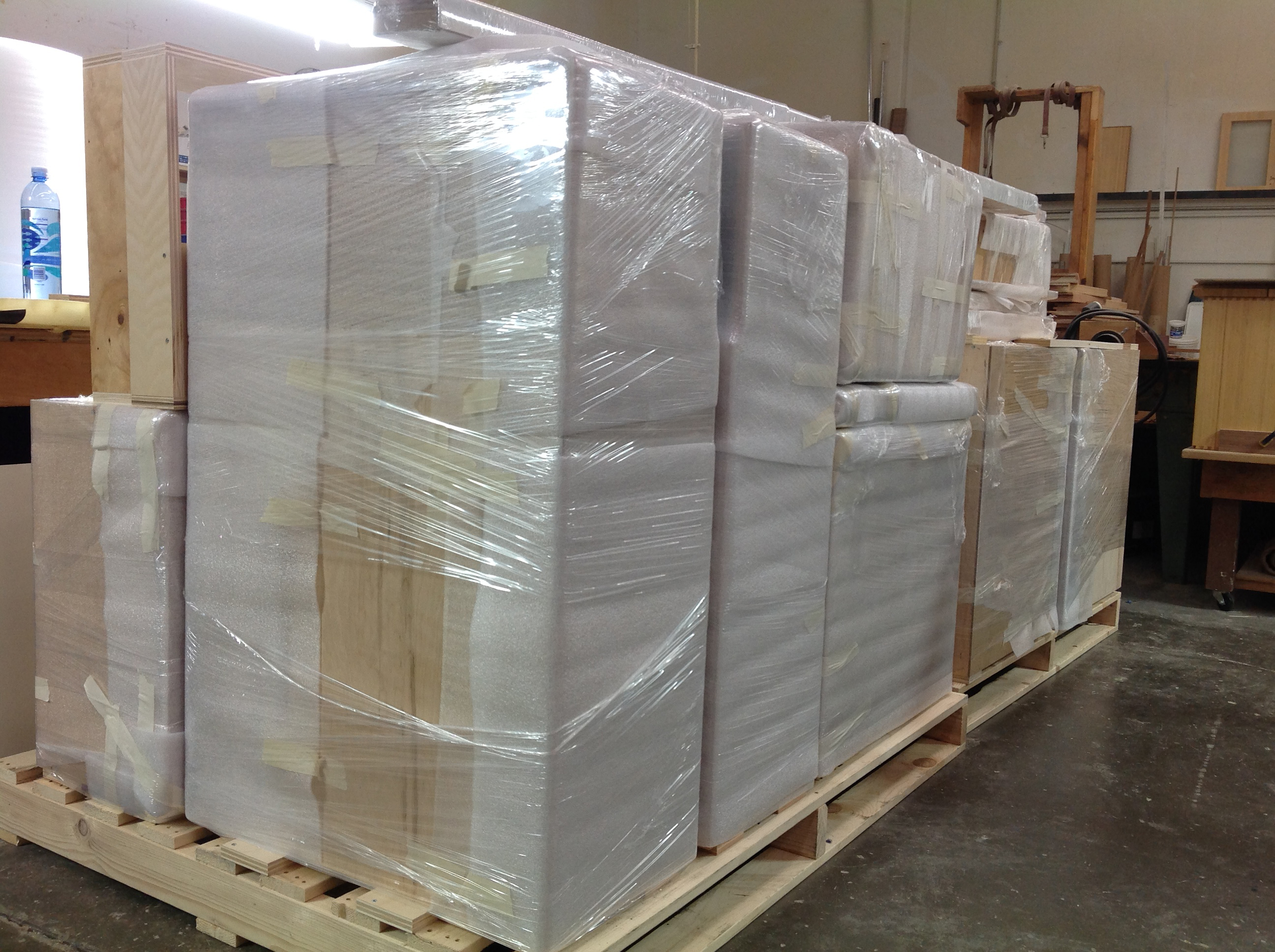 View higher quality, full size image (2592 X 1936)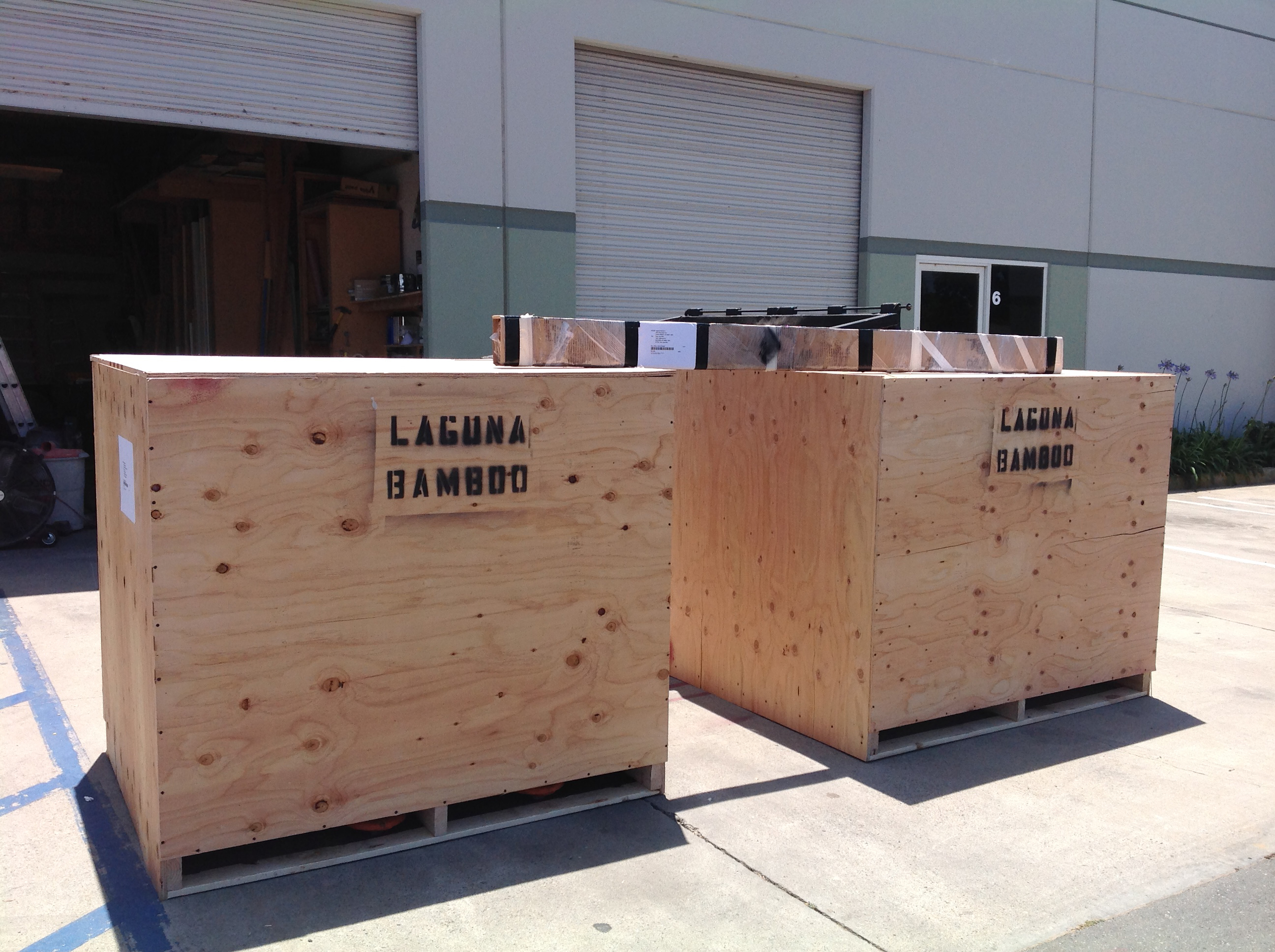 View higher quality, full size image (2592 X 1936)

---
9/6 #14: Freight Shipping ...

Website: https://www.bullomarine.uk/
Determine Current Rates, Volume
First, gather the facts about your current shipping costs.
Determine current shipping rates. To begin, you will need (a) the current USPS rate chart for USPS shipments, (b) the UPS daily pick-up rate chart if you have a UPS or FedEx contract, or (c ) the UPS retail rate chart if you drop off your parcels at a UPS or FedEx store. Note that the published daily pick-up UPS and FedEx base rates and surcharge rates are the same. There are some minor differences in the retail rates (sometimes called counter rates) that are charged by UPS stores and FedEx Kinkos.
Determine surcharge rates. These are typically the USPS delivery confirmation fees, UPS and FedEx residential and delivery area surcharges and the UPS and FedEx fuel surcharge.
Estimate surcharge volume. This is the percentage of your UPS and FedEx parcels that are subject to the residential surcharge and to the delivery area surcharge. You will also need to estimate the percentage of your USPS parcels that include the delivery confirmation option.
Determine your per-order warehouse and supplies expense. To do this, add your monthly warehouse labor cost, shipping supplies expense, and facility cost (excluding USPS, UPS or FedEx delivery costs) and divide this by your average monthly shipping volume. For example, if your total warehouse and supplies is $4,250 per month and you ship 1,000 orders per month, the per order cost equals $4.25.
---
12/17 #15: Freight Shipping ...

There aren't too many options out there. I will leave a link to a company I had some experience with and it was positive