Message Thread:
Can't satisfy customer
1/23

Website: http://www.crockettscabinetry.com
We have a great track record of satisfied customers, but we've got one now that seems to be going out of their way to find things to make an issue out of. All the issues, some legitimate, are being or have been addressed, but then they'll find something else. Example: she can't stand up her make-up bottle in the top drawer of the vanity. We've even fixed things that weren't our responsibility, like we do on all other jobs, just to keep things moving and make for a better outcome. I'm at the point where I'm thinking I need an attorney to help me figure out when I can say "enough", and walk away. Wondering what experiences and solutions others have had.
---
1/23 #2: Can't satisfy customer ...

First off it is helpful to understand why this is happening. It has to do with angst.
Angst is part of the human condition. We need it. We inherited it from our tree lemur ancestors. Back in the day our relatives needed to watch every leaf on every tree because it might be a snake. Every shadow on the ground could be cloud passing in front of the sun or it could be that bird again.
The basis for tribe owes it's origin to when we were still being hunted by birds. We had to form alliances so that somebody could guard the mouth of the cave so that we could sleep.
Eventually these exigencies dissipated. There were butterflies and you could hear birds chirping and the morning was sunny. As we left the cave to venture out into the wonderfulness the camera panned to the cave were living in and it turned out to be the cardboard box the subzero refrigerator shipped in.
So now you know why.
This woman can't help herself. She needs angst.
I had a similar situation once with a client who was size healthy. She, her husband, the architect, contractor and me were on site doing a walk through. She had a tiled in make up counter that was a little low for her to scoot under. They asked me if anything could be done about this so I said "Have you considered Bulimia?". Wasn't my best moment but it got the job done. I became persona non grata and the job went downhill from there.
It made me, however, much more understanding about why you can only stack silk scarves two high. Every body knows that if you stack them any higher you will bruise the silk.
---
1/23 #3: Can't satisfy customer ...

Although Tim tells a good story, in my experience when the situation will not resolve it is because there is someone sitting on the sidelines creating the situation.
---
1/23 #4: Can't satisfy customer ...

That person sitting on the sidelines could also be this woman.
Several years ago we recommended a painter to a kitchen customer. They didn't do the best job and the customer called them out on it. The painters agreed that it wasn't their best job so they came back to fix it. It still wasn't good enough.
When the customer took it up with them again they stonewalled her and this made her mad. She refused to pay until they fixed it. This went back an forth until you really had to look for the defect. Still the lady kept complaining.
My take on it was that the real issue was she did not want to be perceived as a crazy person. It was this reason that she kept defending her position. By now it had nothing at all to do with the paint.
I told her I agreed that they did a terrible job and that she was perfectly reasonable in her expectations. I also told her I didn't think they could do any better. All she needed was validation that she wasn't crazy.
I told the painters that what they should have done was been a little more humble then trot out the goat skin wrapped brush their great-great grandfather brought with him from the old country and tell her this was the magic brush.
Involving a lawyer will cause you more more misery than it will ever bring you benefit. Tell her that she deserves the best job because she paid good money for it. Ask her how she it end up. At least she won't be so angry. Angry customers are not your friend.
---
1/23 #5: Can't satisfy customer ...

Website: http://www.crockettscabinetry.com
This customer seems to like the conflict, and I swear they set things up to be a problem. They were their own GC, had lots of other difficulties, and they seem to be looking for anyone else to blame for what went wrong. The attorney would be simply to advise me on the best way out, and to inform me of what they can and can't do. Not looking for legal action, just closure.
---
1/23 #6: Can't satisfy customer ...

The only way this kind of situation is controlled, is with a well written contract at the very beginning. It spells out what constitutes repairs and what constitutes change orders. Correcting random requests would be classified as change orders, and contract spells out payment schedules for those changes. Now you are likely to be going to small claims court if you pursue a way to escape that does not agree with the customer's desire.
---
1/23 #7: Can't satisfy customer ...

I hear yous, but in my experience it is more effective to find out who is creating the situation and expose them.
The lawyer is the one who benefits from creating a situation.
The neighbor who denigrates the work
The "owners representative" who creates a situation benefits by creating his worth by creating the problem.
Anyone who creates a zero sum game pushing down their targets, falsely thinking that this buoys themselves.
Any agent who benefits by "exposing" your negligence.
You can engage in psycho babble until the cows come home or the prepositions in your contract, but at the end of the day all that is effective is exposing the parties for who they are
---
1/24 #8: Can't satisfy customer ...

Website: http://www.crockettscabinetry.com
A fact I neglected to include is we are paid up. I'm trying to address their concerns because it's the right thing to do and so I can sleep at night, as well as not leave them a reason to come after us in the future.
---
1/24 #9: Can't satisfy customer ...

David, consider asking her for a list of all that needs attention .It may create direction and clarity that brings you closer to the end.
---
1/25 #10: Can't satisfy customer ...

Since you are paid up (as you stated), I would offer the client one chance at a punch list. Offer her a blank sheet of paper, give her 3 days and the following instructions:
"You have 3 days to find items that you think should be fixed. You will not be allowed to make any additions to this list after those 3 days are expired.
We will proceed to fix as many of them as we possibly can.
Each item will be signed off by both me and you as being complete.
If there are any items that we are unable (or unwilling) to fix, we will discuss a monetary settlement value for the individual item.
At the end of this punch list completion, I want you to spend time enjoying your cabinetry in your home instead of trying to find things wrong with the project."
Language may be a little harsh....I've had a couple of jobs recently that have had similar clientele. I, too, am getting a little tired of trying to satisfy nit-picky people on items that do not matter in the big picture of life.
Just my 2 cents
---
1/26 #11: Can't satisfy customer ...

I've been in similar situations. Some people aren't happy unless they are unhappy. I had a friend who was like this. He is a multi-millionaire who would constantly hire the low bidder and then couldn't understand why they "cut corners" on their work. Same guy took back a pair of pants to the GAP when the zipper broke (7 years after he purchased them).!
Questions: Did you provide them with dimensioned drawings? If they approved and you built as drawn with good workmanship, your conscience should be clear. If she specifically said "the top drawer needs to be deep enough for this bottle", you should attempt to remedy the situation.
Like many of us, it sounds like you take pride in your work and don't want to have an unsatisfied customer (even if they never said a word to anyone).
If you feel good about things and she is "reasonable", I would say "It's always my goal to leave a job with the customer completely happy". " However, the few issues you're bringing up weren't part of the original project design and bid". "If you would like further changes, I would be happy (not really) to come up with a revised design and bid for the work". Then, you bid the work with the full understanding of what you're signing up for.
If she is unreasonable, give the same statement and triple the bid for a reasonable person. Hiring a lawyer may remove you personally from the conflict, but reasonable people go on the defense when a lawyer is involved. Unreasonable often get more aggressive and go on the offense.
Good luck.
---
1/26 #12: Can't satisfy customer ...

Unfortunately once things start to go bad in some cases despite your best efforts the customer desides they are in happy and really not much can be done. Sometimes legal counsel is necessary. The most important thing to take away from a situation like you described is to learn how to avoid it in the future by communicating and over communicating to the customer. Also a sales contract that spells out the details of the job is a must.
---
1/29 #13: Can't satisfy customer ...

Rework your stationary to read:
"We are not happy until you are not happy"
and send her a note on it, thanking her for helping you reach your goal as stated in the company motto above.
Credit to the Demotivators people, the best thing to happen to a wall since the Last Supper.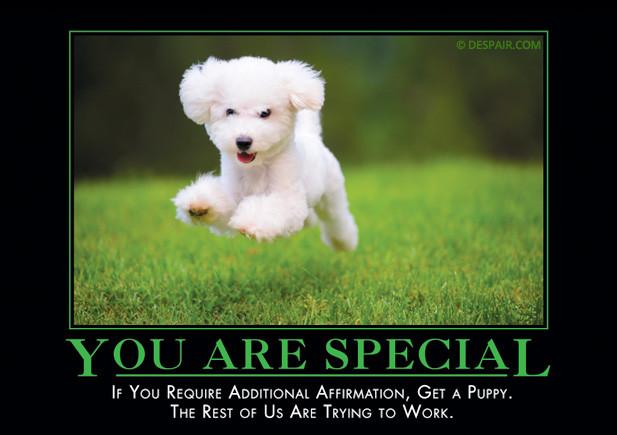 View higher quality, full size image (617 X 435)

Demotivators
---
2/6 #14: Can't satisfy customer ...


If you are paid up, why is legal counsel even an option. Going that route for sure is not going to make your customer happy. If you fulfilled your obligations the best thing to do may be to just walk away at this point Sometimes the customer is not always right.
---