Message Thread:
Blumotion clearances
12/30

We do not use mechanical slides when we do drawers, but we have a customer that is insisting on such for dresser drawers. With wood drawers, veneered fronts, in web frames, I shoot for a big 3/32" (.1000") clearance or gap from one drawer to inset frame or another drawer.
However, I cannot find the recommended clearance for the Blum 563.4570B slides in their literature anywhere. I learned they now have adjustability in them, but I need to know the recommended minimum so the drawers can't hit each other. I also will use the rack and pinion stabilizers, if that matters.
---
12/30 #2: Blumotion clearances ...

Are you referring to the 563H or 563F under mounts?
The 4570's are the 18" glides.
If so, it depends on the drawer box thickness to determine the side clearances.
---
12/30 #3: Blumotion clearances ...

To be clearer. The Drawer side thickness is what is needed. The 563H has a max thickness of 5/8". The 563F has a max thickness of 3/4".
---
12/30 #4: Blumotion clearances ...

I apologize for being presumptive. Let me be more specific: I am talking about drawer fronts only. I know the clearances needed for the drawer box to cabinet dimensions - horizontally and vertically. I find them in the Blum Book pretty clearly shown.
With the furniture type design I have, the drawer fronts will overlay the drawer sides and cabinet case by about 7/8" on each side, so they come close to each other - 3 drawers wide, 4 drawers high. The photo attached is of a similar type drawer, but is a bit hard to see how the sides and top overhang the drawer box.
There is always some side to side "waggle" (technical term) in the slides. That is, they have some slop for forgiveness or whatever built in. Usually more horizontally than vertically. At least that is the way they used to be.
So, regardless of drawer box and cabinet interior sides, what should be the distance between the drawer edges? I'm sure Blum would say 1/4" or more, but we want much tighter clearances. I can mock it up if I have to, I just thought someone more familiar with the slides will know. I'd like a 1/8" clearance, but....?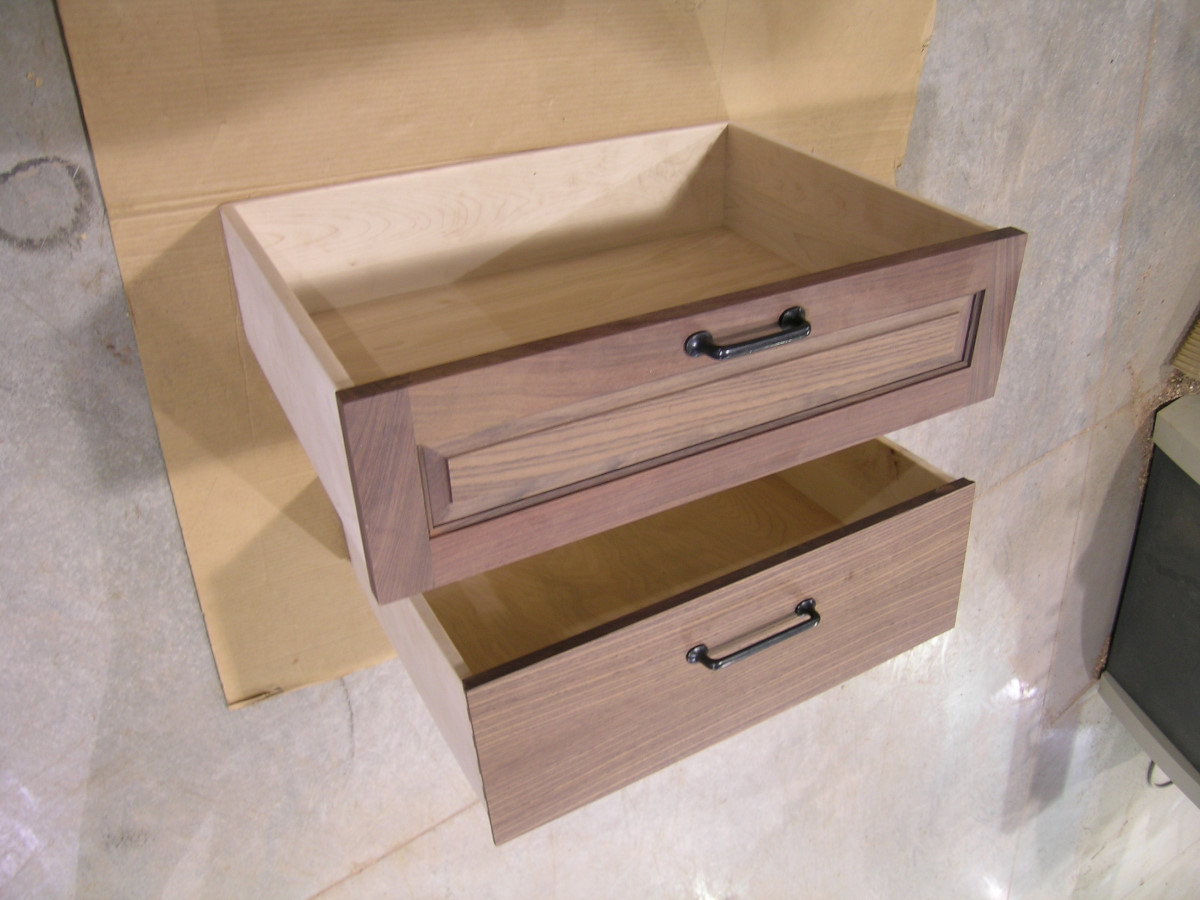 View higher quality, full size image (1200 X 900)

---
12/30 #5: Blumotion clearances ...

As I read the question, the OP is referring to the drawer front clearance. I build euro and thought the guides were a bit sloppy. They could be adjusted so the gap all around would be perfect but when the drawer was cycled (opened and closed) the gap would change, one side or the other. They didn't close in the same position every time. I'd guess you can maintain tighter tolerances with your wood guides. For euro construction I use a 3mm gap.
---
12/30 #6: Blumotion clearances ...

Bruce - well stated. That is exactly what I'm looking for.
And you mentioned the changes after cycling and use. That is why we don't use them unless requested. We have even added wood center guides to keep the "waggle" factor in check.
So 3mm is the clearance you use from drawer front to case or drawer front to drawer front on all four sides? I can live with that.
---
12/30 #7: Blumotion clearances ...

Yes, I try and have a 3mm gap between everything in the finished view. I'd like to see a photo of the piece when done. Bet it is going to be NICE!...

---
12/30 #8: Blumotion clearances ...

3/32" will work, at minimum, 1/8" is less demanding. They are a little spongy vertically relative to their live load, tighter horizontally. The newer clips with side adjustment are worth the extra $. Adjustments are incremental in all 3 dimensions, but not microscopic. I am not familiar with the rack and pinion stabilizers. As always with new hardware, mock it up and see how it works for you.
---
12/30 #9: Blumotion clearances ...

Website: http://morantz cabinets.com
We use 3mm clearance as well.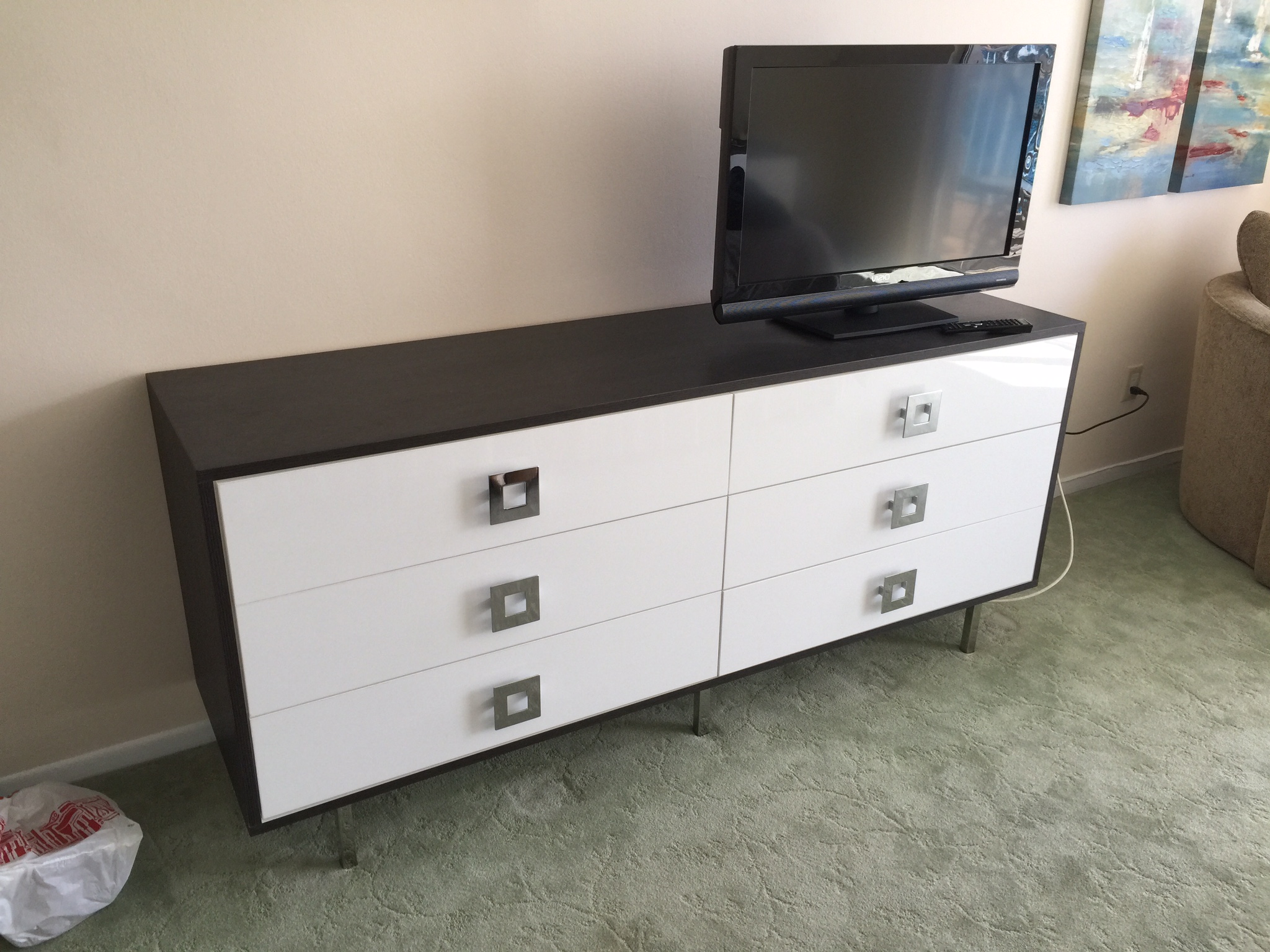 View higher quality, full size image (2048 X 1536)

---
12/31 #10: Blumotion clearances ...

Website: http://www.lrgwood.com
I use 2mm, 5/64" all the time. Never had a problem.
---
12/31 #11: Blumotion clearances ...

Website: http://www.lrgwood.com
Thanks for the help gentlemen. Exactly what I needed. I feel more confident now.
---
12/31 #12: Blumotion clearances ...

We use the Movento guides (760H5500b) with 2.5mm clearances and have no issues. With the adjustments on the guide we are able to mount all the drawer fronts on the drawer boxes then adjust once installed. One thing I found was to make sure the height adjustment slide was all the way forward (down position) before measuring to determine the face height on the box then mount the face a little low as you only have up adjustment from that position. Hope that makes sense? The height adjustment sometimes needs to be adjusted once the drawers are loaded due to the box not sitting flat on the guides before loading otherwise they seem to hold their position quite well.
HTH
Gerry
---
12/31 #13: Blumotion clearances ...

I use the Blumotion with the 3 way adjustment and am very satisfied with them. Yes, they do slop around a bit when opening/closing - but do seem to settle in the same spot repeatedly. I echo Gerry's tip on ensuring you are starting with the height lever in the lowest position.
Same as Leo G, our gaps at 2 mm work out very nicely with no issues. The attached photo makes the gap appear larger, but that is due to the drawer face and frame edges being slightly broken (rounded over).
We've tried all the manufacturers, but always come back to the Blum. So, the last five years I've stayed with them.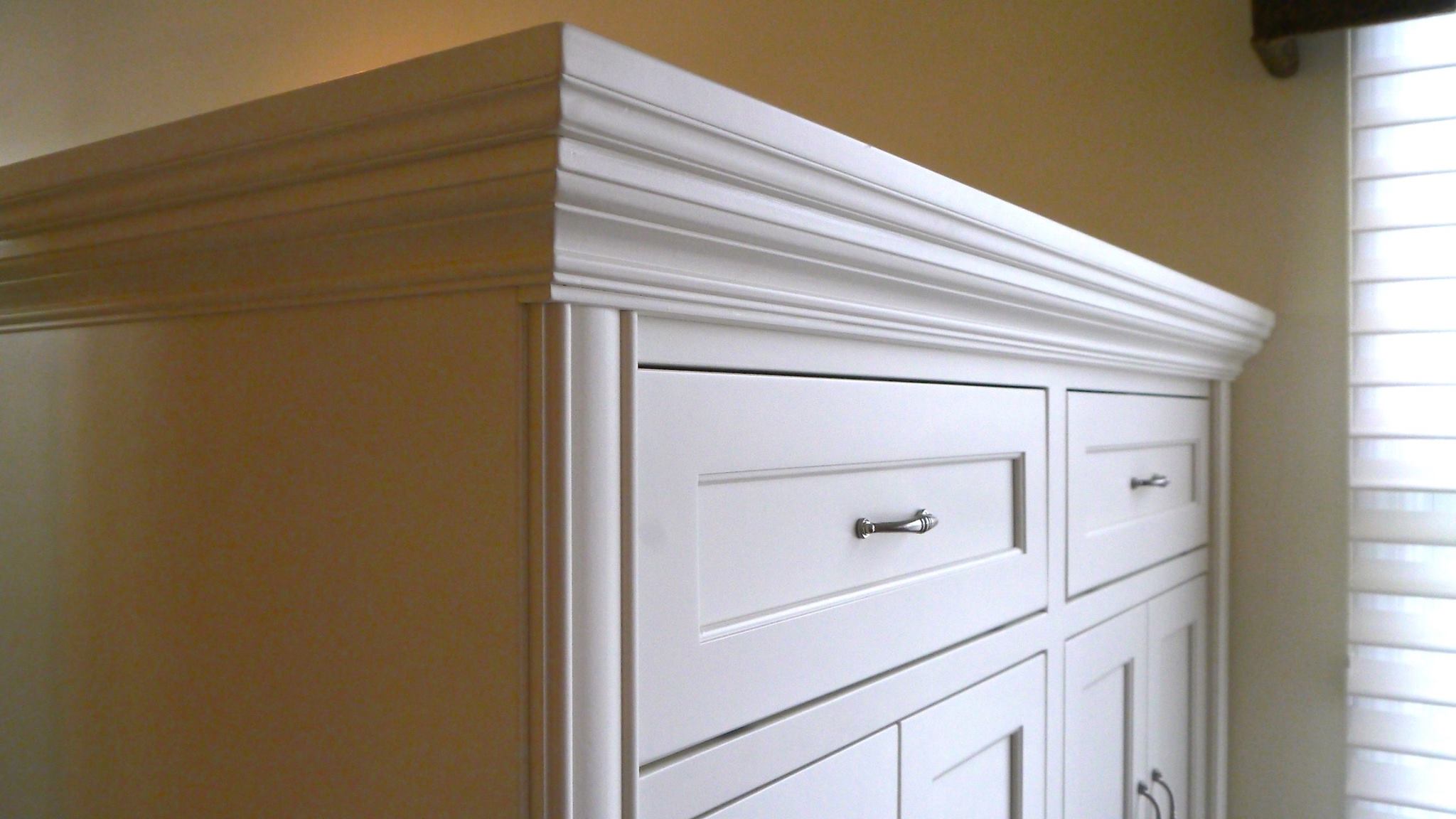 View higher quality, full size image (2048 X 1152)

---
1/1 #14: Blumotion clearances ...

I like to load the box with some weight before fastening the front in the shop.
The slides always seem to "settle" when in actual use so I try and anticipate this.
Also helps as stated above to make sure the depth adjustment is in the lowest setting to start.
For inset, the Blum depth adjustable locks are nice.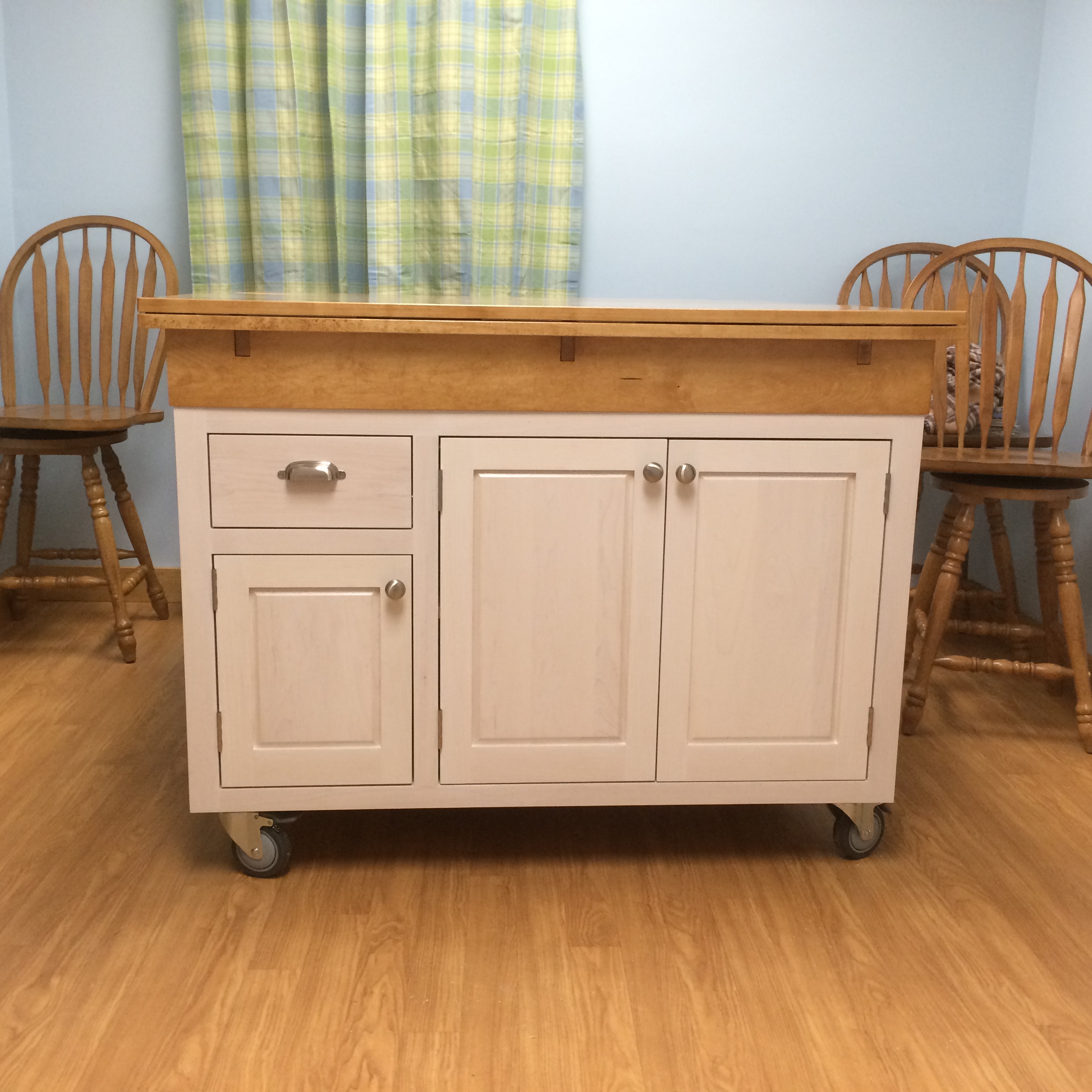 View higher quality, full size image (2448 X 2448)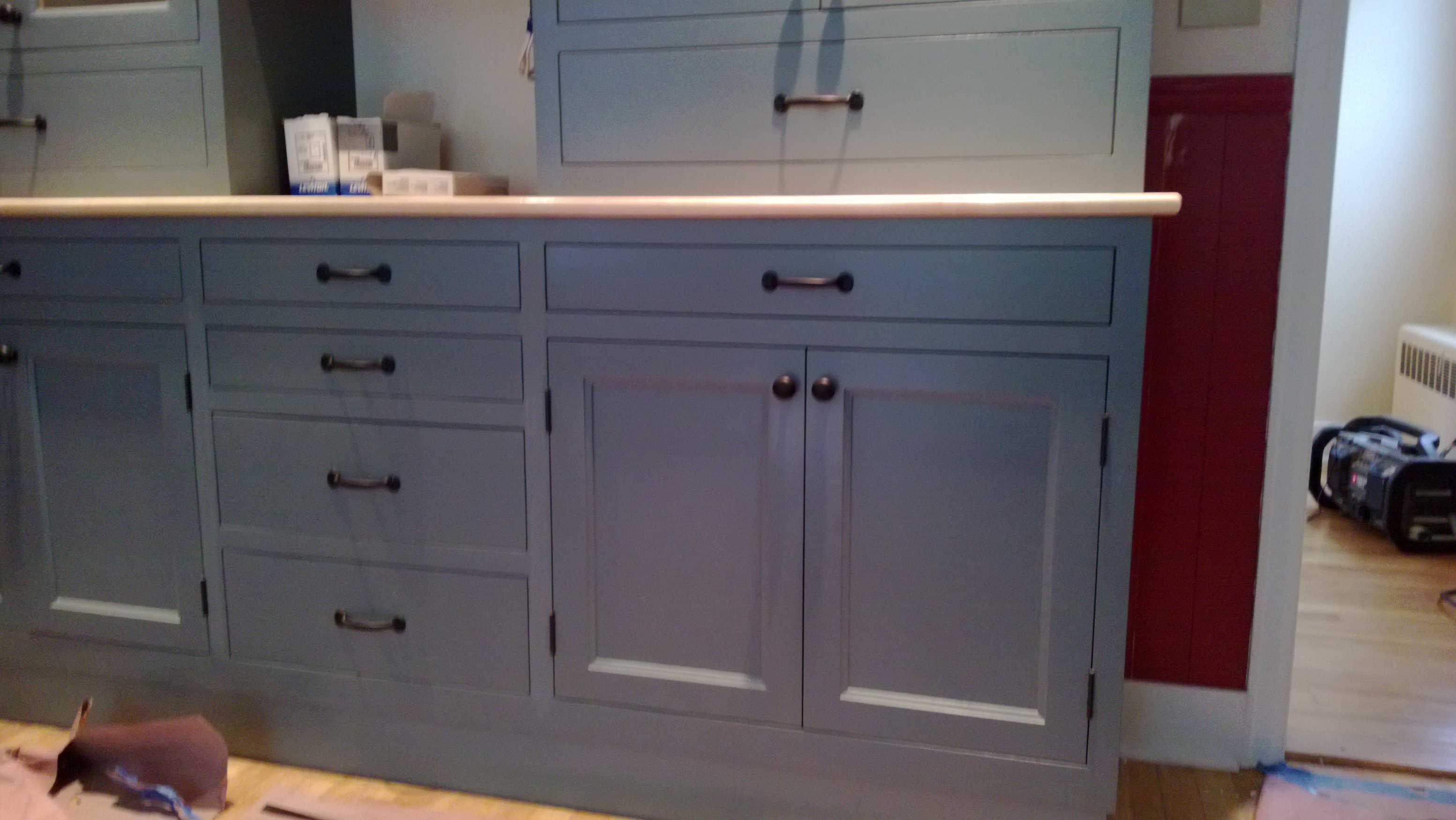 View higher quality, full size image (3108 X 1750)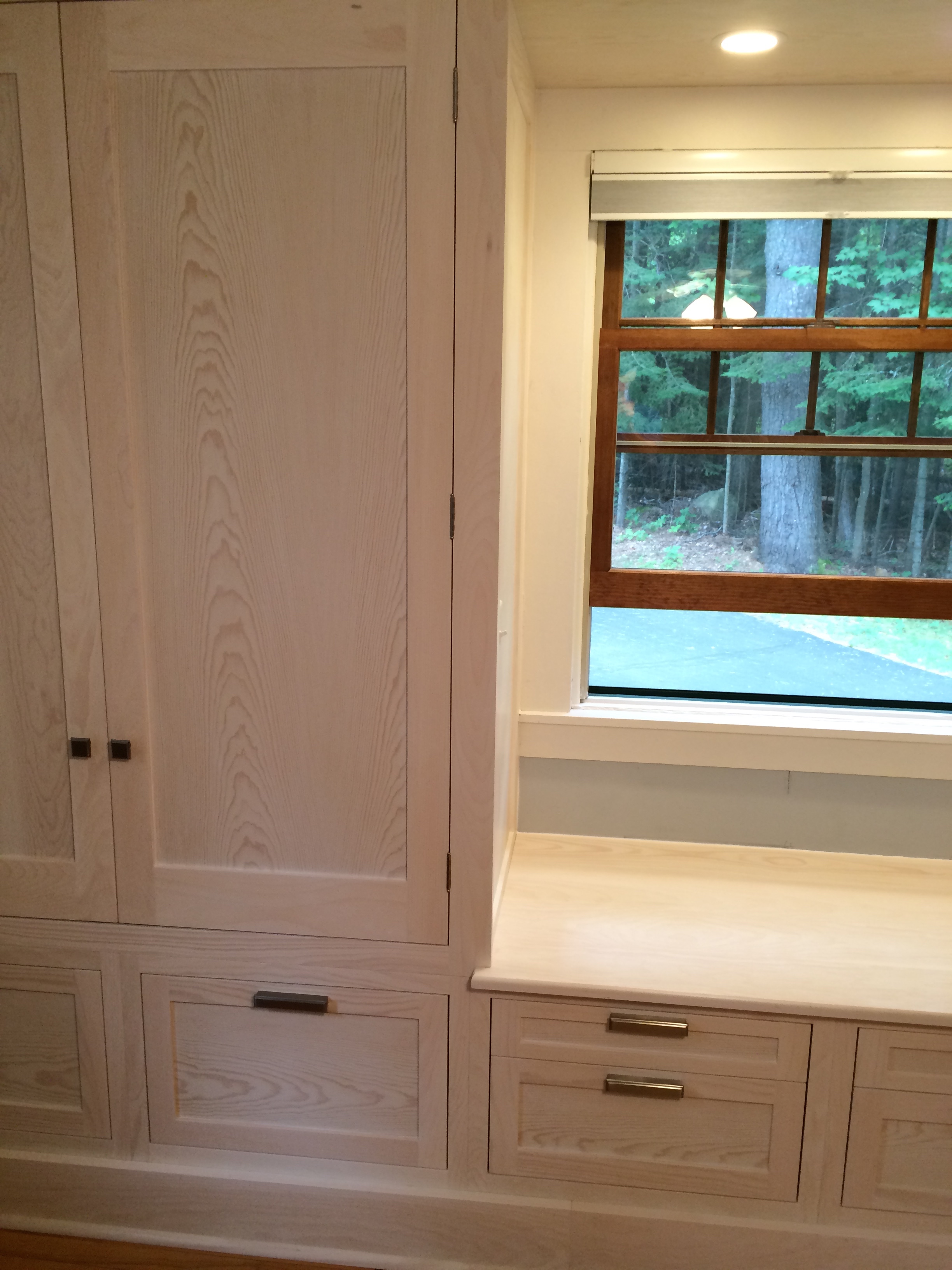 View higher quality, full size image (2448 X 3264)

---
1/1 #15: Blumotion clearances ...

may I ask what jigs or tricks do you guys use to mount the drawer guides when doing multiply inset guides. thx
---
1/2 #16: Blumotion clearances ...

I use some masking tape and Incra T rulers. The 3" one for this.
http://www.incra.com/measuring_marking-trules.html
The t rulers are very easy to be accurate with, I measure the front hole out exactly then I use a large framing square to ensure that I'm square with the face and drill the middle and backs.
I have thought about making a jig, but once you get your first hole in the right spot you're golden.
Blocks from the cabinet floor would be the easiest thing. You could just set the slide on them and go.
If it's a faceframe piece you just set it on the face frame and square it up. The depth of setback as always depends on what kind of drawers your making.
---
1/2 #17: Blumotion clearances ...

In response to questions I've received pertaining to the white cabinet I posted in this thread - the finish is Valspar Conversion Lacquer in Benjamin Moore "White Dove" over Valspar White Undercoat primers.
The edge details are made using carbide micro-rounding over bits (Amana brand) in hand held routers, followed by hand sanding with 220 grit paper to ensure no chatter marks which might show up on small break overs such as these drawerfaces and frame edges. I use 220 so as not to change the perfect radius made by the router bit - a coarser grit would do that if you are not very careful.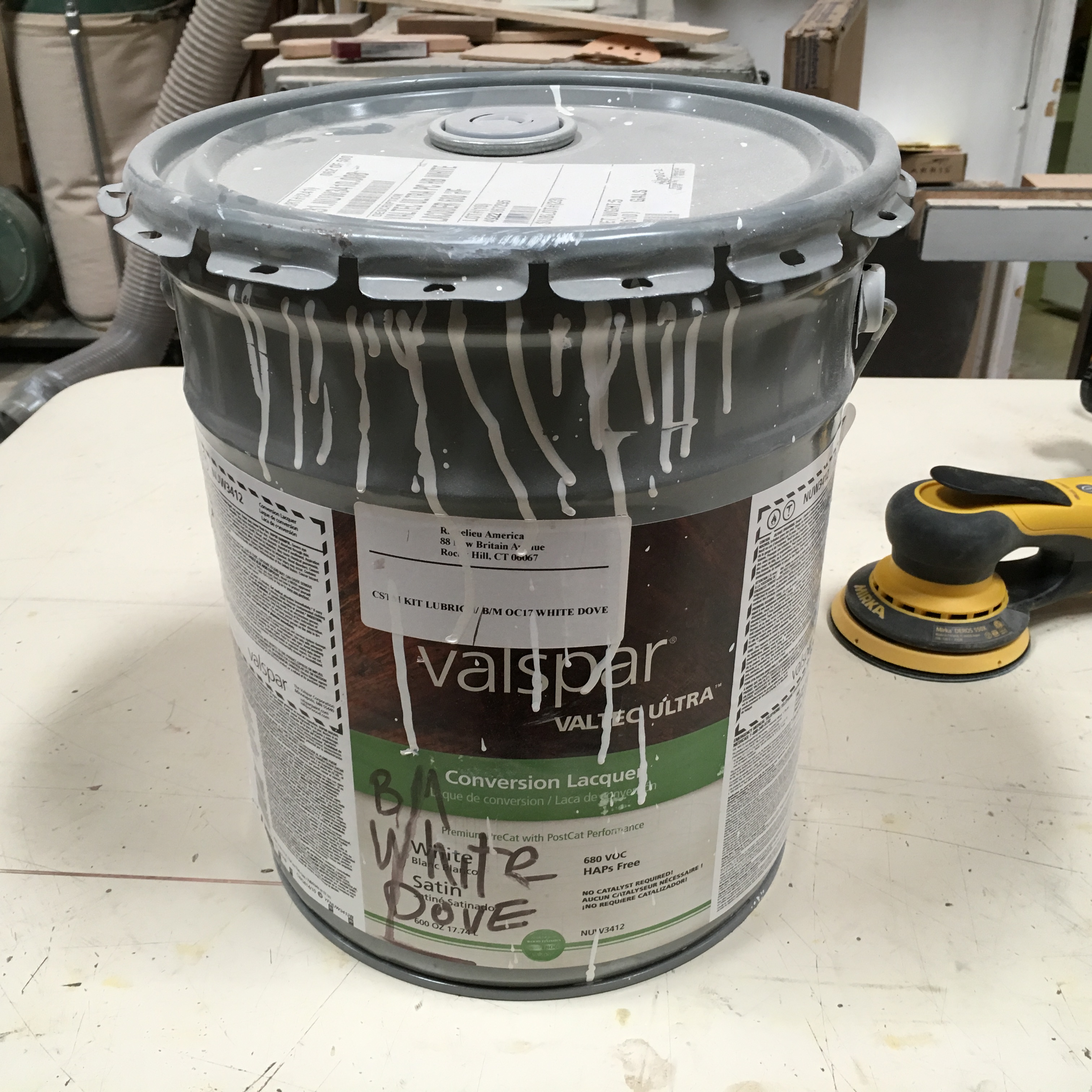 View higher quality, full size image (3024 X 3024)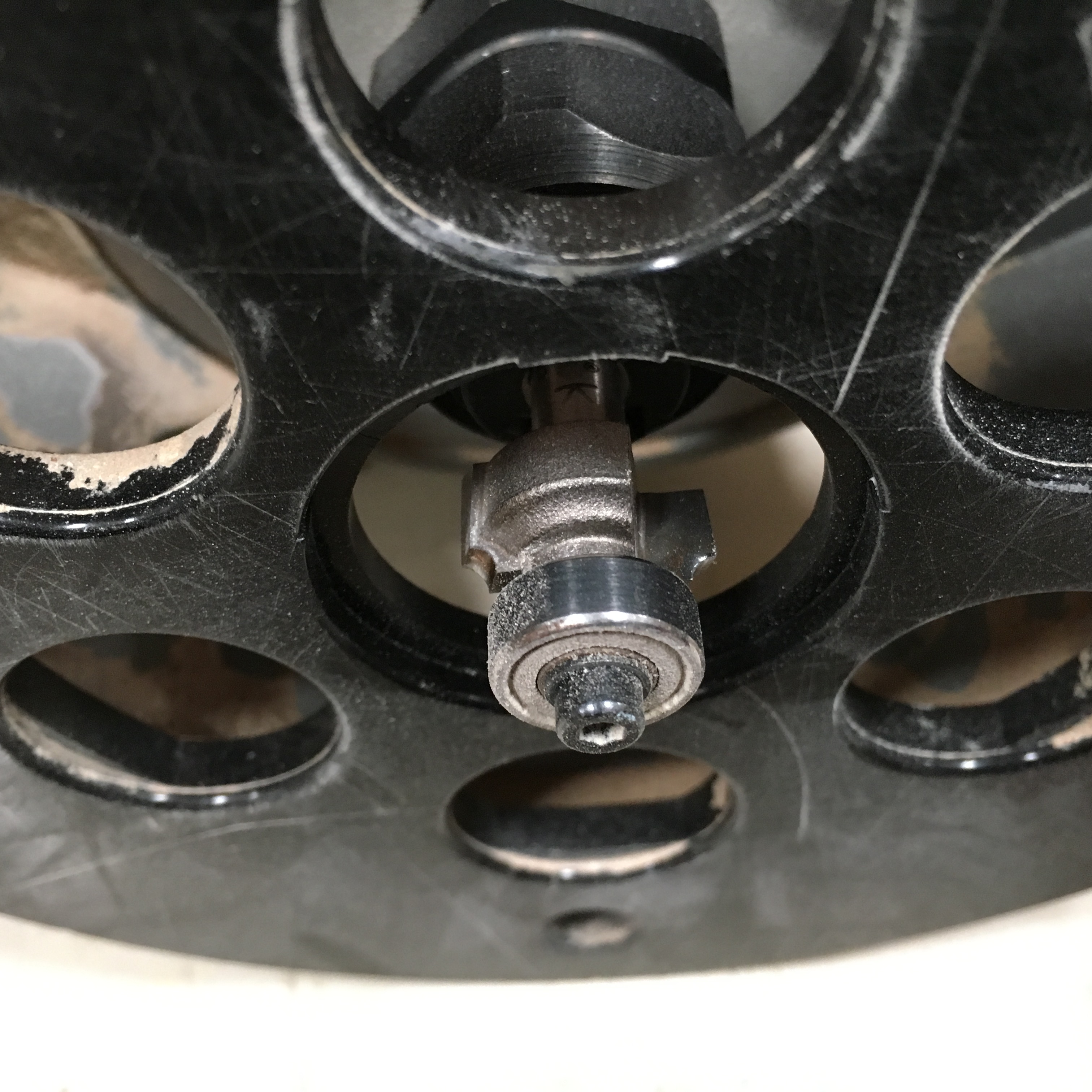 View higher quality, full size image (3024 X 3024)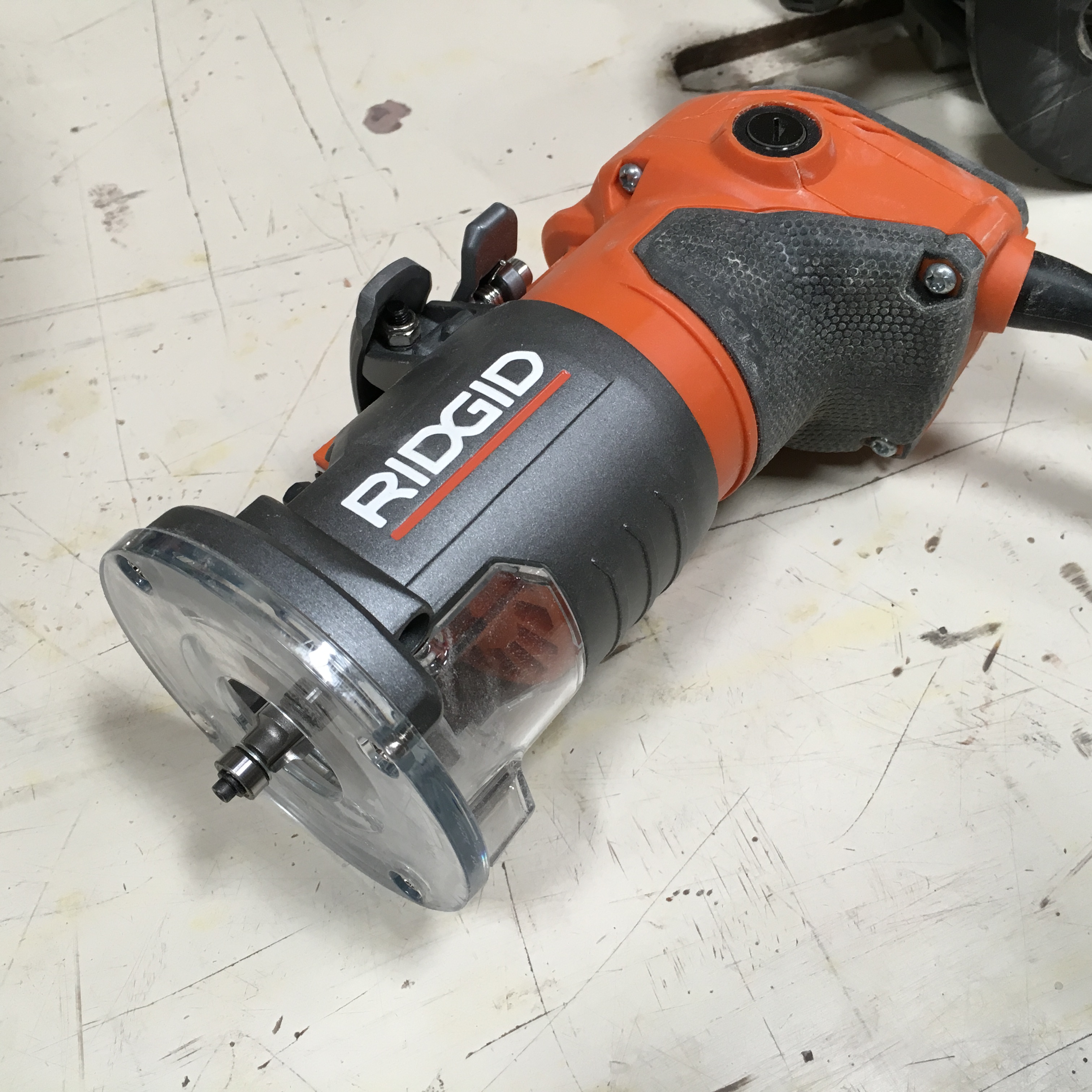 View higher quality, full size image (3024 X 3024)

---