https://www.youtube.com/watch?v=EvF9Fx6S5vE
---
2/16 #6: DIY kitchen cabinet making advice ...


Probably go Euro style with legs and some stick on edge banding and keep it as simple as possible. "Just making a box" Use prefinished ply for everything but the door and drawer fronts. Use applied ends.
Kreg jig is handy.
If he wants to build 5 piece doors, that's great and kind of expensive for the right machines and tooling.
A person can definitely get it done though.
Spray system? I have a Fuji minimate with the 3M pps. Something like that would be good for small jobs or a 1 gal pressure pot. I like my turbine better than my cheapo pressure pot. Mainly for ease of cleanup.
---
2/17 #7: DIY kitchen cabinet making advice ...


Website: lessonsinlutherie.com
Hello All,
Well, there is nothing at all practical about this little adventure, and if he learns that he has bitten off more than he can chew, so be it. He said he "wanted to learn". He just might learn something different from what he expected (;->)...
One thing I've learned in my 78 years is to not rain on somebody else's parade.
I wouldn't have offered help except that he is quite an extraordinary fellow. He and his wife just celebrated their 50th---a teenage marriage---and he just completed his 31st year of sobriety. He sponsors as many as half a dozen guys at a time in AA.
Cheers,
Brian
---
2/17 #8: DIY kitchen cabinet making advice ...


You guys are sure going to have fun slinging sheets of plywood! Good luck!
---
2/17 #9: DIY kitchen cabinet making advice ...


Website: lessonsinlutherie.com
Hello Rich,
You're right that sheets of plywood are a bit more of a challenge at our age, but we are both in remarkably good condition. I'm in my 18th year on a low-carb diet, to which I attribute my good health---details on request.
Cheers,
Brian
---
2/17 #10: DIY kitchen cabinet making advice ...


Website: lessonsinlutherie.com
By the way, I've ordered copies of Danny Proulx's and Jere Cary's books. I like Cary's for its clear description of the story pole method of layout.
Cheers,
Brian
---
2/17 #11: DIY kitchen cabinet making advice ...


Get a kreg jig, S3S lumber for frames, prefinished plywood for boxes and you can build a reasonable kitchen cabinet box if you have a table saw, cordless drill, jig saw and random orbit sander. Go to youtube and watch someone assemble a face frame with pocket screws and assemble a carcass. You can even build cheap drawer boxes with the kreg jig. If you start building the doors and finishing, then you're talking some investment.
You'll probably get a lot of flack from some on this forum, but if they're being honest we all started out in some form of the above!

---
2/18 #12: DIY kitchen cabinet making advice ...


I use a cnc and a bunch of other things now.
But the very first cabinets I built were some 6ft long one piece uppers and lowers for the laundry room where I lived.
I just looked at others cabinets and measured everything. Took what I liked and could figure out how to do and went from there.
I built them in the driveway on sawhorses with a 2"x9' piece of square tubing as a straightedge and a skillsaw. I made my face frames from plywood as well.
The guy at the local Ace turned me onto the Kreg jig.
I had a mitersaw and a brad gun and a orbital sander.
I ended up buying a router table and router to make the 5 piece doors. It was ok. I wouldn't want to have to do it like that now though.
I finished it all with minwax stain and poly. I learned a lesson in the importance of glue clean up as well.
They actually turned out pretty decent. Not what I would build now. But still solid and looked good.
---
2/18 #13: DIY kitchen cabinet making advice ...


Website: BrianBurnsGuitars.com
Hello Jeff,
No flack that I've noticed. The book suggestion, the Kreg suggestion, and starting with a vanity are all quite helpful.
If anyone is interested in what a 78 year old full time woodworker looks like, you can look at videos on my new website:
www.BrianBurnsGuitars.com
Take reasonable care of yourself, and you can do it too.
Cheers,
Brian

---
2/18 #14: DIY kitchen cabinet making advice ...


Consider doing the build as a custom kit you put together from all the parts. Few tools needed, but you feel like you really did build it.
Northeast Manufacturing does this for clients of every skill level.
So does Scherr's Cabinets and Doors.
All the cab boxes come KD, as a labeled collection of CNC-cut parts. You put a basecab together from its deck, top, back, stretchers, sides, and drawerslides. Mount all the hinge clips.
All the boxes get built quickly, then installed, and then the drawerboxes go in, and the fronts applied.
---
2/18 #15: DIY kitchen cabinet making advice ...


The Complete Illustrated Guide to Furniture and Cabinet Construction by Andy Rae is a good book.
It's possible to make professional grade face frame cabinet boxes with a track saw, chopsaw and a Kreg jig. Doors are another thing, but there are plenty of places to buy nice ones. Finishing is a challenge, but can be done well if you do your homework and take your time.
Good luck,
Pat
---
2/19 #16: DIY kitchen cabinet making advice ...


Brian,
My advice would be as you are only doing one kitchen, I wouldn't spend a lot of money on a bunch of tools. I would do a simple design of full overlay doors, plant on gables and boxes with butt joints that are just brad nailed and screwed together, you can predrill with a counter sink bit and then some screws, for the backs I would staple on 1/2 inch material and predrill and screw the backs with screws about ever 6 inches.
As for the material I would look for a shop that would cut and edge your material for you. It is hard to do this work with out spending a small fortune on equipment.
It has already been mentioned about the finish, to me that is what makes a kitchen, you will either have to have access to a spray booth or hire someone to do the finishing for you. Most of the mouldings and fillers you can purchase from a moulding shop. You can buy prefinished drawer boxes that are dovetailed for cheap from many different suppliers. As for hardware you need to find a wholesale place or you can buy from a big box store, you will just pay a lot more.
It has been mentioned to buy an Ikea kitchen which is also not a bad idea. I am not sure what your end goal is? Do you want to build a kitchen for satisfaction of doing it? do you want to do it to save money? Anyways all the best.
---
2/19 #17: DIY kitchen cabinet making advice ...


If you are loaning him a panel saw then he is 50% of the way there. Buy some s4s 1x4 wood and start building.
The rest can be done with the standard Kreg pocket screw jig. Buy a Kreg or whatever flavor of shelf pin hole jigs you like.
Screw the boxes together with #8 x 2" screws. Pocket screw the face frames. Fasten them to the boxes with pocket screws.
What else do you need?
We have been building beaded inset face frame cabinets this way forever.
The only difference is the hand drills got mounted in machines with foot pedals.The routers got larger and we call them shapers.
---
2/19 #18: DIY kitchen cabinet making advice ...


Website: lessonsinlutherie.com
Hello Guys,
Well, I think that the main Idea of my friend Mike's wanting to make a set of cabinets is to learn the skills, and he doesn't care much about doing it cheaply.
So, to follow the advice you all have given so far, I'll recommend that he start with one small face frame cabinet with perhaps one drawer and one door---overlay type. After taking that from start to finish, he can decide if he wants to take on a whole kitchen.
The panel saw I'll lend him is one of those Skilsaw guide gizmos, bought on impulse at a woodworking show 40 years ago, that fits on a 5x10 sheet of plywood. With careful alignment of the guide rail it's surprisingly accurate.
Otherwise, buy the Kreg pocket-hole device, and work with the tools and machines he's got.
Many thanks for all the ideas (:->)...
Cheers,
Brian
---
2/19 #19: DIY kitchen cabinet making advice ...


Website: http://sunvalleywoodworks.com
Brian - A lot of good advice posted here for you, I don't really have anything to add to that.
However, I would like to say how much I enjoyed your website. I really liked seeing and hearing your guitars. I've been a woodworker for 35 years, but a guitar player for more than 40. I studied classical guitar in college, and still play a bit along with some blues and jazz. I do work on my own guitars, but I've never taken time to build one from scratch. Your work is beautiful, as is the tone produced from your instruments.
Keep up the excellent work!
---
2/20 #20: DIY kitchen cabinet making advice ...


Website: BrianBurnsGuitars.com
Hello Duster,
Thanks very much for the kind words about my website and my guitars!
I consider myself blessed to be able to get up every morning, go out to my shop, and work on something beautiful (:->)...It is certainly one of the things that keeps me young in spite of my years.
I also enjoy teaching guitar making as people that take an interest in it turn out to be good folks. I've gotten many new friends as a result of my teaching.
Cheers,
Brian
---
2/20 #21: DIY kitchen cabinet making advice ...


Website: lessonsinlutherie.com
Hello again Duster,
I have also taught guitar making for ten years or so, and since I live "out in the sticks" on California's north coast---a long way from everywhere---I've recently decided to offer guitar making instruction using Skype. I've taught flamenco playing with it for some time, and it's almost as good as having the student right in my shop.
Send me an email if you're interested.
Cheers,
Brian

---
2/20 #22: DIY kitchen cabinet making advice ...


One more bit of advise on the Kreg jig. Do not get the new kit with the handle in the front where the operator stands. It is built very cheaply almost like a kids toy and will not last.
This is the one you want...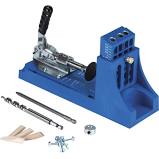 ---
2/20 #23: DIY kitchen cabinet making advice ...


Website: lessonsinlutherie.com
Hello Jeff,
Thanks for the heads-up on the Kregg jig! The cabinetmaking books have come in, and I was just going to call Mike this morning (:->)...
Cheers,
Brian
---
2/20 #24: DIY kitchen cabinet making advice ...


Brian,
You and your friend sound like great guys, my advice to your friend is just hire someone to build and install a kitchen. After that is done or while it is being done, have your friend build and tackle some cabinets for the basement, a storage area or the garage, this way he can putz away at it and learn, maybe acquire some tools and have fun.
I truly believe that without the equipment, and a place to finish these cabinets that he probably wonít have a 51 anniversary and he for sure wonít have a 52. His poor wife will be long gone when she has no kitchen.
Please donít get me wrong, I am not trying to be critical, it will just be a struggle and very slow when you donít have a shop. Kitchen cabinets are very easy to build, when you can send the design to the Cnc, or even cut on a panel or sliding table saw, then run them through the edgebander. Take them to the case clamp and bang them together, or even take them to a bench and manually slap them together. Buy some rough lumber, run it through the jointer, then stick it in the planer, run it through the shaper, build some doors, run them through the wide belt, do some hand sanding to finish them off, stick them on a cart and roll them over to the finish room to stain them and then spray them in a proper spray area so that when the are dry they donít look like a chicken sat on them.
Now you have to do the whole process over with your drawer boxes, then you have to buy and figure out how to install all the hardware, fancy pullouts for the pantry, corner cabinet pull outs, self closing drawer slides and hinges, under cabinet or in cabinet lighting and whatever else the Mrs, wants.
You have it all built, now comes the fun part, you have to install it all and make it look amazing, you have to fit the crown mouldings to crooked ceilings, scribe the fillers to non-plumb walls. Most places when you do a renovation want you to bring up everything in that area to code, now you have to work and coordinate with the plumbers and electricians to make everything current, then you have to get some one to template and install your countertops, tile your backsplash, it seems like it just never ends.
Like I said at the beginning you and your friend seem like great guys, and I just wanted to give you a little idea of what he is getting himself into. My advice would be to go fishing, hire out the kitchen, have a happy wife and enjoy life. Cheers.
---
2/20 #25: DIY kitchen cabinet making advice ...


Website: lessonsinlutherie.com
Hello again Jeff,
As I mentioned earlier, I worked in cabinet shops in my forties. The 32mm system was just coming in, and part of my career was spent using that equipment---and part in lesser shops. The panel saw was about a quarter mile long, and wonderfully accurate! So, I've been there, done that, and got the tee-shirt!
To say that Mike's wife is long-suffering doesn't begin to describe her! They have been through Hell together, and lived to tell the story. I'm sure that Mike will contrive to make the process happen as much as possible outside of her bailiwick. He might just decide to drop the idea after putting together a vanity, or the like. The guy is a force of nature, and in the 17 years we have been friends I've learned to just stay out of his way!
Cheers,
Brian
---
2/20 #26: DIY kitchen cabinet making advice ...


Above is the flack I was referring to.
If someone wants build a kitchen, let them give it a go. If you didn't start out building kitchens with minimal and somewhat primitive tools, I would argue that you haven't learned much as a cabinetmaker. It can be done so why discourage someone that wants to tackle it??
---
2/20 #27: DIY kitchen cabinet making advice ...


Sorry, no idea how that happened? Not sure how to remove. Thanks
---
2/20 #28: DIY kitchen cabinet making advice ...


Jeff,
My post was not about criticism at all, I was just trying to simply let them know that it was a fairly large project.
As for comment about using hand tools and older methods of construction, that is fine if you want to tinker away, unfortunately in North America, you wonít be in the kitchen cabinet market for long. You could probably stay in business in parts of Europe where these methods were taught a lot more than over here..
The last time I looked in the sky I didnít see United Airlines flying bi-planes.
---
2/20 #29: DIY kitchen cabinet making advice ...


Website: lessonsinlutherie.com
Hello Jeffrey,
And I didn't take it as criticism. I know from having worked in cabinet shops how big a project it is.
And as for staying in business, many years ago a Doctor friend who was thinking of starting a business did some research. It turned out that cabinet shops went out of business faster than any other business. In second place were restaurants without owners on the premises, third place went to restaurants with owners on the premises, and in fourth place were gas stations.
So if you are wondering why it's so hard to make a living in the cabinet business...
By the way, to get a guitar-maker off your front porch, pay him for the pizza...
Cheers,
Brian
Cheers,
Brian
---
2/21 #30: DIY kitchen cabinet making advice ...


Jeffrey...
You also haven't seen anything about the Wright brothers taking flight in a commercial airliner! You missed my point completely. Unless you started working in an established shop, you more than likely started out building the exact way these guys are going to build that kitchen..(without a slider, panel saw, edgebander, shaper, ect. ect, ect.) ...I never said anything about hand tools. Most of us started building this way and if you didn't, you're more than likely missing some knowledge that you may have gained along the way figuring it out. That was my point. I presume if these guys wanted to go fishing, they would be talking to someone on a different forum!
I apologize to the original poster for this...it just rubs me the wrong way when someone with obvious experience asks for advise and is basically told to go fish. I wonder if he would give you the same answer if you asked for advise on how to build a guitar??
---
2/21 #31: DIY kitchen cabinet making advice ...


JeffM,
This has nothing to do with the original poster, so I like you apologize for this.
What you are describing sounds like the weekend warrior, back yard garage or shed guy, building cabinets with a table saw, a greg jig, cordless drill and palm sander, spraying lacquer with a fan in the door and a Harbour freight spray gun, blowing all the contamination into the neighbours yard and working in someones house with no liability insurance. The same guy who goes to a professional woodworking website and asks how do I build this? How do I price this? How do I finish this?
In over 30 years I have never seen or been to a cabinet shop that doesn't have all the equipment to build cabinets.
I looked at Brians work and realized he was a professional so in my earlier post I passed on a lot of ideas to Brian about how I would go about his friends kitchen, but I honestly can understand how many people on this website get frustrated with some of the questions that get asked.

---
2/21 #32: DIY kitchen cabinet making advice ...


Website: lessonsinlutherie.com
Hello guys,
I figured that my experience was way out of date, so that's why I asked for some guidance. And, I got it, and didn't find any of the comments at all offensive.
I have guitar making students that go all the way from the guy just wanting to build a guitar that he can play, and be proud of, to guys that want to go into production. Occasionally one that wants to use only, or mostly, hand tools. You can well imagine that we go down different paths depending on what the student wants to do. And it's just fine with me if they just want to stick their big toes in the water, or want to dive in. I do my best to tell them "it's a bigger deal than you might think", but often they have to just jump in and find that out for themselves.
Will Rogers is quoted as having said: "There are those that learn from reading, those that learn from other's mistakes, and some that just have to piss on the electric fence".
My wife reads to me in the evenings, and we have lately been on a Sir Walter Scott kick, currently his novel "Waverly". Last evening Scott got off a good one: "Exertion, like virtue, is its own reward".
Cheers,
Brian
---
2/22 #33: DIY kitchen cabinet making advice ...


This is absolutely all I was saying guys.....I started building about 30 years ago with a very cheap table saw a skill saw and a couple of routers and sanders. I no longer build this way, but it can be done with minimal tools. Established shops also started very small most likely. Sure, it's much easier with a panel saw, wide belt and spray booth, but these guys can build this kitchen with minimal tools like most of us started out. I don't think they are interested in future kitchens or growing into an established shop.
---