Message Thread:
Power feeder speed question
2/20

Iíve got a powermatic PF41 feeder with 4 speeds. 13 FPM is way to slow for what Iím doing and 36 FPM is to fast for what Iím doing. Is there a place to buy a different set of gears to get a different ratio? Iíd like to run about 26 FPM. Thanks
---
2/20 #2: Power feeder speed question ...

Have you tried just flipping the gears around?
---
2/20 #3: Power feeder speed question ...

Here is what Iím talking about.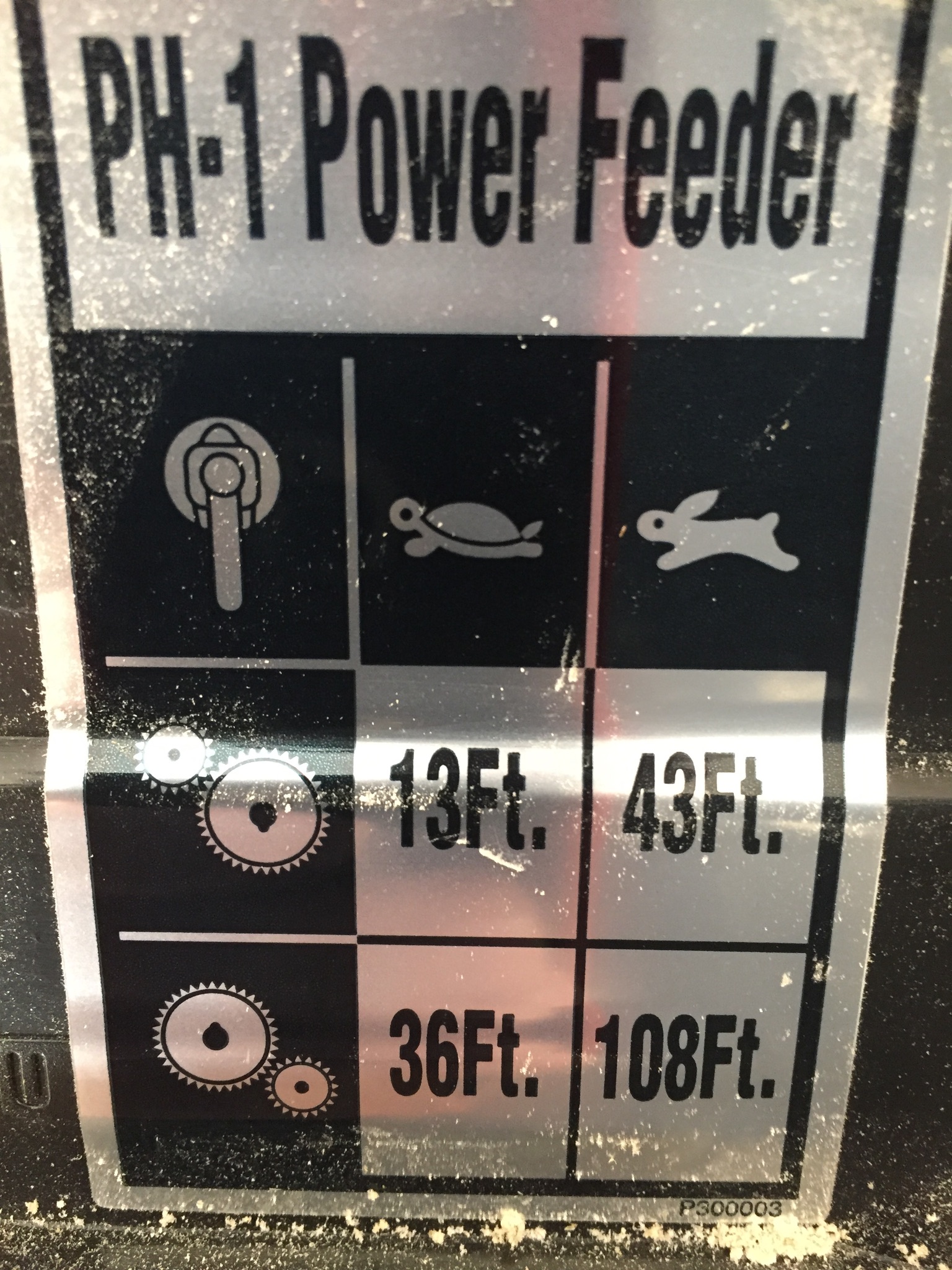 View higher quality, full size image (1536 X 2048)

---
2/20 #4: Power feeder speed question ...

Most places make different gear sets. Call and ask them or look through the replacements parts on their site and see if you can spot them.
---
2/21 #5: Power feeder speed question ...

That sucks Mike.
We run most things around that mid 20's mark. 36 for some stuff when we don't mind mill marks.
Our 1 hp feeder is 8 speed
(6.5/13/18/22/36/43/55/108 FPM
fast/ slow with 4 gears
I would love to see something coming out of a shaper at 108 fpm and not be splinters.
---
2/21 #6: Power feeder speed question ...

Website: http://customwoodmontrose.com
How about adding a VFD and make it a variable speed? For a 1 HP it probably wouldn't be to much cost.
---
2/21 #7: Power feeder speed question ...

This is an odd timing for this thread for us. We have a PF38 on one machine and have the same issue. Our feeder is a 4 speed. You have two ranges with one gear orientation and two with the gears flipped. The lower range seems to be too slow, and the upper range is just a bit too fast. I was just wondering if there were other gear sets available but have never found any. These feeders all come from one source so I'd think if there were alternate gear sets available they'd be easy to find.
We have two Comatic DC40's on machines that are changed up multiple times a day. The DC brushless is phenomenal but I would never pay the price (literally twice the cost of a non DC feeder) for a feeder that runs pretty much a dedicated operation all day long. It just wouldnt be worth the investment.
---
2/21 #8: Power feeder speed question ...

I appreciate the responses.
JP, Iíve been looking for gear sets and so far havenít had any luck. I think Iíve had this feeder for around four years but itís discontinued now so probably start getting hard to get replacement parts for it when needed.
Adam, Iíll agree with you it does suck. Every feeder Iíve looked at has a speed around the mid 20 mark but not this one. And who would run something 108 a minute? It might make a good motor for a tread mill!
Dustin, Iíve thought about the VFD, Iíve had a couple of those on lathes and if Iím not mistaken you have a 3 phase motor that those work with but it works off of single phase once it goes through the VFD, at least the two I had did. This is a single phase feeder.
Mark B, if you find gear sets out there let me know. Iíve looked high and low and canít find any.
Iíve hated this feeder right out of the box. I bought it to do raised panels, and didnít realize the size when I was getting it. I just thought four wheels would be better than three. What I didnít realize was that these wheels were 4 3/4Ē diameter which means a larger gap between them at the surface. Next, itís dang near two feet long and 10Ē wide. So if your running small panels thereís now way to keep a hand on them because the foot print is so big, and running at the 36 FPM speed it pretty much jerks it out of your hand. There has been a few times Iíve sent a piece through and run.
The other feeders Iíve got for sticking and edge profiles are 3 wheel 1/4 hp and the speed is much closer to what I need. Iím half way thinking about getting another one of those and trying it on this shaper, Iíd imagine that 1/4 hp would be strong enough wouldnít you?
---
2/21 #9: Power feeder speed question ...

If your really looking for the best feeder for long short narrow wide parts. Get your checkbook and buy a comatic dc70. http://www.shopgearinc.com/products/co-matic-power-feeders/7-wheel-variable-speed.
php
Small parts will be a joke. Infinite variable speed. Dial in your fpm in 1 foot increments on the fly.
Its a brutal pill to swallow but you likely won't regret it..
---
2/22 #10: Power feeder speed question ...

Mike Fuson:
If this is a 115 Volt feeder, you might be able to use the variable speed controls that are commonly available (and cheap) that are made for routers, if it will handle the amperage and the motor design.
If you have your raised panel cutter extending through a wood fence such that the raised panel length is against a continuous fence at all times, then perhaps shorter panels could be run by butting them end to end as you feed them, thus negating the center to center gap between the larger wheels.
You could try these inexpensive solutions and see if they work for you before spending more money on other feeders.
Good luck.
TonyF
---
2/22 #11: Power feeder speed question ...

My favorite feeder is a Comatic(this is the manufacturer of most feeders) 1/2hp. Its wheels are closer because of its size. One of the pivots is a swinging one instead of the horizontal/vertical. Its easier to adjust for many applications. The 25 ft/min is ideal for mill free everything including raised panels.
We've got one on our 3hp shaper. Its got plenty of pull. I've never had it get bogged down or slip. Its the perfect size for 3hp/5hp shapers.
I have used a 1/4hp Delta many years ago and they are simply not big/weigh enough.

1/2hp
---
2/22 #12: Power feeder speed question ...


Tony, I appreciate the info. Iíve got one of the router speed reducers somewhere, pretty sure they are for induction run motors though. I do have the solid fence and backing the smaller ones together as you describe, it helps.
Mark B, youíve about sold me on these comatic feeders, they look like theyíd be a dream to use. If youíre going to make doors then the investment would be worth it, not to mention much safer. I like the dc on you mention but I like their track feeder as well. Both look like they would work great.
---
2/22 #13: Power feeder speed question ...


I guess you could check pricing on getting some gears made.
I'm glad you posted though, I didn't know about the comatic.
---
4/13 #14: Power feeder speed question ...


I took Mark Bís advice and got the DC70 by Comatic. Ran it for a while today and this thing is the Cadillac of all power feeders. It was indeed a brutal pill to swallow, but by dialing it in to 25í per minute Iím getting really nice cuts.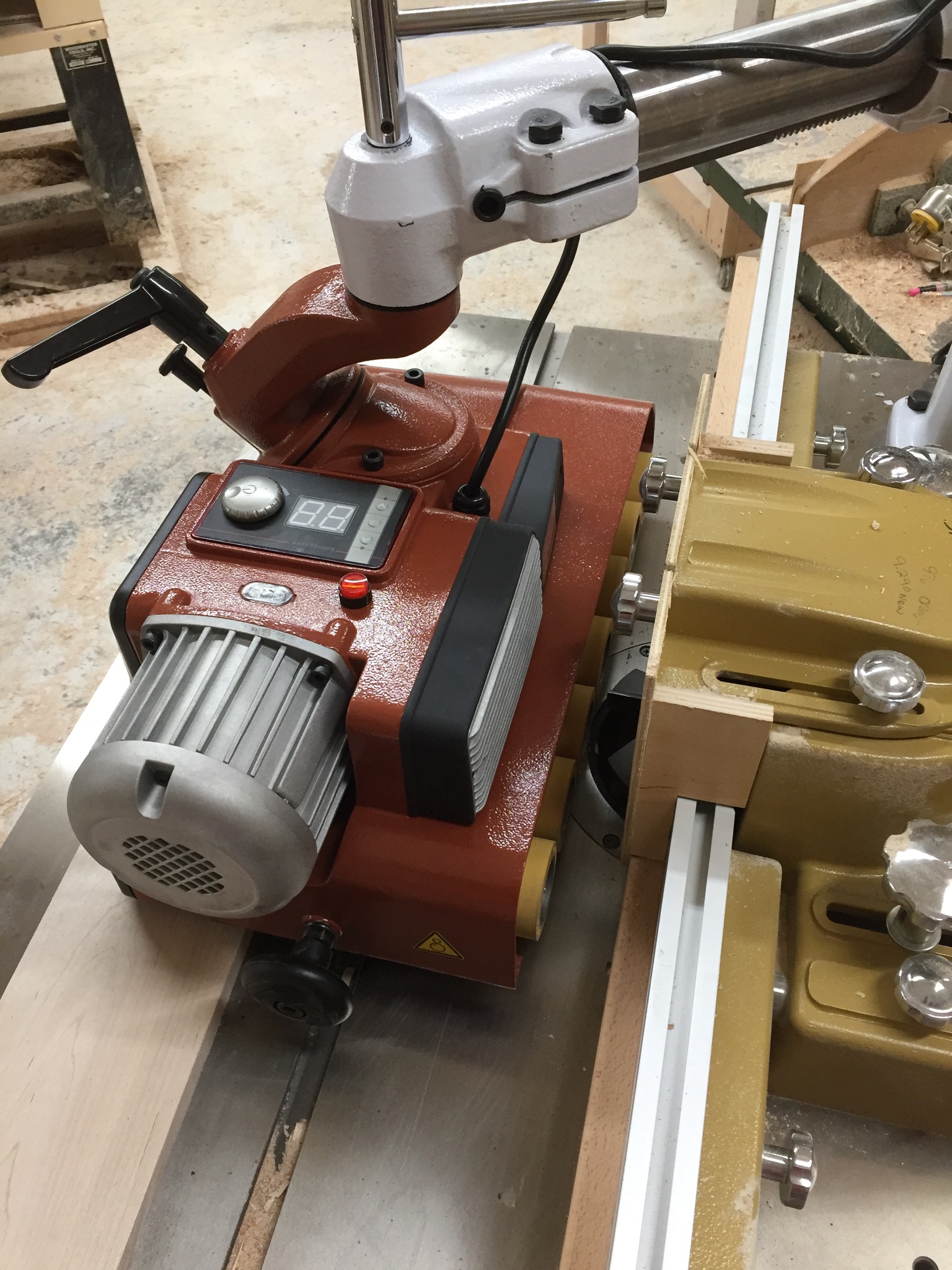 View higher quality, full size image (1536 X 2048)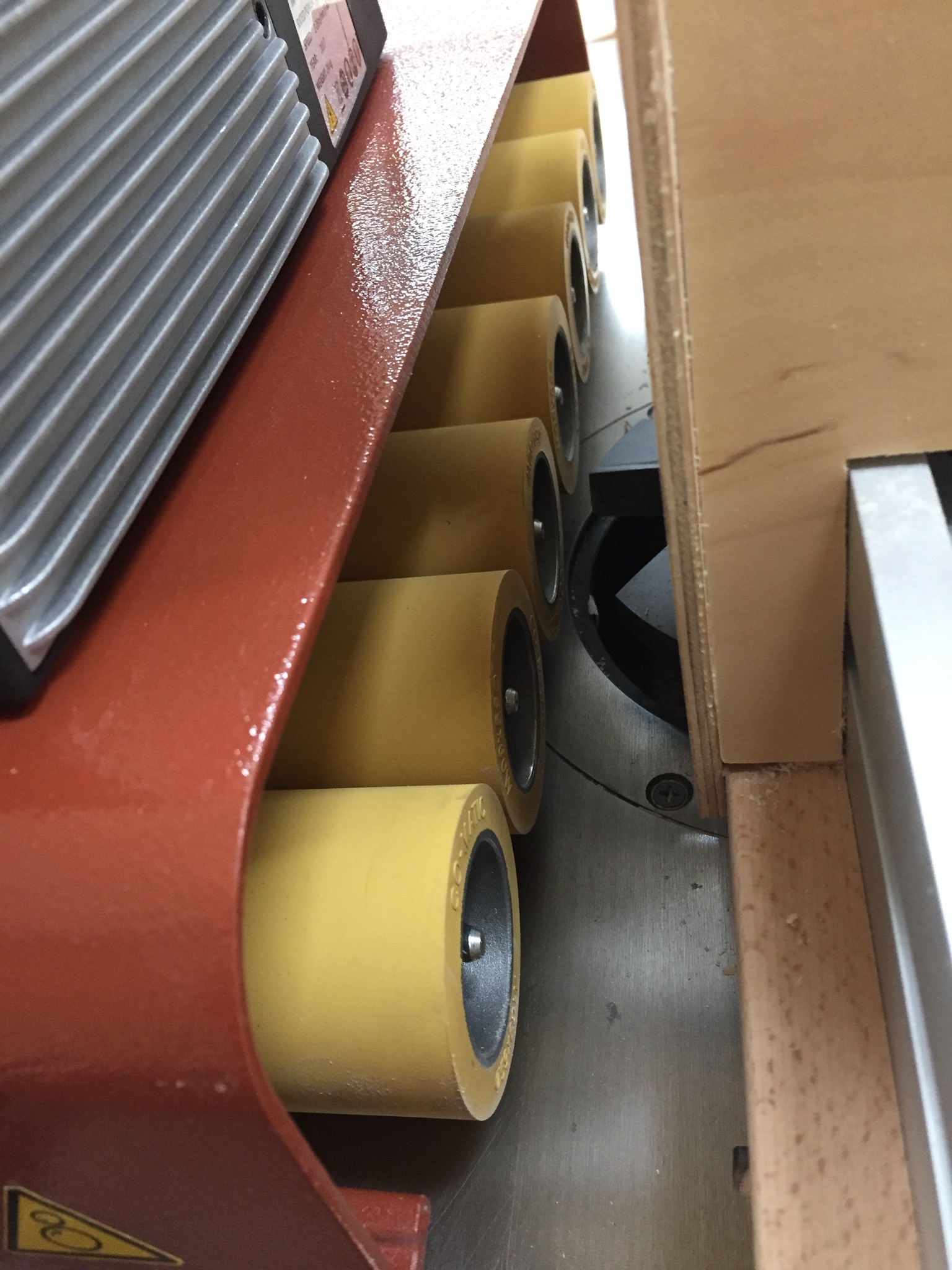 View higher quality, full size image (1536 X 2048)

---
4/15 #15: Power feeder speed question ...


Man Mike that is a lot of little wheels! Cool looking feeder! I did not know they made feeders like that. I run 8 speed Steffs and for my raised panel shapers i add on an extra wheel on the first wheel. Small parts i clamp together and run with feeder or swing feeder out the way and use miter gauge with hold down to run.
---
4/15 #16: Power feeder speed question ...


I was using the miter gauge on my small parts as well but with this feeder I can just back it with a wider panel and run them both at the same time, piece of cake now.
---