Salice Concertina
---
9/13 #3: Bifold cabinet doors ...


Website: http://www.saliceamerica.com
hello Al & Rich,
The Salice concertina system is, in fact ideal for this application. There is only a track on the top. At the bottom is a locator pin that engages when the doors are closed to keep the left and right sides in alignment with each other.
The track does not actually carry the weight of the doors. it only acts as a guide to move the doors silently and in concert with each other.
The weight is actually supported by the 110-degree hinges on the side much like a normal door.
One thing to consider. The top track is available in 1180mm (48") lengths only. For an opening of 58" you would need to purchase 2 tracks and have a joint somewhere. The track is available in this size for the same reasons that we recommend standard doors to be no more than 24" wide. (Bi-fold = 4 - 12" doors). In your case you will have 4, 14.5" doors.
You are not far from being within this spec and I suspect Shaker doors would be quite light.
The components you would need are:
2 - Top tracks 1180mm each - F1GFA180
2 - Sliding blocks - F1PXAY
2 - Concertina hinges - F1C169
8 - Central bi-fold hinges - F1CXE9
8 - standard 110 degree hinges and mounting plates (4 for each door)
1 - Set locating device - F1RFAY
2 - Finger protection strip - F1SBAY
You should be OK here.
Here is a drawing giving some basic information on assembly. Additional assembly details are in the Salice master catalog.
Dennis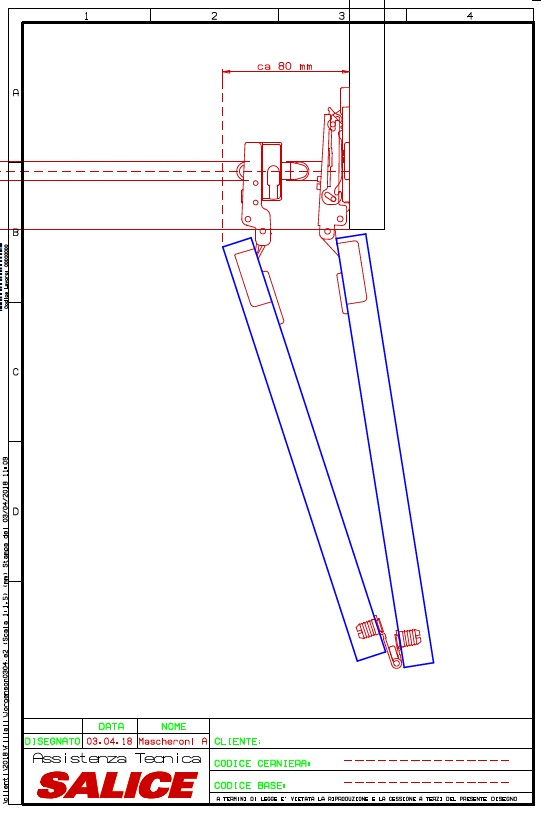 View higher quality, full size image (560 X 840)

---
9/13 #4: Bifold cabinet doors ...


This looks good. Regular self close and not soft close?
---
9/13 #5: Bifold cabinet doors ...


Website: http://www.saliceamerica.com
Correct, regular self close hinges.
Also, the Concertina is a rather specialty item that few of our distributors will have in stock. Any Salice distributor however can special order this from Salice with only a about a week lead time.
Please let me know if you have any trouble ordering.
Thank you,
Dennis
Side note: The name "Concertina" is the Italian word referring to the musical instrument, the accordion. (Which folds/unfolds open and closed to play music). :)
---
9/13 #6: Bifold cabinet doors ...


Dennis,
I came across Eclipse system. This system looks like you build a box and then add end panels but you wind up getting full overlay. Does Salice distribute Eclipse?
---
9/13 #7: Bifold cabinet doors ...


Website: http://www.saliceamerica.com
Is this Al, from Detroit?
Actually Salice owns this pocket door system. It is not called Eclipse any longer. That's a name from the company that previously owned the technology gave it.
Here is a link to our web site for this product. Also, here is an order checklist. Each unit is custom made to your specifications. Lead time is about 10 days.
The Bi-fold hardware would cost you under $50.00 for this job. This pocket door system is in the neighborhood of $500.00+ per set depending on the door sizes.
We do not really recommend wood doors for this system as they are too susceptible to movement with humidity changes. Laminated MDF or particle board cores are best.
Dennis


View higher quality, full size image (3396 X 1200)

Salice Pocket and Sliding Door Hardware
---
9/13 #8: Bifold cabinet doors ...


Al from N.J. Stiles and rails will be maple with mdf panels. I will stay with the bifold hardware you suggested. As always Dennis thank you. Your input is always appreciated.
---