You are not logged in. Consider these WOODWEB Member advantages:

A personal "member history" that displays your posts at WOODWEB
Your forms at WOODWEB will be filled in automatically
Create your personal "My Favorites" page
Numerous automatic notification options
Question about differential expansion of lumber
10/31

I found this succinct discussion about wood movement on a blog about buckboard wagons. They were discussing wooden wagon wheels and wrote this
" All wood is hygroscopic, meaning that when exposed to air, it will release or pick up moisture until it is in equilibrium with the humidity and temperature of the air. Because of this, wood tends to expand as it gains moisture and to shrink as moisture is lost, and it does not shrink or swell equally in all directions. Any solid wood or wood component will expand or contract over time as moisture and climate conditions change, and this exchange of moisture is ongoing. In an uncontrolled environment, wood is a dimensionally unstable material."
While this is not new information I thought it was very clearly explained. I would like to understand more about this phenomena.
We all know why wood expands and contracts generally. I would like to learn about why wood expands differentially, ie. what causes one board to expand more than another or one part of the same board to move more than another. We usually miter the outside corners of our cabinets because this approach doesn't telegraph wood movement so much.
The attached picture shows growth rings from various trees. If you look at it you will see some trees are perfectly symmetrical and some trees a bit more oblong. What I am curious about is how this difference in shape takes place? Presumably one side of the tree is favored or disfavored by local ecology.
The picture shows a stark contrast between old parts of the tree and new parts. Some of the trees have a greater percentage of light colored wood. I am guessing that this is because the tree grew very fast. The tree on top has more old wood than new wood. I am guessing that this tree grew very slowly.
MY QUESTION is this: What causes the irregular shape to circumference? If we looked at each straw of the fiber, would the straws on the portion on the tree with fatter new growth be larger in diameter than the straws on the small side of the tree?
Does the diameter of each intrinsic straw contribute to the differential expansion or contraction of the tree? I.e., does a bigger diameter straw have more room to expand and contract?
Or is this completely off base and all straws are the same size but there are just more of them?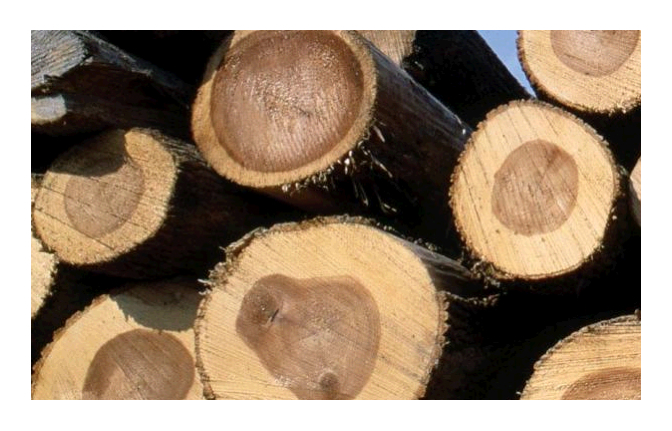 View higher quality, full size image (672 X 431)

---
10/31 #3: Question about differential expansi ...

A couple of more questions:
1) Am I correct in assuming that the growth rings are essentially composed of individual straws that, by capillary action, pull nutrients and moisture from the grown to top of straw?
2) Would a tree that manifests oblong shape (rather than perfectly circular) be an indication of more straws on one side of the tree or just fatter straws?
I first noticed this phenomena on an endgrain cherry butcher block table we built. The table was 5 inches thick and measured roughly 48 x 84 inches footprint.
This table developed about a half inch bow in the center. We put visqueen on one side to seal it then washed the other side with paper towels soaked in water. It wasn't a lot of water but enough so that the top uniformly glistened with moisture.
Some of the apparent moisture disappeared quickly and some didn't. We ascribed that to different diameters of straw.
The interesting part (if you are not all asleep just yet) was that the the deflection in the table top disappeared in about a half hour. I figured what was happening was the the top part of the table absorbed more moisture and made the heretofore cylindrical fibers conical in shape. The wider diameter of cone at top essentially expanded one side of the table more than the other and caused it to straighten out.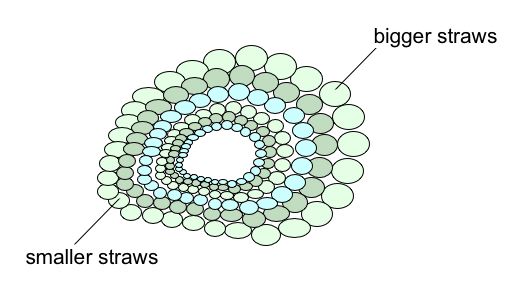 View higher quality, full size image (522 X 292)

---
10/31 #4: Question about differential expansi ...

I won't have the definitive answer for your questions, but I think I can clear up a few things. A lot of generalities.
There is a difference between the heartwood (dark in your photo) and the sapwood of the log, and then as it is processed into lumber. Differences in range of movement - generally sapwood is less stable, and durability - sapwood is more attractive to bugs and the smaller life forms that cause decay. Sapwood is avoided 100% in some species, and others will show hardly any visible difference and is included in the use of the board. As lumber becomes more expensive and hard to get, more sapwood is allowed. Sapwood is sometimes hard to see in White Oak, and nearly impossible to determine in Poplar. It is stark white in Padauk, contrasting strongly with the orange-red of the heartwood, so is avoided or used as a decorative element.
Across the width of a board, you can start at one edge with some sapwood/quartered grain, then quartered heartwood, transition to rift, then to flat sawn, then rift and back to quartered and sapwood. This is driven by the orientation of the growth rings to the face or edge of the board. In any one board, I think you will find the propensity for movement to be similar across its width at any two or more comparative points along the length. Microscopic differences (that do not matter to us), perhaps.
It is apparent that old growth - or high ring density - lumber has two characteristics that may enter this discussion. One, the more dense the rings, caused by slower growth, the more predictable the movement across the board. Not more or less movement, but predictable, since any one ring, or group of rings, will not cause the board to move in an unpredictable direction. With lower ring density (modern Poplar, for instance), an errant ring or three may cause the board to cup or move in an unexpected manner.
The second characteristic of old growth lumber is durability in exposure in service. High ring densities help a piece of wood last in the weather - is more rot resistant and more stable than another of the same species that is grown faster and with lower ring densities. This is why we see old growth Poplar (all heartwood) harvested from the original forest and made into cabin logs still sound after 200 years of exposure, where new Poplar lumber will sprout fungi after two seasons in exposure.
Generally, old growth trees are slow growing trees located in forests where competition for light and water is keen, so the rings are close and tight. Close ring density also yields wood that is more desirable for musical instruments since the density provides better tonal qualities than the lower ring density.
Variability in ring spacing is not a factor of the sunny side of the trunk, as I understand it, but more a factor of the tree's environment while it was growing and adding rings thru the seasons. Wide summerwood in the rings means a wet Spring and Summer - good growing conditions, just as narrow and close indicates less rain/water. This is why slices thru rings, or borings are taken, to determine local historical weather patterns. The rings have recorded it all. It is possible to see fire scars, bug invasions, storm damage and more by looking closely at the rings.
If a tree had another tree fall on it while it is growing, it may add wood thickness to one side of the log to shore itself up from the weight of its fallen neighbor. Many years later, if it is processed into lumber, the lumber in that part of the log may be reaction wood that moves as it is being sawn, long after it is made into boards and then kiln dried. Often this reaction wood can cause problems in the shop of finished products, since the reaction wood - uneven ring density - will move unpredictably.
As for the 'straws' causing or regulating movement, the difference in movement between a quartered board and a flat sawn board are seen by examining the end grain. A section of a log - a cookie - will want to move more along the rings (flatsawn) than from the center of the log to the sapwood (quartered).
I always assumed the reason this is so is due to the the latewood, or wood that is less porus, and the way it moves. This is where Dr Gene should come in.....
Also, if you don't have a copy of Bruce Hoadley's book "Understanding Wood" get a copy. Great nerdy reading, but lots of knowledge about our favorite material.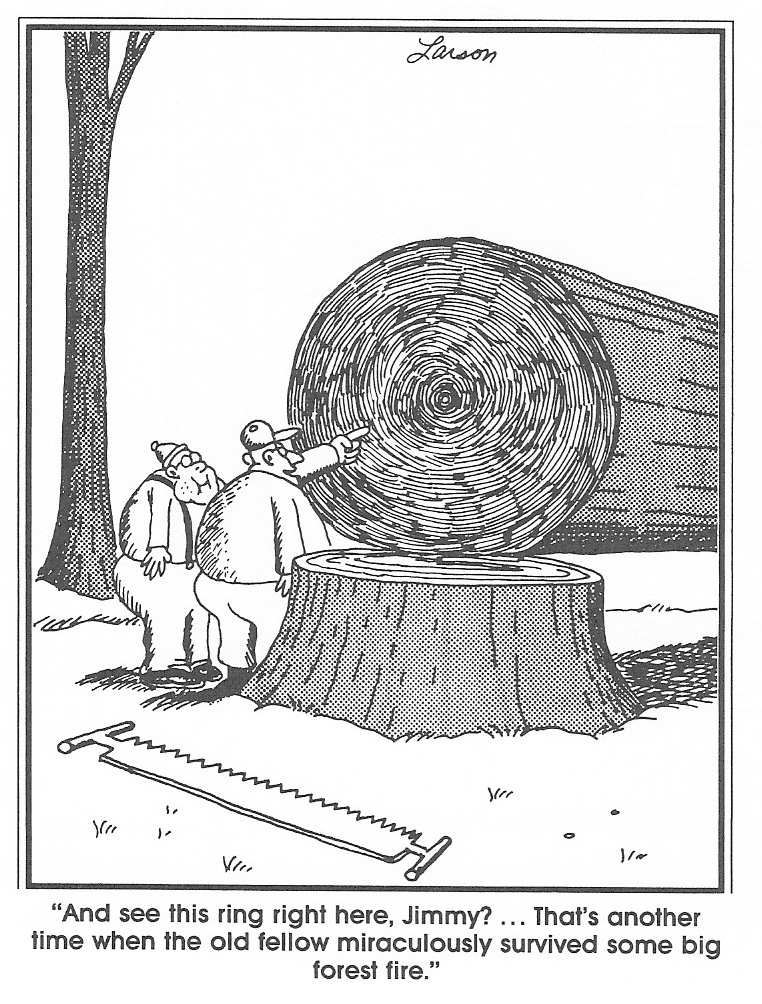 View higher quality, full size image (762 X 1004)

---
10/31 #5: Question about differential expansi ...

Thanks David. That was a great response.
I am curious about this because I am trying to develop a way manage customer expectations about wood movement, particularly as involves flush inset cabinet doors with pin hinges.
I am trying to edify them about how if we build our cabinets like they did in 1920 they should expect our cabinets to look like they were built 100 years ago. In many ways this adds patina to the story of their house.
Right now I explain this in terms of how their back door gets sticky in some parts of the year but easy to open in others.
---
10/31 #6: Question about differential expansi ...

Your questions would require quite a bit of writing to answer them completely. So, here are a few short explanations...let me know where you might want to hear more.
First, as you state, wood is made of cells that are hollow and are about 100 times longer than they are in diameter. The walls temcelves, when dealing with dry wood, absorb or desorb moisture in response to the relative humidity of the environment. When molecules enter the wall, they effectively spread the long cellulose molecules apart so they can fit in. So, with moisture addition, the cells expand. Likewise, when the molecules leave, the wall shrinks as the spots where the water had been. The reason for water going into a wal and to a particular location is because water is a bipolar molecule; that is, it has two hydrogens on one side of the molecule and an oxygen on the other. The molecule itself therefore has a _ and a + side. The cellulose molecules also have spots where there is a _ or + spot. (As an analogy, think of these spots as chemical magnets. So, the + on the water molecule is attracted tot he - on the cellulose.) This whole thing goes by the name of hydrogen bonding. In fact, water in the cell wall does not freeze or behave like liquid water as it is not a liquid, gas or solid.
Now as water is added or taken from the wall, the cells get fatter or skinnier, but do not change in length appreciable, unless the fibers in the cell wall are at an angle overall. More however, that if the cells are not vertical in the tree, then changes in width will show up as changes in length of lumber. This is why slope of grain can be a real big issue in a changing moisture environment.
To confuse the issue a bit more, when we look at the cells within a growth ring, we find some have thin walls and large openings and other have thick walls and small openings. Moisture absorption varies within the growth rings. This contrast is why that with a wood like pine is easy to count the growth rings. Further, some trees have special type of wood cells, such as tension wood in hardwoods, that are more absorptive of moisture than other cells. And some trees have the sapwood cells right near the bark with wide open cells, to conduct liquid from the roots to the leaves (it comes back down in the bark), but the rest of the wood is not active in conduction. In some cases, this low conduction wood also becomes a "garbage dump" for the tree and the chemicals deposited have odor, color, and plug the cells (example is white oak).
Oftentimes, we just talk about heartwood and sapwood. Heartwood are age-altered sapwood cells...all heartwood was a sapwood cell years before. However, within the sapwood we have inner sapwood and outer sapwood. it is the outer sapwood that participates mainly in conduction. This age change occurs at different rates at times, due in part to outside influences. Heartwood caused by such outside forces is called pathological heartwood...a good example is the heartwood around the location where a maple tree was tapped for its sap. The tree reacts to the outside force by encapsulating the area (it does not have antibodies) to prevent the affected area from spreading. This forms heartwood many years before it natural would happen.
Now, wood also shrinks and swells differently across the grain. When going ACROSS THE GRAIN AND parallel to the growth rings (tangential, T), the wood moves almost twice as much as compared to going across the rings (radial direction, R). The reason is that there are a few cells that run in and out, horizontally in the tree and these cells restrict the R movement. Some species with big rays (such as oak) have a greater difference than wood with small rays (such as eastern white pine). This difference between T and R is why we have cup toward the bark, a square becoming diamond shape, and a circle becoming oval as they dry.
Bottom line: At a microscopic level, not all cells are the same within a tree, so we see varied behavior.
Why do you see irregular shapes of the dark heartwood areas in your picture? This is because there are branches nearby that create heartwood as well and this joins with the stem's heartwood, and so at and near the junction area, looks irregular. In softwoods (needle trees) almost all irregular oval shape is caused by the formation of compression wood, which is caused by the tree reacting to an outside force. Note that there is no reason why each growth ring has the same number of cells on each side of an oval, contrary to your picture. However, with compression wood, the cell wall size changes and this changes cell size overall.
So, questions at this point?
---
10/31 #7: Question about differential expansi ...

Thanks Gene.
That's interesting about the bi-polar molecules and magnetic-like attraction. I don't go to very many cocktail parties so fortunately don't have to figure out how to drop that one into conversation. I think as I explain this to a customer I can use it as a bulwark for warrantees about the likelihood of expansion & contraction.
Thank you for also explaining how the sap travels down the bark. I hadn't really thought about that before. As I understand this a season of growing is manifested by a dark light ring. Would the dark part have something to do with being contiguous to the bark or would it be that in this part of the growth cycle the sap is traveling down rather than up, i.e. carrying out tree detritus?
---
10/31 #8: Question about differential expansi ...

The dark ring is due to cell wall size and not anything with the bark. Actually, some special cells called parenchyma are involved oftentimes.
For the next party, you could mention that the sap in the tree does not go down into the roots in the wintertime. The sap content in the streets stem is the same at all times of the year.
Well, maybe you should mention something else, like "beechwood aging" does not refer to aging beer in a beechwood barrel, but involves using small strips of beech (about 2" wide, 1/8" thick and 10" long) in the brew and these strips attract the yeast and then the yeast, holding onto the strips, slowly goes through the brew converting the sugars to alcohol. The drop thorough the brew is much slower for the beech strips with the yeast than if the yeast itself just went through alone, as is normal.
Or maybe you should just forget all this and just chat about our upcoming woman president!
---
10/31 #9: Question about differential expansi ...

Gene,
I think you are right about not getting too carried away with some of the sappy behavior at the recent political debates.
Pat Gilbert & I are actually not really big supporters anymore of Hilary. We've been chatting up the concept of drafting Elizabeth Warren instead.
The platform has a single plank. We want to replace the income tax with a sales tax on all stock market transactions. We figure that since every time a stock is bought or sold there is a portion of it goes to the brokerage. If the bankers can get fat on this then so too should the rest of the nation.
The people who can afford to buy a stock can afford to pay a tenth of a point to support the country that makes this happen for them. The people who sell the stock have the liquidity at that point in time to afford to pay their 10th of a point.
This tax will wipe out the deficit in about two months as well as re-create an retirement vehicle for the main street investor who cannot currently compete with the high-speed trading firms. The arbitragers will go away and businesses will start strategizing for the long term rather than next quarter's performance.
Sounds pretty simple doesn't it? The twofer is we can finally start hiring employees with math skills because all these unemployed tax accountants will suddenly be available to recruit.
Win win!
---
11/1 #10: Question about differential expansi ...

I forgot to add that except for a couple of layers of wood cells right under the bark, the vertical cells in the tree are all dead...they die soon after formation. Sapwood cells are mostly all dead within days after formation, and therefore heartwood is also dead cells.
On the other hand, the radial running cells, which are rich in starches and sugars, do stay alive. It is these cells that develop the chemical stains, like sticker stain, in drying.
---
11/1 #11: Question about differential expansi ...

"That's interesting about the bi-polar molecules and magnetic-like attraction. "
It sounds like the trees need some Prozac?
Riddle me this, what is the basic substance of a tree?
If that substance comes out of the ground why isn't there a depression around the base of the tree?
As to Tim's other talk, it's real simple the government needs to go on a diet. Less is more...
---
11/1 #12: Question about differential expansi ...

The tree is made of hydrogen, oxygen
(From water) and carbon (from carbon dioxide). The manufacturing of building blocks for cellulose and lignin ( the two main components) is done in the leaves via photosynthesis. Simple explanation.
---
11/1 #13: Question about differential expansi ...

Thanks Dr.
---

---
Buy & Sell Exchanges | Forums | Galleries | Other Resources | Site Map
---



Buy and Sell Exchanges



Job Opportunities and Services Exchange
Employment opportunities and services within the woodworking industry

Lumber Exchange
A worldwide buy/sell exchange for lumber and wood products

Machinery Exchange
A worldwide buyer and seller exchange for woodworking machinery and equipment.

Classified Ad Exchange
Classified advertising for the woodworking industry (for advertisements that do not include machinery, lumber products and employment listings)


---



Forums



Adhesives Forum
Discussing topics related to adhesives within the woodworking industry

Architectural Woodworking Forum
Discussing quality standards and production of architectural wood products

Business and Management Forum
A forum for the discussion of business topics: from sales and marketing to dealing with difficult customers.

Cabinet and Millwork Installation Forum
Discussing all aspects of installation issues encountered by cabinet and millwork installers.

Cabinetmaking Forum
Discussing 32mm and face frame cabinet construction including fabrication, casegoods design, and installation.

CAD Forum
Shedding light on the all-too-often shadowy world of CAD.

CNC Forum
Discussing CNC (computer numerically controlled) woodworking equipment, software, and automated product manufacturing.

Dust Collection, Safety and Plant Operation Forum
Discussing topics related to maintaining a safe and productive working environment.

Professional Finishing Forum
Finishing issues for the production environment

Forestry Forum
The science and art of forest cultivation and timber management, planting, surveying, tree diseases, silviculture and timber harvesting

Professional Furniture Making Forum
Helping professional furniture makers improve quality, save time, and increase profits

Laminating and Solid Surfacing Forum
Issues related to laminating and solid surface materials and processes

Commercial Kiln Drying Forum
Discussions covering issues faced be commercial drying operations that process at least 750,000 bd. ft. of lumber per year

Sawing and Drying Forum
Discussing topics related to primary processing and drying of lumber

Solid Wood Machining Forum
Discussing topics related to the machining of solid wood

Value Added Wood Products Forum
Learn how to improve your output, find new markets, and boost sales of your lumber products

Veneer Forum
Discussing topics related to veneer processing, manufacturing, and fabrication

WOODnetWORK
An electronic discussion group for woodworkers throughout the world


---



Galleries



Project Gallery
Where professional woodworkers can post examples of their work

Sawmill Gallery
Professional primary processing companies display and describe their sawmill facilities

Shop Gallery
Professional woodworkers display and describe their shop facilities, products and equipment

Shopbuilt Equipment Gallery
Professional woodworker's jigs, rigs, and shopbuilt equipment


---



Other Resources



Industry News
Late-breaking news from all sectors of the wood industry

Video Library
Index of industrial woodworking related digital videos on the web

Auctions, Sales and Special Offers
Advertisers offering woodworkers discounted prices on good and services, and announcements of upcoming auctions


FORUM GUIDELINES: Please review the guidelines below before posting at WOODWEB's Interactive Message Boards
(return to top)
WOODWEB is a professional industrial woodworking site. Hobbyist and homeowner woodworking questions are inappropriate.
Messages should be kept reasonably short and on topic, relating to the focus of the forum. Responses should relate to the original question.
A valid email return address must be included with each message.
Advertising is inappropriate. The only exceptions are the Classified Ads Exchange, Machinery Exchange, Lumber Exchange, and Job Opportunities and Services Exchange. When posting listings in these areas, review the posting instructions carefully.
Subject lines may be edited for length and clarity.
"Cross posting" is not permitted. Choose the best forum for your question, and post your question at one forum only.
Messages requesting private responses will be removed - Forums are designed to provide information and assistance for all of our visitors. Private response requests are appropriate at WOODWEB's Exchanges and Job Opportunities and Services.
Messages that accuse businesses or individuals of alleged negative actions or behavior are inappropriate since WOODWEB is unable to verify or substantiate the claims.
Posts with the intent of soliciting answers to surveys are not appropriate. Contact WOODWEB for more information on initiating a survey.
Excessive forum participation by an individual upsets the balance of a healthy forum atmosphere. Individuals who excessively post responses containing marginal content will be considered repeat forum abusers.
Responses that initiate or support inappropriate and off-topic discussion of general politics detract from the professional woodworking focus of WOODWEB, and will be removed.
Participants are encouraged to use their real name when posting. Intentionally using another persons name is prohibited, and posts of this nature will be removed at WOODWEB's discretion.
Comments, questions, or criticisms regarding Forum policies should be directed to WOODWEB's Systems Administrator
(return to top).

Carefully review your message before clicking on the "Send Message" button - you will not be able to revise the message once it has been sent.

You will be notified of responses to the message(s) you posted via email. Be sure to enter your email address correctly.

WOODWEB's forums are a highly regarded resource for professional woodworkers. Messages and responses that are crafted in a professional and civil manner strengthen this resource. Messages that do not reflect a professional tone reduce the value of our forums.

Messages are inappropriate when their content: is deemed libelous in nature or is based on rumor, fails to meet basic standards of decorum, contains blatant advertising or inappropriate emphasis on self promotion (return to top).

Libel: Posts which defame an individual or organization, or employ a tone which can be viewed as malicious in nature. Words, pictures, or cartoons which expose a person or organization to public hatred, shame, disgrace, or ridicule, or induce an ill opinion of a person or organization, are libelous.

Improper Decorum: Posts which are profane, inciting, disrespectful or uncivil in tone, or maliciously worded. This also includes the venting of unsubstantiated opinions. Such messages do little to illuminate a given topic, and often have the opposite effect. Constructive criticism is acceptable (return to top).

Advertising: The purpose of WOODWEB Forums is to provide answers, not an advertising venue. Companies participating in a Forum discussion should provide specific answers to posted questions. WOODWEB suggests that businesses include an appropriately crafted signature in order to identify their company. A well meaning post that seems to be on-topic but contains a product reference may do your business more harm than good in the Forum environment. Forum users may perceive your references to specific products as unsolicited advertising (spam) and consciously avoid your web site or services. A well-crafted signature is an appropriate way to advertise your services that will not offend potential customers. Signatures should be limited to 4-6 lines, and may contain information that identifies the type of business you're in, your URL and email address (return to top).

Repeated Forum Abuse: Forum participants who repeatedly fail to follow WOODWEB's Forum Guidelines may encounter difficulty when attempting to post messages.

There are often situations when the original message asks for opinions: "What is the best widget for my type of shop?". To a certain extent, the person posting the message is responsible for including specific questions within the message. An open ended question (like the one above) invites responses that may read as sales pitches. WOODWEB suggests that companies responding to such a question provide detailed and substantive replies rather than responses that read as a one-sided product promotion. It has been WOODWEB's experience that substantive responses are held in higher regard by our readers (return to top).

The staff of WOODWEB assume no responsibility for the accuracy, content, or outcome of any posting transmitted at WOODWEB's Message Boards. Participants should undertake the use of machinery, materials and methods discussed at WOODWEB's Message Boards after considerate evaluation, and at their own risk. WOODWEB reserves the right to delete any messages it deems inappropriate. (return to top)



Forum Posting Form Guidelines

Your Name
The name you enter in this field will be the name that appears with your post or response (return to form).
Your Website
Personal or business website links must point to the author's website. Inappropriate links will be removed without notice, and at WOODWEB's sole discretion. WOODWEB reserves the right to delete any messages with links it deems inappropriate. (return to form)
E-Mail Address
Your e-mail address will not be publicly viewable. Forum participants will be able to contact you using a contact link (included with your post) that is substituted for your actual address. You must include a valid email address in this field. (return to form)
Subject
Subject may be edited for length and clarity. Subject lines should provide an indication of the content of your post. (return to form)
Thread Related Link and Image Guidelines
Thread Related Links posted at WOODWEB's Forums and Exchanges should point to locations that provide supporting information for the topic being discussed in the current message thread. The purpose of WOODWEB Forums is to provide answers, not to serve as an advertising venue. A Thread Related Link that directs visitors to an area with inappropriate content will be removed. WOODWEB reserves the right to delete any messages with links or images it deems inappropriate. (return to form)
Thread Related File Uploads
Thread Related Files posted at WOODWEB's Forums and Exchanges should provide supporting information for the topic being discussed in the current message thread. Video Files: acceptable video formats are: .MOV .AVI .WMV .MPEG .MPG .FLV .MP4 (Image Upload Tips) If you encounter any difficulty when uploading video files, E-mail WOODWEB for assistance. The purpose of WOODWEB Forums is to provide answers, not to serve as an advertising venue. A Thread Related File that contains inappropriate content will be removed, and uploaded files that are not directly related to the message thread will be removed. WOODWEB reserves the right to delete any messages with links, files, or images it deems inappropriate. (return to form)