You are not logged in. Consider these WOODWEB Member advantages:

A personal "member history" that displays your posts at WOODWEB
Your forms at WOODWEB will be filled in automatically
Create your personal "My Favorites" page
Numerous automatic notification options
Frameless to face frame
12/27/15

We are a 2 man shop turning out mostly frameless cabinetry....Sometimes FF inset. I have a job coming up where the contractor specified "1/2" overlay WITH A FF"! Weird and outdated I think but hey, my opinion matters not.
Question is what type of hinge and how to simplify installation of slides(tandem)? Compact Blum have soft close in 1/2" overlay?
For tandems, I'd like to attempt using one screw into face frame and mounting with the "clips" on back (vs. packing out sides)
How do you locate the bracket for installation?
Is there anything to keep in mind for an overlay face frame job? Or is it as easy as it sounds?
Lastly, I asked the contractor what size face frame and she said she'd never been asked that in her 35 year career. I told her we could do any size being it is all custom. Is there a common size reveal between doors and fronts? Thanks all
---
12/27/15 #2: Frameless to face frame ...

Website: http://www.joecoholiccustomfurniture.com
We still do a lot of traditional face frame cabinetry with partial overlay doors.
Typically, I use 1 1/4" wide stiles, and a 1 3/4" wide top rail, 1 1/2" wide rail between top drawer and lower doors and/or lower drawers, and a flush filler on the bottom (with 3/4" ply used for the cases.)
Hinges and plates can be combined to give you your 1/2" overlay. Might be easier to go with a standard 110 degree full overlay hinge and a frame mount plate (full size hinge) and get a 5/8" coverage VS 1/2". I prefer the full size hinges myself.
I always use build outs to mount my slides - using the Moventos (same installation) I just build out the face frame with either basswood, or Baltic birch ply for the full depth. Typically, with my 1 1/4" wide stiles, and a 1/8" left on the outer section of the frame, I build out 3/8". I have thought about the plastic clips but the plastic breaks over time - Ive replaced them on other kitchens too often. A wood or ply build out looks nice (I sand and finish them) and will never fail.
---
12/27/15 #3: Frameless to face frame ...

As a professional your opinion does matter...whether they recognize it or not
I did face frame for several years until I came to my senses.
If you have to do face frame you can use metal rear brackets. Most frame shops here only use a plywood end and a face frame of whatever length with no partitions with everything riding on one 5/8" screw into the face frame.
Somehow that makes perfect sense opposed to a frameless box mounted slide attached attached at multiple points along its length???
I prefer to use partitions flush with the inside of the frame but will use a single partition behind stiles.
The good news is your working with a builder that has no clue, leaving the details to your discretion.
I usually make the frame width 3 times the plywood thickness to facilitate pad outs.
---
12/28/15 #4: Frameless to face frame ...

Website: http://www.saliceamerica.com
For factory made, stock cabinets ˝" overlay is by far the most common nationwide followed by 1-1/4" overlay. The styles and rails are almost always 1-1'2". These are 100% a compact style hinge. Just take a walk through the kitchen department at a Lowes or Home Depot.
For custom cabinets, the size of the stiles and rails and the type of hinge seems to be a regional preference and you will find a mix of compact style hinges and 2 piece long arm Euro hinges. "My grandfather did this so I do too".
Rarely do I see stiles less than 1-1/2" and they can be as much as 2" for custom cabinets. Again, this seems to be a regional thing. There are some areas where 1-5/8" stiles and rails are common (Parts of Kentucky for example). For custom cabinets, the door overlay is all over the place, still with ˝" and 1-1/4" overlay being most common. If you look at the (compact) hinge overlays offered by major hinge manufacturers you will find hinge overlays anywhere from 1/4" up to 1-5/8" to meet the market by market demand.
In some areas in the Midwest you can barely give away compact style hinges to custom shops. They are generally viewed as a lower end production hinge with definite design disadvantages. In other more price sensitive areas or where larger numbers of cabinets are being produced daily by regional cabinet "manufacturers" the compact hinge is preferred largely due to price. The compact hinge group does however have the advantage of accomplishing the larger overlays on wider face frames.
I guess there is a place for everything.
---
12/28/15 #5: Frameless to face frame ...

Website: http://www.joecoholiccustomfurniture.com
With the 1 1/4" stiles I use, and the typical 5/16" overlay hinge I use you see 15/16" of the frame once the door is hung.
Just a question, to no one in particular...
What is the purpose of using a 2" stile, and then covering it up with a 1 1/4" overlay hinge? You still see approx the same amount of frame, but you have a much smaller opening, larger build out to deal with, and more material used.
Visually, weve been making framed cabinets like we do since the 70's - up here in our neck of the woods they seem to be similar to the factory made options as well. I know varying regions do things differently.
To me, the whole point of a framed cabinet is for the look of a framed cabinet - the space between the doors and fronts. Sure, it also makes a more sturdy box if done well (we groove our frames to be set over the box and glued on, with tenons used on the frame joints - makes a very sturdy unit) but for all intents and purposes, a frame-less box made from 3/4" stock and well engineered (joinery that is) is strong enough also.
The popularity of the full-overlay, framed cabinet really makes no sense to me. Looks the same as a frame-less, but more work, more cost and no benefits IMO.
Again, just a question. Since we are a custom shop, I build all types of cabinets depending upon what the customer wants.. so I am not set on one style or the other.
---
12/28/15 #6: Frameless to face frame ...

Chris, what you describe as "weird and outdated" is 99.9% of what we build.
2" face frame all the way around with 1/2" overlay doors and drawers. I use Salice undermounts. I do use the back bracket. I simply cut a strip of 1/2" ply and then cut to length 3/16" longer than the face frame opening and screw the brackets to that. I've got a jig that sits on the floor of the cabinet that holds that strip along with the slides in place until I put the drawer in and line it up and then screw that strip to the back of the cabinet. Piece of cake.
---
12/29/15 #7: Frameless to face frame ...

Thanks for the replies. Mike, no disrespect, I just haven't seen any shops or requests for my shop building overlay face frame cabinets. It seems a thing that is mostly mass produced. Let me get this straight...with 1/2" overlay on a 1 1/2" stile the reveal from door to door is 1/2"? The reveal from door edge to can end is 1"? Unless, as some others suggest different size stiles and rails according to a constant reveal throughout they job.
Any tips for mounting face frames to boxes as per ~1/8-1/4" proud of cab edge? Indexing with a biscuit jointer with a piece of ~1/8/1/4" scrap? What is the relation of offset from cabinet ply to inside of frame? Is anything flush or generally 1/16-1/8" lip (such as frame to bottom plane of cab material)? Rabbeting or dadoing frames for indexing I get but that reduces the thickness making pocket screwing a matter of 1" screws?
Thanks again.

---
12/29/15 #8: Frameless to face frame ...

Chris, I didn't feel disrespected, I thought it was funny.
I'll tell you a little about the way I do it.
First of all I use 1/2" prefinished ply for everything.
I use 2" face stock all the way around except for when cabinets go to ceiling and then I use a 3" for the top.
On my finished ends, if they are raised panel I mill a dado 1/4" deep 1/4" over from the edge for the panel side to set into. That panel will get pocket screwed and glued at assembly time the inside will get capped with the prefinished ply. If the finished ends are 1/2" ply then I mill the groove halfway deep and the side gets glued and pin nails behind the lip angled toward the face frame. It makes it almost invisible. As far as attaching frames to cabinet, I think most build the box and then attach the frame, that's always seemed backward to me but I guess it ever what you get accustomed to. I start out with the frame that is now finished and laying face down with the bottom toward me.
If it's got a finished side I put that in first, then the floor gets glued and shot with 3/4" staples through a cleat on the bottom of the floor. Then the other side will get pocket screwed to the face if unfinished. Toe kick goes in next, pocket screwed to the finished end and shot to the unfinished. Pocket screwed to the bottom of the deck. The cabinet is then flipped up on its base and if it get a fixed shelf it's put in. The 1/2" back gets pocket screwed to the finished end and shot to the unfinished. Then the floor and shelf get shot. On the unfinished ends I set the side over 1/2" from the edge, this comes in handy if you need to trim an edge down to fit between two walls or scribe. So basically everything on my cabinets get shot or pocket screwed. It's the fastest and strongest method that I've found and has worked for years and never a failure. As far as looks, I looked through my cabinet pics and this one is the best I found to show what it looks like.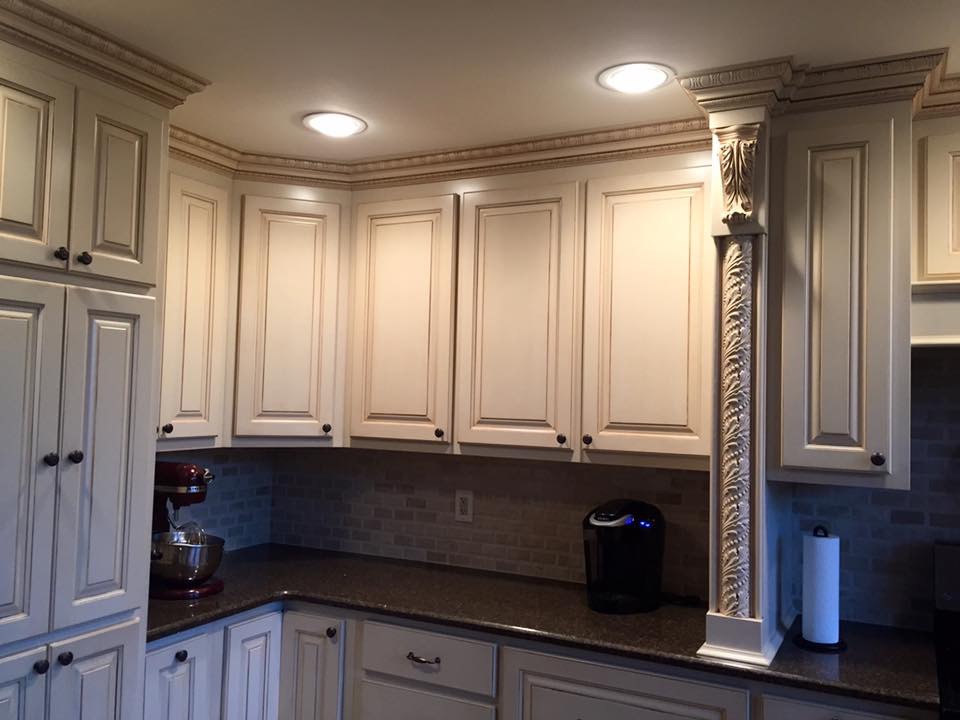 View higher quality, full size image (960 X 720)

---
12/29/15 #9: Frameless to face frame ...

Mike, call me old school - but I'd take that look (in your photo) over a frameless look any day of the week. While I prefer the look of inset doors with frames - I'd still go overlay such as yours rather than frameless. Not looking for arguments here, I build both - it's what the client wants or is willing to pay for that matters, not my personal preferences.
I do abhor how I've seen many kitchens with up to 4" styles between doors. Yikes! ;-)
Anyway - that's a nice looking kitchen you posted there!
---
12/30/15 #10: Frameless to face frame ...

Thanks ML.
I too hate the look of the wide stiles, don't know why anyone would do that unless they bought some reject doors at the flea market and made the cabinets to fit them.
I like the look of face frames better as well.
---
12/31/15 #11: Frameless to face frame ...

Thanks for the explanation mike. 1/2" everything...that's interesting. I may have to explore that. Thanks everybody

---
1/2/16 #12: Frameless to face frame ...

I have never been asked to build a frameless cabinet. Everything is 1/2" overlay and 1" reveal. Frame pieces are 1-1/2 or 2".
I cut 1/4" tongues on the sides and corresponding grooves on the back of the face frame some glue and clamps and you have it.
For mounting drawer slides I try to flush out what I can when cutting the tongue and groove. For the rest i use 2.5" wide strips of plywood the length of the slides.
---
1/3/16 #13: Frameless to face frame ...

I'm with Mike Fuson on this one, I've built FF since 1971. I am in Texas, I have built 1 set of frameless cabinets in my career and my customer was from Poland. I also absolutely can not sell a MDF door or a single piece of particle board here. Every part of the country is different I guess. JBDyer

---
2/9/16 #14: Frameless to face frame ...

I am up in Ontario, Canada and one of the last few I think doing FF...seems the entire country has switched over to Frameless and you don't even see the box store's selling anything else anymore! Good for me though...I am in a niche market and need to make FF due to my rustic woods I use. Anyway, here is what I do and after reading the above posts it seems like I am different than most.
My stile's are always 1 1/2" or 3/4" (finished gable ends are 1.5" and where to upper's come together I make those stile's .75". My finished exposed gables get nothing but matching panel's mimicking the door's (a fridge gable with upper's and lower's butting up to it is .75" vc-matching plywood). The only time I go wider on the stile's is for built in appliances such as a wall oven or high end fridge that requires wider rails. All upper cabinets have 1.5" top and bottom rail's. My base cabinet's (usually always full drawer boxes) have a 1.5" top rail, and up to 3-1" mid and bottom rail's. My face frames are ALWAYS flush with the cabinet interior except the upper rail which will over lap the box by .75"
For hinge's I use nothing but standard 110d half over lay Blum/Blumotion with there 0mm Faceframe adapter plate. This combination give's me a 5/16" overlay and I build my door's to have 1/4" overlay on the top and bottom frames. For drawer slide's I use nothing but 560H and 566H Blumotion slide's. I use a Hettich drawer slide drilling jig and use euro screw's for fasting all the slides to the boxes...works great on the Blum slides and always have the perfect adjustment! There are NO filler strips between the cabinet boxes and the slide's and everything always works great!
I guess looking at the way I do my FaceFrame's its more of a hybrid sort of speak with the flush interior's....works for me as I can't find edge banding or plywood for half of the rustic stuff I am getting into these day's!!!
Ryan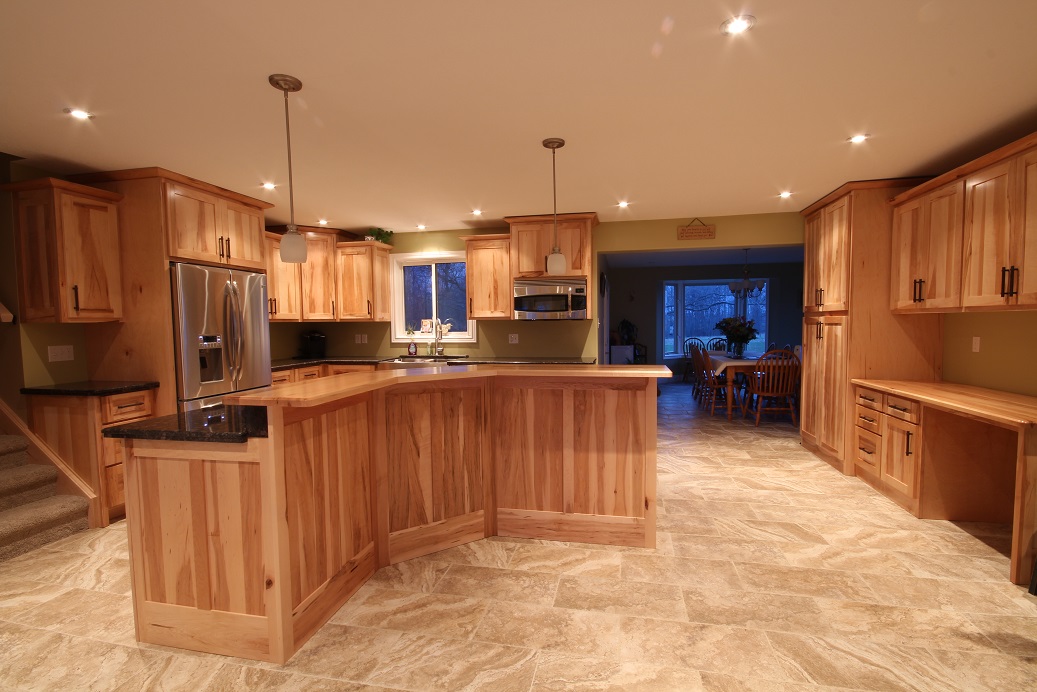 View higher quality, full size image (1037 X 692)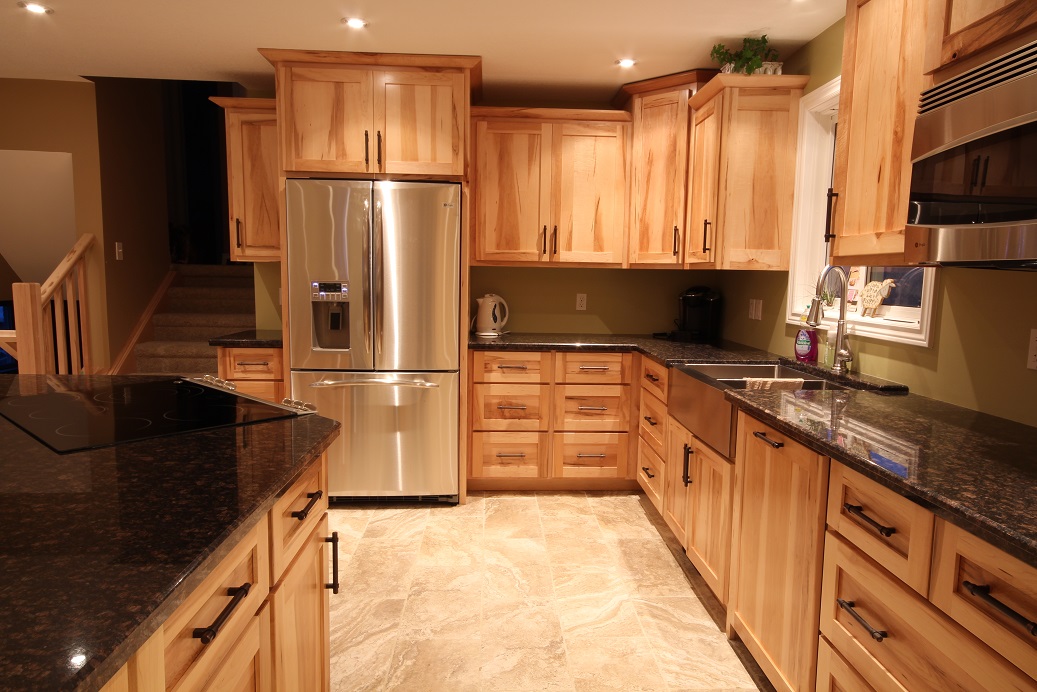 View higher quality, full size image (1037 X 692)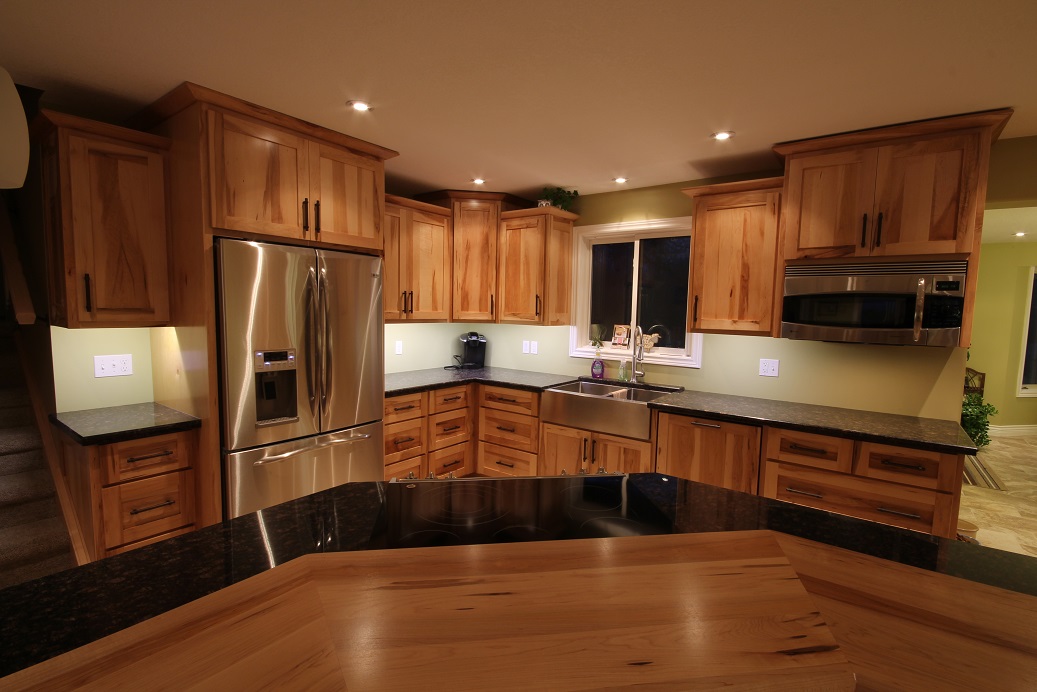 View higher quality, full size image (1037 X 692)

---
2/9/16 #15: Frameless to face frame ...

A few more picture's of one of the few painted I have done lately (Island was rustic though!)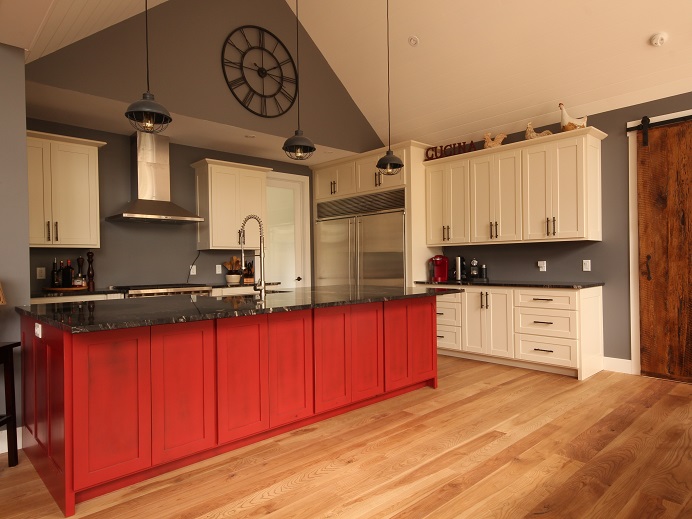 View higher quality, full size image (692 X 519)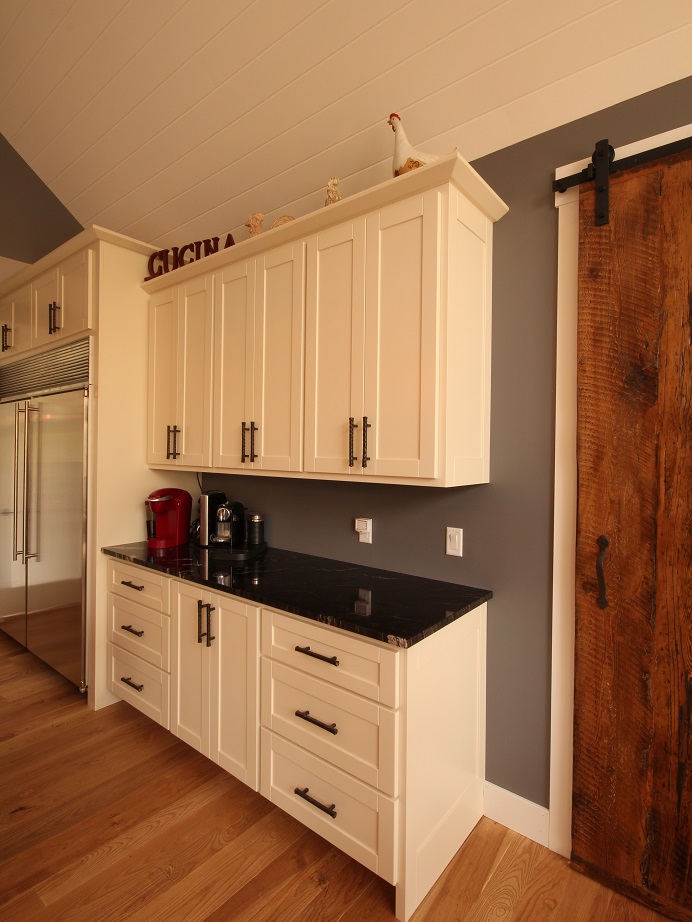 View higher quality, full size image (692 X 922)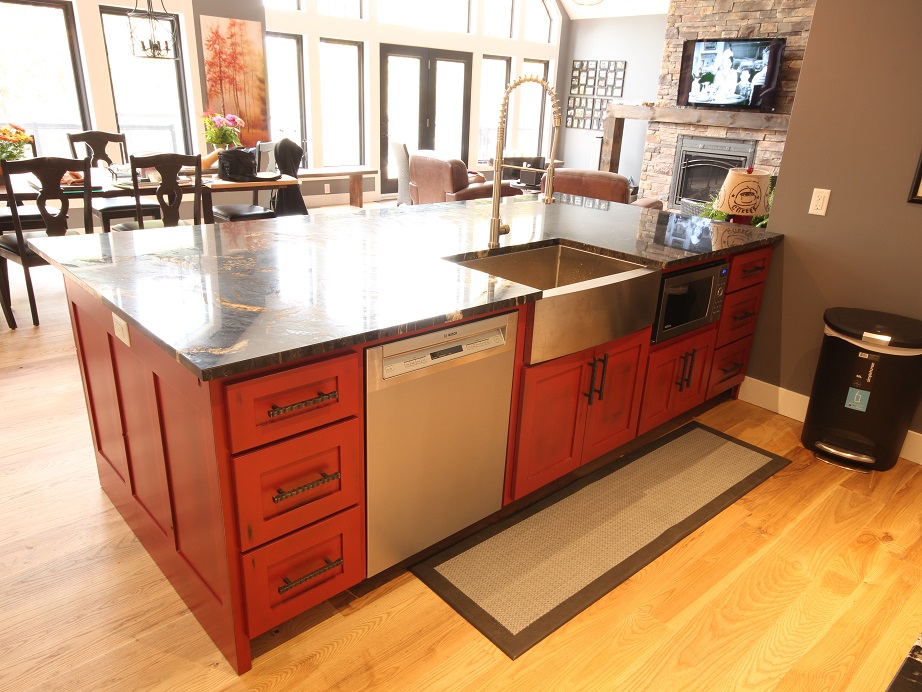 View higher quality, full size image (922 X 692)

---

---
Buy & Sell Exchanges | Forums | Galleries | Other Resources | Site Map
---



Buy and Sell Exchanges



Job Opportunities and Services Exchange
Employment opportunities and services within the woodworking industry

Lumber Exchange
A worldwide buy/sell exchange for lumber and wood products

Machinery Exchange
A worldwide buyer and seller exchange for woodworking machinery and equipment.

Classified Ad Exchange
Classified advertising for the woodworking industry (for advertisements that do not include machinery, lumber products and employment listings)


---



Forums



Adhesives Forum
Discussing topics related to adhesives within the woodworking industry

Architectural Woodworking Forum
Discussing quality standards and production of architectural wood products

Business and Management Forum
A forum for the discussion of business topics: from sales and marketing to dealing with difficult customers.

Cabinet and Millwork Installation Forum
Discussing all aspects of installation issues encountered by cabinet and millwork installers.

Cabinetmaking Forum
Discussing 32mm and face frame cabinet construction including fabrication, casegoods design, and installation.

CAD Forum
Shedding light on the all-too-often shadowy world of CAD.

CNC Forum
Discussing CNC (computer numerically controlled) woodworking equipment, software, and automated product manufacturing.

Dust Collection, Safety and Plant Operation Forum
Discussing topics related to maintaining a safe and productive working environment.

Professional Finishing Forum
Finishing issues for the production environment

Forestry Forum
The science and art of forest cultivation and timber management, planting, surveying, tree diseases, silviculture and timber harvesting

Professional Furniture Making Forum
Helping professional furniture makers improve quality, save time, and increase profits

Laminating and Solid Surfacing Forum
Issues related to laminating and solid surface materials and processes

Commercial Kiln Drying Forum
Discussions covering issues faced be commercial drying operations that process at least 750,000 bd. ft. of lumber per year

Sawing and Drying Forum
Discussing topics related to primary processing and drying of lumber

Solid Wood Machining Forum
Discussing topics related to the machining of solid wood

Value Added Wood Products Forum
Learn how to improve your output, find new markets, and boost sales of your lumber products

Veneer Forum
Discussing topics related to veneer processing, manufacturing, and fabrication

WOODnetWORK
An electronic discussion group for woodworkers throughout the world


---



Galleries



Project Gallery
Where professional woodworkers can post examples of their work

Sawmill Gallery
Professional primary processing companies display and describe their sawmill facilities

Shop Gallery
Professional woodworkers display and describe their shop facilities, products and equipment

Shopbuilt Equipment Gallery
Professional woodworker's jigs, rigs, and shopbuilt equipment


---



Other Resources



Industry News
Late-breaking news from all sectors of the wood industry

Video Library
Index of industrial woodworking related digital videos on the web

Auctions, Sales and Special Offers
Advertisers offering woodworkers discounted prices on good and services, and announcements of upcoming auctions


FORUM GUIDELINES: Please review the guidelines below before posting at WOODWEB's Interactive Message Boards
(return to top)
WOODWEB is a professional industrial woodworking site. Hobbyist and homeowner woodworking questions are inappropriate.
Messages should be kept reasonably short and on topic, relating to the focus of the forum. Responses should relate to the original question.
A valid email return address must be included with each message.
Advertising is inappropriate. The only exceptions are the Classified Ads Exchange, Machinery Exchange, Lumber Exchange, and Job Opportunities and Services Exchange. When posting listings in these areas, review the posting instructions carefully.
Subject lines may be edited for length and clarity.
"Cross posting" is not permitted. Choose the best forum for your question, and post your question at one forum only.
Messages requesting private responses will be removed - Forums are designed to provide information and assistance for all of our visitors. Private response requests are appropriate at WOODWEB's Exchanges and Job Opportunities and Services.
Messages that accuse businesses or individuals of alleged negative actions or behavior are inappropriate since WOODWEB is unable to verify or substantiate the claims.
Posts with the intent of soliciting answers to surveys are not appropriate. Contact WOODWEB for more information on initiating a survey.
Excessive forum participation by an individual upsets the balance of a healthy forum atmosphere. Individuals who excessively post responses containing marginal content will be considered repeat forum abusers.
Responses that initiate or support inappropriate and off-topic discussion of general politics detract from the professional woodworking focus of WOODWEB, and will be removed.
Participants are encouraged to use their real name when posting. Intentionally using another persons name is prohibited, and posts of this nature will be removed at WOODWEB's discretion.
Comments, questions, or criticisms regarding Forum policies should be directed to WOODWEB's Systems Administrator
(return to top).

Carefully review your message before clicking on the "Send Message" button - you will not be able to revise the message once it has been sent.

You will be notified of responses to the message(s) you posted via email. Be sure to enter your email address correctly.

WOODWEB's forums are a highly regarded resource for professional woodworkers. Messages and responses that are crafted in a professional and civil manner strengthen this resource. Messages that do not reflect a professional tone reduce the value of our forums.

Messages are inappropriate when their content: is deemed libelous in nature or is based on rumor, fails to meet basic standards of decorum, contains blatant advertising or inappropriate emphasis on self promotion (return to top).

Libel: Posts which defame an individual or organization, or employ a tone which can be viewed as malicious in nature. Words, pictures, or cartoons which expose a person or organization to public hatred, shame, disgrace, or ridicule, or induce an ill opinion of a person or organization, are libelous.

Improper Decorum: Posts which are profane, inciting, disrespectful or uncivil in tone, or maliciously worded. This also includes the venting of unsubstantiated opinions. Such messages do little to illuminate a given topic, and often have the opposite effect. Constructive criticism is acceptable (return to top).

Advertising: The purpose of WOODWEB Forums is to provide answers, not an advertising venue. Companies participating in a Forum discussion should provide specific answers to posted questions. WOODWEB suggests that businesses include an appropriately crafted signature in order to identify their company. A well meaning post that seems to be on-topic but contains a product reference may do your business more harm than good in the Forum environment. Forum users may perceive your references to specific products as unsolicited advertising (spam) and consciously avoid your web site or services. A well-crafted signature is an appropriate way to advertise your services that will not offend potential customers. Signatures should be limited to 4-6 lines, and may contain information that identifies the type of business you're in, your URL and email address (return to top).

Repeated Forum Abuse: Forum participants who repeatedly fail to follow WOODWEB's Forum Guidelines may encounter difficulty when attempting to post messages.

There are often situations when the original message asks for opinions: "What is the best widget for my type of shop?". To a certain extent, the person posting the message is responsible for including specific questions within the message. An open ended question (like the one above) invites responses that may read as sales pitches. WOODWEB suggests that companies responding to such a question provide detailed and substantive replies rather than responses that read as a one-sided product promotion. It has been WOODWEB's experience that substantive responses are held in higher regard by our readers (return to top).

The staff of WOODWEB assume no responsibility for the accuracy, content, or outcome of any posting transmitted at WOODWEB's Message Boards. Participants should undertake the use of machinery, materials and methods discussed at WOODWEB's Message Boards after considerate evaluation, and at their own risk. WOODWEB reserves the right to delete any messages it deems inappropriate. (return to top)



Forum Posting Form Guidelines

Your Name
The name you enter in this field will be the name that appears with your post or response (return to form).
Your Website
Personal or business website links must point to the author's website. Inappropriate links will be removed without notice, and at WOODWEB's sole discretion. WOODWEB reserves the right to delete any messages with links it deems inappropriate. (return to form)
E-Mail Address
Your e-mail address will not be publicly viewable. Forum participants will be able to contact you using a contact link (included with your post) that is substituted for your actual address. You must include a valid email address in this field. (return to form)
Subject
Subject may be edited for length and clarity. Subject lines should provide an indication of the content of your post. (return to form)
Thread Related Link and Image Guidelines
Thread Related Links posted at WOODWEB's Forums and Exchanges should point to locations that provide supporting information for the topic being discussed in the current message thread. The purpose of WOODWEB Forums is to provide answers, not to serve as an advertising venue. A Thread Related Link that directs visitors to an area with inappropriate content will be removed. WOODWEB reserves the right to delete any messages with links or images it deems inappropriate. (return to form)
Thread Related File Uploads
Thread Related Files posted at WOODWEB's Forums and Exchanges should provide supporting information for the topic being discussed in the current message thread. Video Files: acceptable video formats are: .MOV .AVI .WMV .MPEG .MPG .MP4 (Image Upload Tips) If you encounter any difficulty when uploading video files, E-mail WOODWEB for assistance. The purpose of WOODWEB Forums is to provide answers, not to serve as an advertising venue. A Thread Related File that contains inappropriate content will be removed, and uploaded files that are not directly related to the message thread will be removed. WOODWEB reserves the right to delete any messages with links, files, or images it deems inappropriate. (return to form)