Message Thread:
AutoCAD 3D
1/10

I have a team of individuals using AutoCAD 2D, no one of uses or knows how to use the 3D portion of the software. The 2D works great but I would like to introduce 3D to some of the team members. I'm very familiar, with Inventor, Solid Works, & TopSolid but not AutoCAD 3D. I hate reinventing the wheel so if AutoCAD 3D is robust I'd like to stick with it, but if it's not robust I would rather they learn a designated 3D program. Anyone with a perspective on AutoCAD 3D, is it worth using?
---
1/10 #2: AutoCAD 3D ...

I figured it out, AutoCAD 3D is 3DS MAX, 3D design software not 3D engineering software, it will not work.
---
1/10 #3: AutoCAD 3D ...

If you have AutoCad the software will do 3d. (AutoCAD Lt does not have 3d features).
Autodesk 3d Studio is an additional software and is not needed to create 3d drawings in AutoCAD.
We went to 3d about 10 years ago. I rarely draw anything in 2d anymore. A drawing done in 3d gives me so much more than a 2d drawing. In 3d I can pull everything I need for the drawing from the 3d model. (Isometric views, elevations, sections and details.). If I change the 3d model, the drawing view is updated. In 2d if a change is made the sections, elevations and details all need to be updated separately. Thus I find 3d to be more accurate and take less time.
There are some downfalls to 3d. Such as stretching a model. Stretching a 3d model is not something AutoCad can do. Yet there are add-on which can stretch basic 3d models. There is a bit of a learning curve to learn 3d drawing, yet it is vastly shorter than learning a new software like inventor or a cabinet software.
I also use Smartlister to extract part information for cutlists and create layered drawings for CNC from 3d drawings. This add-on also has a feature to stretch 3d solids.
For rendering I import the AutoCAD 3d model into Autodesk Showcase Software.

---
1/11 #4: AutoCAD 3D ...

Robert
If you have TopSolid and are familiar with it, why not use that? I use Autocad 2D/3D and we are trying to make the transition over to TopSolid. Autocad 3D is nice, but all you have are "dumb" solids. If you don't have any 3rd party software to send the info to cnc's it takes alot to do it in autocad.
John
---
1/11 #5: AutoCAD 3D ...

I agree with Dan. I have used Solidworks which are not "dumb solids".
Admittedly I have not used it in10 years so I'm outdated on SW.
Between the two I like Autocad because of the reasons Dan mentions.
Additionally the parametrics can be a hindrance as well.
Smartlister does an ok job (some hickeys) of exporting the DXFs for routing, you will still need a nesting program or check out Cadcode.
This is an old argument but I still think
3d is the way to go for custom, not cabinets.
I see where Larry S is now using Topsolid instead of MV, maybe he will check in.
Derek S uses SW (for approvals) but does not export for manufacturing, he is using CV for that.
---
1/15 #6: AutoCAD 3D ...

I will probably introduce TopSolid to the Design Team, I own TS and use it personally and I think it is a great program. I was recently hired to manage the design department and they have the full suite of AutoCAD with all current updates, but I think it is not sufficient for all design aspects and needs for the department.
---
1/17 #7: AutoCAD 3D ...

Yes good idea come to a company and shuffle the deck and throw out the baby with the bath water.
---
1/17 #8: AutoCAD 3D ...

I feel the love from you Pat
It will probably end up being a 4 legged stool, AutoCAD doing the heavy lifting, TopSolid with a seed libraries of parametric casegoods models, and upholstery frames, Adobe Illustrator for Fabric design, and Modo for conceptualizing.
The company I work for is a home decor direct to consumer retailer. They introduce over a thousand items a year, from casegood, upholstery, new fabric patterns, accessories, and lighting. I just do not feel AutoCAD can handle all product development in all categories.
---
1/17 #9: AutoCAD 3D ...

Here is an example of when AutoCAD may not be sufficient for product design. I had to get a few lighting designs to our factory in the Philippines, No one in design team could create a chandelier I designed in AutoCAD so I outsourced it to some freelance Russian's I've done business with and they returned 3D models designed in Solid Works within one day. Even for a cynical person like you Pat must admit it would be hard to draw these organic lights in 2D AutoCAD.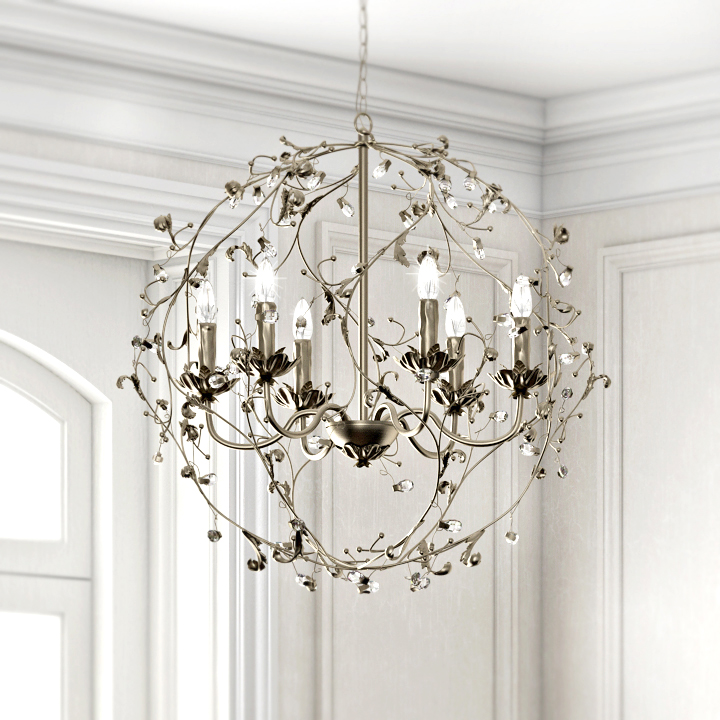 View higher quality, full size image (720 X 720)

---
1/18 #10: AutoCAD 3D ...

It would be difficult in Auto Cad or Solid Works for that matter.
My objection is when a new hire immediately wants to change policy. There is reason a company does things the way they do.
Auto Cad 3d works fine for most woodwork, better than Solidworks as there are add ons that have woodworking buttons.
Although SW is better for creating a picture.
---
1/18 #11: AutoCAD 3D ...

To the original question: AutoCAD is a robust 3d modeling platform and has been for a long time. Here's an exercise using sweeps, lofts and basic shapes that would be sufficient to create a model like the one shown. Anyone with the chops to do that in Solidworks would likely know that there are sculpting applications much better suited to the task. And since it's unlikely that a product like this would be machined, the model seems destined to serve as a visual reference. BTW, you'll need a lot more veining for that to look like a globe from more than 1 or 2 viewing angles. IMO.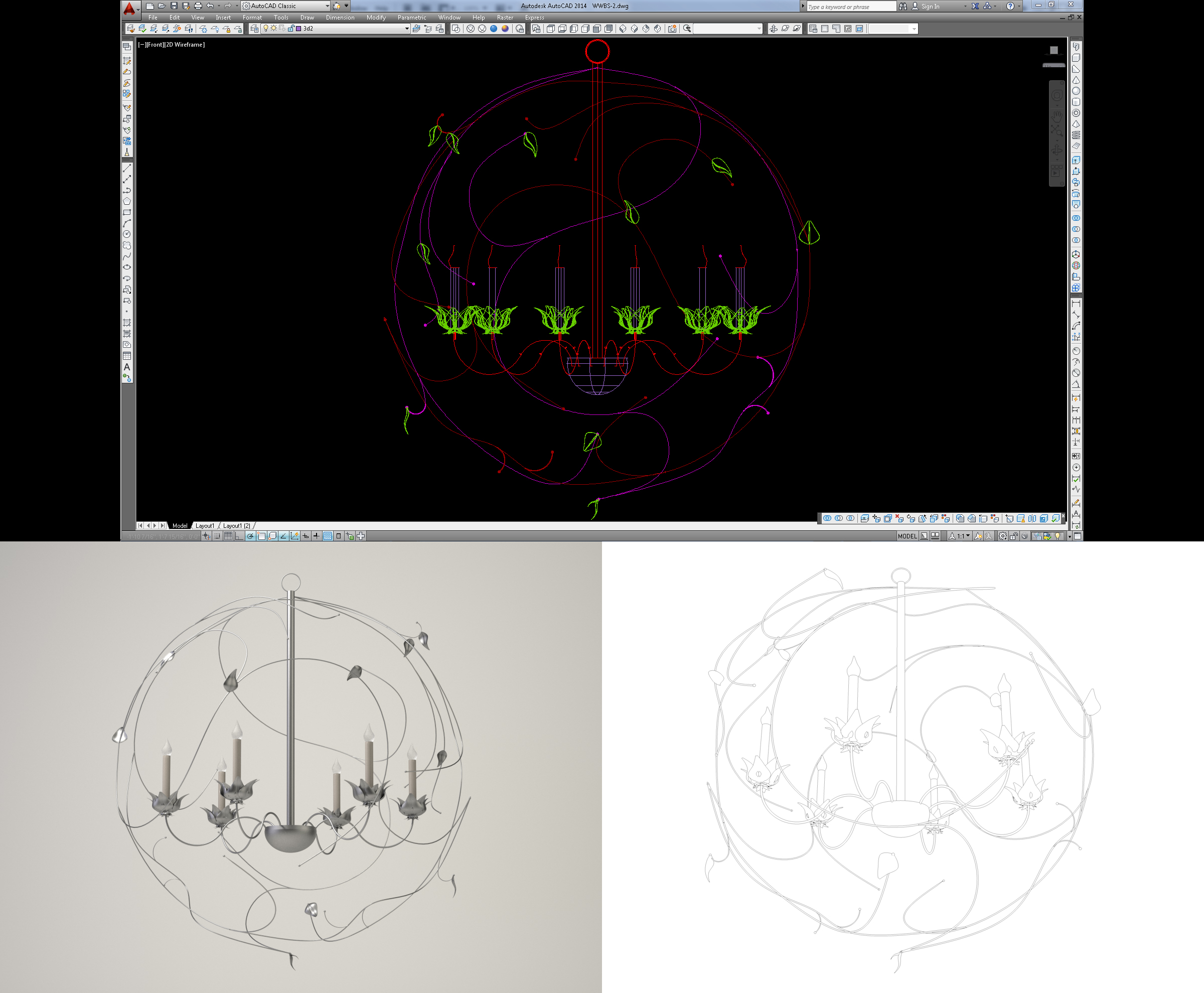 View higher quality, full size image (2400 X 1979)

---
1/18 #12: AutoCAD 3D ...

Mark,
That was a very helpful post, thank you, that is the type of information I was looking for.
What type of file formats can you export, .stl, .par, .vrml.? Can you take a screen shot of the export formats.
What's your opinion on using it for casegood?
Thanks
---
1/18 #13: AutoCAD 3D ...

For molds, extrusions, machined parts, etc. I usually send out STEP ... not directly from AutoCAD as you can see. I prefer other software for STL, too. But ACIS out is a nice clean translation.
For production casework, TopSolidWood will be hard to beat, but it's really pick-your-flavor from a number of good options. Everything I do is custom, so parametric doesn't matter to me. Editing is easy enough in ACAD.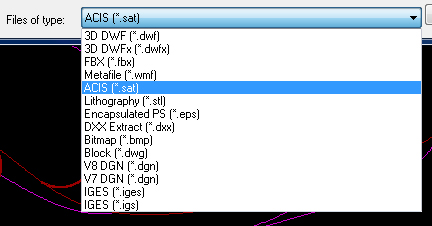 View higher quality, full size image (432 X 226)

---
1/18 #14: AutoCAD 3D ...

For production Case work Cabinet Vision or Microvellum are the go to for popularity and probably effectiveness.
Top Solid has very few users in the US compared to Auto Cad.
The questionable part to me is that you want to change what you already have that WILL work fine for casework as Dan and I have indicated.
The key here is opportunity cost...
Anyway I have probably said too much.
---
1/18 #15: AutoCAD 3D ...

This video is 5 minutes and 39 seconds long of making a icosahedro.
How long does it take with parametrics? About 1 day, if you know the trig.
Under 6 mins. without knowledge of trig. using Autocad. It works.
If you are seeing this message, your version of flash needs to be upgraded to view this video.
Click here to get the latest version of the Flash player.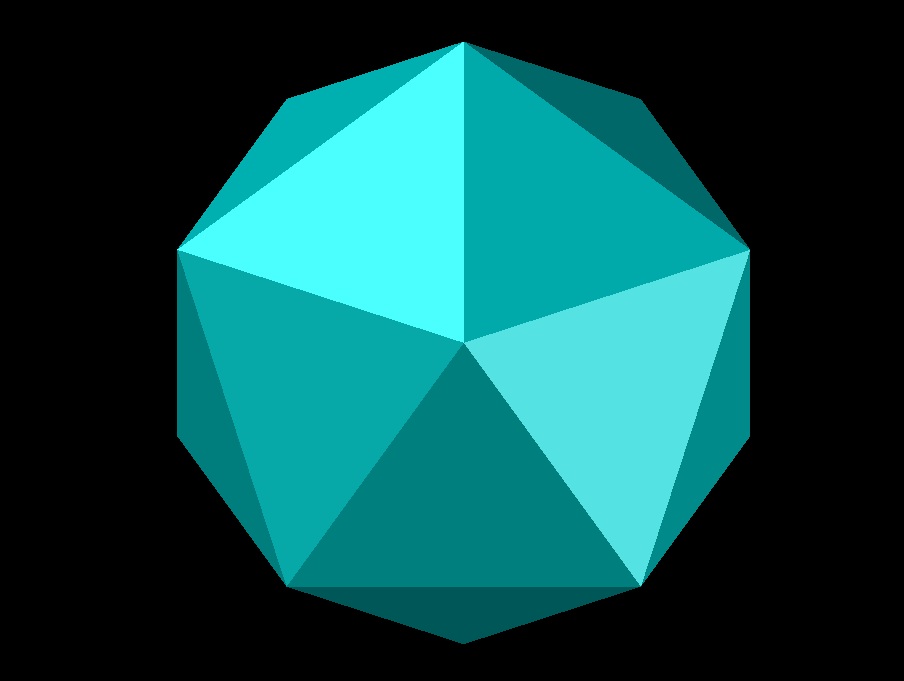 View higher quality, full size image (904 X 681)

---
1/21 #16: AutoCAD 3D ...

Using Autocad 3D is to rigid and difficult to use in a 3D environment, we are using Inventor and is great and easy to use, you can look up for tutorials in youtube, this program is great, because you can modify very easily any part something you can't do in autocad, is a different environment but once you get use to it you think how you could work all this years with out it, you can get you part list from the program export it to excel or any other program, even you can create a manual or render of the product.
---