Message Thread:
High End-- Low End
6/4

Just couldn't resist. I always read about how some shop is involved in construction of "High End" work. What a Crock!!! I think that we all might adjust things as to what the client wants. Who will come forth and say, "well yeah, we focus mostly on low end, quick turn work" even though the profit margin could quite possibly be higher.
Point is High End Work is in the eye of the beholder. Just a thought :)
---
6/4 #2: High End-- Low End ...

So all work is identical? That's not true.
There are very profitable companies that produce high quality work with little variation. Is that high or low end? It probably sells for less.
There are very profitable companies that make very high quality work with all the variation you want, totally custom. Is that high end?
There are very profitable companies that make reasonable quality work with very cost effective materials and a lower unit price point. Is that low end?
I think "high end" in the context of this board is the level of customization you allow which effects the price and higher quality material. Most successful people on this board are not trying to compete with home depot.
THE GOAL IS PROFIT. How you get there is the magic formula.
---
6/4 #3: High End-- Low End ...

Exactly, It is all relative. You could be building the highest of high end and be loosing your shirt, while the guy next door is building pallets and banking big profits. Every shop works to make a profit, I just find it funny that all you hear is "We do High End" how about "We are profitable"?
---
6/5 #4: High End-- Low End ...

It's simple, don't over think it...High end is Face Frame built and low end is European style
---
6/5 #5: High End-- Low End ...

That is a crock, if low end is frameless, high end is face frame, and then what is beaded inset? I have done very high end frameless cabinets with booked matched walnut veneer in 10 ft lenths with totally all the grain matching panel to panel floor to ceiling. You have to have enough from each flinch to do a complete room with drops. Not to mention doing matching paneling going down hallways. I have done many very truly high end projects over the years and I really can't remember any of them requiring "face frame cabinets" but I am sure that somewhere there is this truly fabulous piece of wood work that has boxes looking like they came out of the 1970's or 1980's, maybe they were going after that "retro" look
---
6/5 #6: High End-- Low End ...

Website: http://MCCWOODWORKING.COM
If you don't know the difference between low end and high end, you have not been in the business very long.
As for Faceframe being high end and Euro being low end, just keep thinking that. All of the new hardware is coming out of Europe and all of it is designed for Euro.
It has been my experience that you will do better selling to people who have money, the more the better. That is high end.
---
6/5 #7: High End-- Low End ...

If you are building custom cabinets it is high end.
The question on everything is compared to what.
Chinese cabinets can be bought at the store for $80.00 a ft finished with pre finished plywood interiors and soft close hinges and drawer guides
---
6/5 #8: High End-- Low End ...

I actually enjoy chasing what "I" consider low end. I come from the bread and butter residential world (I would say mid to mid-high level) and now doing a lot of commercial interiors (supply only no field work or install) and the stuff I see on a daily basis I could never have gotten away with in 30 years in the business. Its kinda nice to make a nice product, ship it, and forget it. Its a bit sad when you go on a site visit and see the butchered up product but the checks clear and our name is not on the end result. I never thought I would be that way and was always of the "craftsman" mindset that no one will put their hands on my work because its a representation of me. Well when that type of job hits we go that route but for us at least there is a lot more money in our hands when we ship it and walk away. In our area the commercial "standard" is far different than our own.
The frameless/faceframe thing is always a disaster but in my area at least it has somewhat always rung true but only because most faceframe shops are steeped in a tradition of building boxes the way they always have and will not adjust so they are giving away a lot of quality for a price point they arent being compensated for. We are in a lower end market where frameless is taking a bit of hold because there are no custom shops period and residential kitchen designers are buying in basically closetmaid quality Plam cabs in color and cashing in on the euro trend just taking hold here. The cabinets are pretty much junk and will be showing signs of wear and tear in months not years and they are not priced at a price point that will frank with tearing them out in 5 years for the newest thing.
I was in a job recently that was frameless and the tall pantry boxes were standing in an adjacent room assembled and doors hung waiting to go into the kitchen and they were racking heavily under their own weight. You could lean a finger on the box and watch the rack in the box/door reveals. The installers have a pleasant time with these in less than square homes.
There are some stunningly beautiful and quality frameless jobs. Its no different for face frame. You can look at commodity face frame and beaded inset at the homecenters that are all put together with fully prefinished sticking, dry copes. Intentional rads and grooves strategically placed to hide inevitable joints. There are high and low quality options in everything.
Paul is on the money, you need to find people with money to have the possibility of making money.
---
6/5 #9: High End-- Low End ...

Its crazy to think that Euro is low end and face frame is high end. Euro is in and people want it. If the boxes are build right they can be just as square as face frame.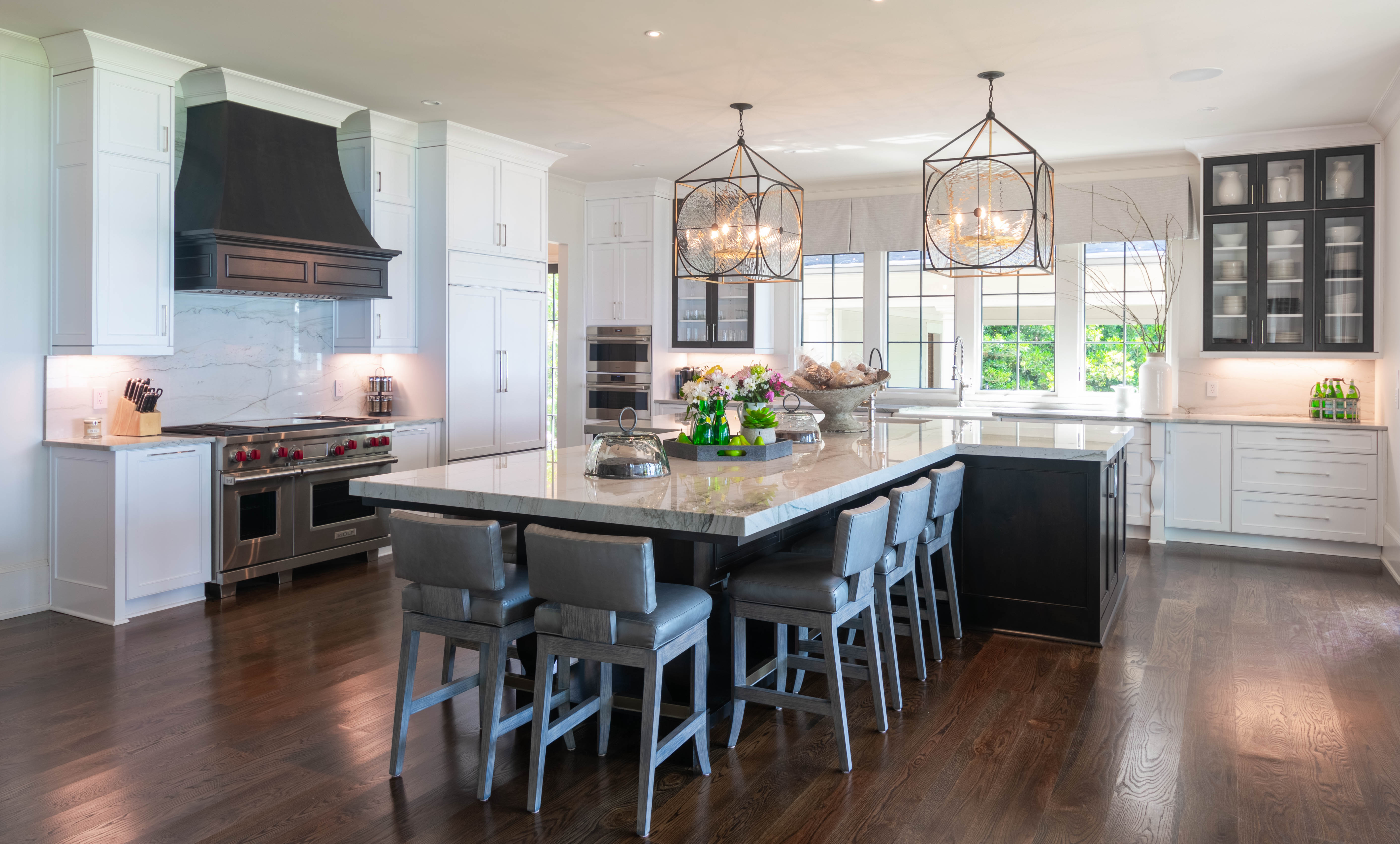 View higher quality, full size image (5643 X 3400)

---
6/5 #10: High End-- Low End ...

Whew, that was fun.....Sorry to get everyone up in arms. We build both FF and Framless. Paul is right on target. High end is where the one paying has the high money. But where does one really divide between high end and low end. That is hard to distinguish sometimes. There have been times when I walk back into a job we did years earlier and and for a moment I think, "wow I wish I could do work this nice" and then it clicks, I did build this. Those jobs when a customer has the finances to want the top of everything. They have people they want to impress and want us to provide a product that they can show off. (pride builders) We don't get hurried in those jobs and have the time to show our artistic side because...the one wanting the flair has the money to let us "play" for a moment.
---
6/5 #11: High End-- Low End ...

There is no "line". Its simply a matter of a customer that is willing to pay for a detailed product and all that goes along with that. We have had those customers be someone who is living paycheck to paycheck but wants to make a sound investment all the way to the guy with a bugatti in the garage that is going to beat you up at every turn to save a nickle.
There is no line.
---
6/5 #12: High End-- Low End ...

Ryan,
The reason Euro is "in" is because the industry has found it to be a capital-ize-able endeavor. Its nothing more and nothing less. Euro cabs and euro anything, heating systems, envelope construction, appliance technology, any of it, are all derived in Europe not because they are smarter than us, its because they pay the true cost for energy and space. So less resources (less material in your cabs) and less space (more efficient use of space) are paramount on mass. You dont see "great rooms" in EU homes. You dont see "bonus rooms" that are 800sq' with soaring high ceilings, that may or may not ever get built out.
What you see is low ceilings. Why? Because it keeps the heat closer to the humans. Why? Because when you pay the true cost for energy the masses want to save money.
The move to frameless in the US is a financial and fashion statement. Its lipstick, mascara, and eye shadow. It can be L'oreal, or it can be Wal-mart. Junk is junk, quality is quality. But the move to Euro cabs in the US is motivated by one factor and one factor only... there is a half sheet of material in an average formaldehyde laiden PB box that costs the same as a non formaldehyde, low/no VOC, HAPS free, Carb2 compliant, ply box and you can sell them for nearly the same price. The industry is moving Euro because there is profit there. They will drill it into the consumers head until they see it as the norm and then it will become the norm. We priced a job today where boxes have less than $25 total in materials and are all plastic and glue. Including hinges and side mount slides.
I shut my mouth and take the money. It doesnt mean I dont see whats going on.
---
6/5 #13: High End-- Low End ...

Website: http://www.sogncabinets.com
I see a lot of stuff claiming to be "high end" and think it's garbage.
I don't think I build high end. I work for upper middle class people typically, but by no means rich. Nicer houses, but not palatial.
I think the comparison is stupid. You build what you build. There's a peg for every hole.
If your project doesn't fit me, great.
If my product doesn't fit your project, also great.
We weren't meant to work together then and we got out early without either one of us wanting to choke the life from the other.
So high end, or low end, it's just a useless label you put on yourself. You can use that to fake it until you make it, or use it as an excuse to stay slugging it out with the peasantry.
---
6/7 #14: High End-- Low End ...

Quality, like beauty, is in the eye of the beholder. However, attempts are made to quantify what quality means. Some cabinets have stickers inside that proclaim it a "Certified Cabinet" or some such muggery. Some cabinets have a price that speaks to the supposed quality. High or low. Some shops proclaim high quality, while their inexperience and lack of finesse show in the completed work.
You don't know what you don't know.
Unless you have educated yourself on all aspects of whatever it is you build, you are at risk of making false claims about quality.
---
6/7 #15: High End-- Low End ...

AWS, NAWWS provide measurable standards for custom, premium and economy grades.
These can be compared between shops and specifications. Proprietary "high End" standards are unique between each shop and make it hard to measure differences for the consumer.
Grade rules are measurable, proprietary standards that are "buzz words" are not.
---
6/18 #16: High End-- Low End ...

After a short but turbulent career in cabinetry I became enlightened with following revelations:
1. "High end - low end" is the kind of talk you talk with your customers.
2. "High profit - low profit" is what you talk among fellow business owners.
3. There is not much art in making wooden cases.
4. The art is in what you talk to your customer if your customer happens to be some kind of business owner too.
---
6/22 #17: High End-- Low End ...

It will come as a big surprise to my customers who are building 5 to 10 million dollar contemporary homes that their European style cabinets are low end.
Anyone who actually thinks that "European style" is synonymous with low end has never truly built cabinets in the high end market where the average cabinet job is $250,000 dollars.
---