Message Thread:
Accuracy of Shop Drawings?
12/5

I'm relatively new to the drafting side of the commercial cabinetmaking business and over the course of the last year or so have worked on AutoCAD shop drawings from multiple sources.
I've seen dead-on inch-is-an-inch drawings where every line lines up and all the dimensions are accurate to the fourth decimal. The cabinets are drawn so they are easy to adjust after field dimensions. Everything is clear and easy to read.
Then I've seen drawings that look like they were just copied and scaled from the PDF of the architectural drawing and then simply assigned layers. The later usually also has a lot of "fudged" dimensions (dimension overrides). Lines stacked upon lines upon lines. Hatches that are broken. And the list goes on.
My question is: How clean are you drawing your shop drawings and what level of such would you expect from any draftsperson working with you?
Sometimes I feel like I'm being a bit fussy but having only worked at one place I have no reference. Plus, having to be last to touch these drawings before they hit the shop floor, all fingers point to me when things aren't right. Opionions? Experiences?
---
12/5 #2: Accuracy of Shop Drawings? ...

Garbage in Garbage out.
---
12/5 #3: Accuracy of Shop Drawings? ...

Engineer Jr.,
While Bill manages to summarize the net effect of poor shop drawings and the work produced from them, having been on both sides of the office door I can say that perhaps you want to produce shop drawings that accurately reflect what you want built.
I have built projects from bar napkin drawings and from photographs, but when I was on the bench I truly appreciated a well done, comprehensive shop drawing. It makes for fewer questions and fewer mistakes, and narrows the responsibility for an improperly done project.
Dimension overrides means that the drawing can't be scaled, so there will be ambiguity about dimensions that are not specifically called out, and the geometry of the project may be called into question as well. A broken hatch usually means improper editing or broken geometry, and in itself may not be a cause for concern. There will be enough issues reconciling shop drawings with field dimensions, so the shop drawing should at least be consistent unto itself, and with good project management should also reflect field conditions anyway.
"Fussy", as applied to Autocad shop drawings, is concerning oneself with fonts, text sizes, title blocks, etc., although in a proper drawing these would be correct as well. These would be something that could be compromised if you were under a deadline.
Something else to consider is if your company's standard for shop drawings is different from yours, as having a deadline looming and a shop floor waiting because you are worried about dimension offset gaps may not bode well with your employer. A discussion with your employer, rather than forum readers who have a wide range of standards, is probably a better avenue for voicing your concerns, because your employer's standard is the one you need to meet.
For what its worth.
TonyF
---
12/6 #4: Accuracy of Shop Drawings? ...

Website: http://www.hardlinecorp.com
Great post TonyF! I totally agree, always draw and revise accurately. The looks of dimensions and notes should be handled by company drafting standards & setups. And while most draftsmen hate standards they will understand the need.
---
12/7 #5: Accuracy of Shop Drawings? ...

The level of precision should be a shop descision on what's practical to build, for casework we build to 1/16" and prefer 1/8".
Somewhere we design in the slop (cabinets grow in width) walls are anything but true, parts need a place for missalignment to fall.
25 years ago we did dimension overides because it was faster. We tried to use fewer pages because printing was slower.
Shop drawings need to work for the way your shop works and communicate to the architect how you achieve their design.
Shop drawings should always be a shops interpretation of the architectural drawings and how they are going to build it and communicate that with the shop.
First and foremost they are for the shop, they need to be laid out so they are easy to read and details are easy to find.
Relationship to walls, materials by others and locations in plan so the installers know where they go need to be detailed. Where shop and field joints are need to be located.
Size should be based on what can fit into the elevator or through a window. We need to know how it's getting in the building before we can do drawings so field joints and sizes will work.
Its a careul balance between just enough information to the shop and too much information.
For layout when possible we prefer plan at top of page, elevation below plan and section to the right, additional sections are on subsequent pages.
Many shops use a set of details at the back of the drawings and all pages refer to the detail pages, this is efficient for drawing and printing.
We feel its inefficient for reading on the floor and finding information quickly, we don't want employees to have to page back and forth in a 30-40 page set to see a detail. We also include a color legend on each page for the colors uses in that room.
The reason we layout from plan to elevation to sections is thats the way the western world reads, top to bottom, left to right.
Our goal is to reduce the questions the shop needs to ask without giving them to much to read.
We include a hardware page with pictures of the hardware for the project and an equipment page with pictures of appliances and dimensions.
---
12/7 #6: Accuracy of Shop Drawings? ...

In my opinion the quality/completeness of the shop drawings you submit/supply are just as much of a reflection of your shop as the end product. The effort that is put into good shop drawings pays off all the way down the road...
---
12/9 #7: Accuracy of Shop Drawings? ...

I appreciate the input. It's good to get some outside experiences as I have no one to bounce things off of here. I think it's time to have a sit down with the team and set a level of expectation we should look for from internal and external drawings. I don't think anyone will argue the importance of accurate, consistent drawings.
---
12/9 #8: Accuracy of Shop Drawings? ...

Overtime, just as our manufacturing has changed so have our shop drawings. There was a time where shop drawings contained every detail and dimension that could be put into the drawing. Though this was a time when parts were cut on a table saw and machined on a panel router. Thus the information was needed to produce the fixture accurately Now with the use of a router and nested manufacturing, some of the detail is no longer essential in the shop drawing.
I will agree sloppy drawings are not acceptable. There should not be lines over lines. A huge no-no of mine is over writing dimensions. Over writing dimensions can lead to some rather large errors when changes are made to an item.
In time we began drawing everything is 3d within AutoCad. Once getting over the learning curve, this greatly reduced inaccuracies within the drawings and fixtures manufactured. As each fixture is drawn in 3d with each part drawn as the part is to be manufactured. Thus, accuracy within the shop drawing is more important than ever. Something, I tell my drafters, is drawing accurate parts takes little additional time then drawing incorrect, that a bit of effort on the front side will save time on the back side.
When it comes to detail for drawings this will vary also. For simple fixtures with few parts the shop drawing could be little more than an isometric view, a couple details and notes with a parts list. For more complex items details, sections and additional notes are added. Each fixture is put on a separate page so that everything the assembler needs can be found on a single page or no more than a couple pages. For assemblies consisting of multiple fixtures, each fixture will have its own page.
In our case it has become a balance of time (cost). As our lead times are quite short, to invest an extra day or two in producing shop drawings can delay a project. Though the shop drawing produced does provide the assembler with enough information to produce the item.
Like everyone else, accuracy is crucial, there should be enough information in the shop drawing so that the assembler has the information needed to produce the item with no or very few questions. There is a sweet spot in finding the right amount of detail to produce the item.
Lastly, one thing I stress with the drafters, is consistency, that the drawings look the same regardless who draws it. That each drafter puts the same information and details into the shop drawings.
---
12/9 #9: Accuracy of Shop Drawings? ...

Greetings Dan,
One of the things that we have done is to have a list of all items that need to be included in the drawings on a "Do Not Print" layer in a corner of the drawing. This way whoever does the drawing will use the same fonts, symbols, and hatches. Hopefully, this way, they will not forget to include something, like grain direction, which can cause problems after the fact. I also have, in the page template, a viewport that goes back to the model space where all the finishes are listed. This way each page is the same.
All the best,
James


View higher quality, full size image (1174 X 320)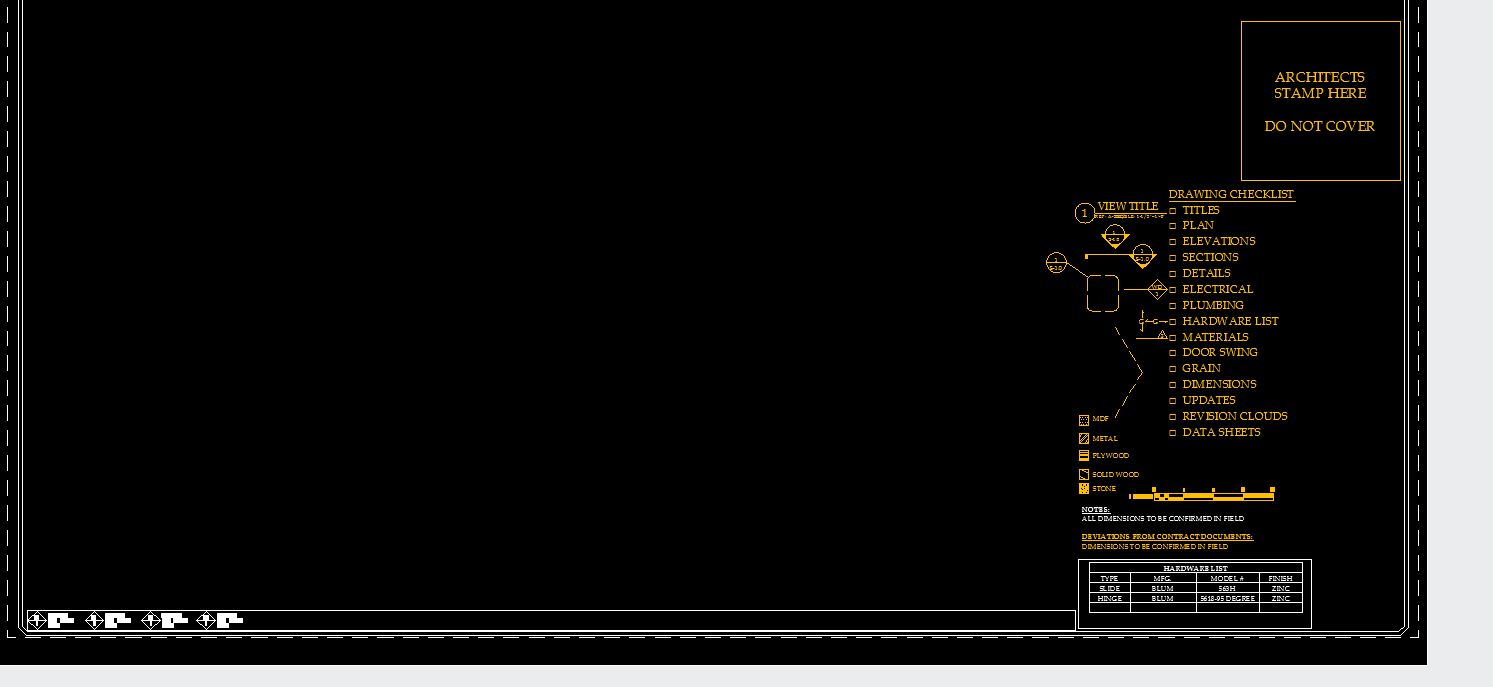 View higher quality, full size image (1493 X 687)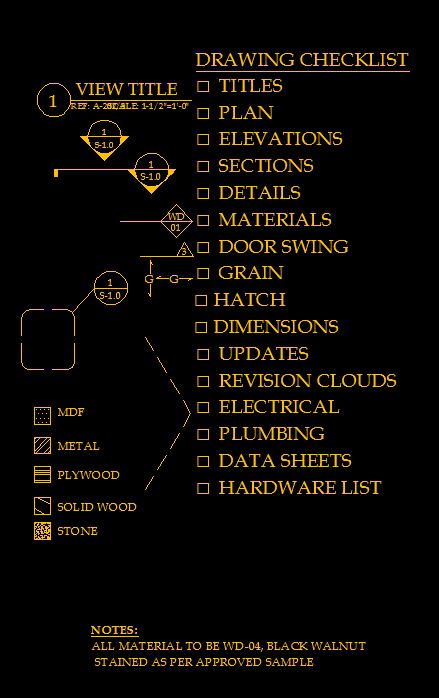 View higher quality, full size image (439 X 698)

---
12/12 #10: Accuracy of Shop Drawings? ...

That is a good idea Jim, to put those things into each drawing to assure accuracy and consistency. I do something similar by using the tool pallet. Blocks, Dimensions and such can be added to a Tool Pallet and when needed the item is selected on the pallet and used in the drawing. All settings are maintained from the original item.
---
1/14 #11: Accuracy of Shop Drawings? ...

I draw near exact (4 digits to the right of the decimal) because I have no idea who the end user might be. I like what Tim Schramm said about drafting standards-these are important. I draw as prescribed by my client but my default are the AWI QCP standards. I'm glad you purchased a copy of an Autodesk product-enjoy the ride Jr Engineer!
---