Message Thread:
Software
1/8

I am looking for a software for design custom cabinets and furniture. I do faceframe and frameless. I currently use AutoCAD to draw and manually put into cultist plus. I would like to speed up my process. For a quick quote I have a spreadsheet set up with a combination of LF price and selecting additional options. But when it comes time to get a cultist together a lot of time spend a good amount of time in AutoCAD getting things together. I have read quite a few post on here about different software programs. I am leaning more toward mozaik but kcd seemed decent also. I don't have a cnc but a streibig vertical panel saw. Which I use a tablet at the machine with cutlists. I did a walk threw with Cabinet vison yesterday and it was nice but didn't offer a tablet version or app wouldn't put the dimensions on the cultist layouts. They were on the sheet down below but not on the actually layout. I am a one man shop but am looking to expand and would want it to make it easy for a employee to figure out how to build stuff by the software. I don't mind spending money on a good setup. Also I need to have pricing with the ability to add options in. I curranty use quick books and manual enter in all the details and pricing. Which has worked good everything's laid out for the client. Thanks in advanced for the feedback.
---
1/9 #2: Software ...

Garen,
I have used KCD in depth, Cabinet Pro in depth, and experimented with Mozaik. I selected Cabinet Vision Ultimate with the optimizer because I found that I can do anything I need to when designing one of cabinets. Couldn't do it with KCD or Cabinet Pro.It"s been many years since I used them. I heard a lot of good about Mozaik, but I was never able to get it to do things the way I needed to. I like the monthly rental for Mozaik.
Cabinet Vision Ultimate allows taking parts to a part editor and you can accomplish just about anything with it. So it works great for me. Their user forum is Fantastic, But will cost you as much each year as Mozaik's rental. But so far it has been well worth it.
Also, Cabinet Vision is very expensive to purchase and requires a great deal of time learning how to use it. It's second nature to me now after 10 years. I suspect if you are proficient with AutoCad you would pick it up quick.
I too am a one man shop. I use a Safety Speed Vertical Panel saw. Like you I do cabinets (mostly detailed custom) and furniture. I need the ability to edit parts and to assign intelligence to them. Cabinet Vision Ultimate has a pricing - " bid center " and you can have add ons. It's very detailed so you can adapt it to your specific needs.
The optimizer cut sheets are good if that's the way you organize your cuts. But I see your used to another way and it too would require getting used to. The cut list walks you through each cut and if you follow it, the parts come out correct. But then I have been doing it this way for years and it too is second nature to me.
I'm curious to see if the other programs have developed part editing over the years since I used them. If Mozaik has, that may be a big bonus in their favor.
Be careful in your decision. If you purchase a software and then decide to change like I did, it's a lot of money gone down the drain. For me "TWICE". Ouch.
Good luck
Joe
---
1/9 #3: Software ...

Take a look at Cabinet Sense
I like it because of the ability to draw custom anything within the same drawing as Cabinetsense.
It outputs to Vectric or any CAM that will accept DXFs
It runs on top of Sketchup. At first I thought Sketchup was sketchy compared to Autocad or Solidworks, after down loading shared models directly into the drawing (which rarely works with Autocad) and it's robust 3d capability and a bunch of other stuff, I changed my mind.
The cad part is near as I can see on par with Mozaik at a lower cost and infinitely better support, truly Avis compared to Mozaik's Hertz
Cabinet Sense
---
1/11 #4: Software ...


Since you are already using AutoCAD why not take a look a Microvellum? It is probably one of the more difficult applications to fully comprehend but, it is probably the only one where you can accomplish anything based on your skill level. You are allowed to modify almost everything to tailor it to what you are doing.
---
1/11 #5: Software ...


Second on Cabinet Sense.
If you have any questions about what can be done with Sketchup note that there are people who model 18th century sailing ships board by board.....
---
1/12 #6: Software ...


Definitely take a look at CabinetSense . Having used it extensively in the past in combination with enroute or Vcarve pro I have not found anything that is close to its capabilities, that is both highly flexible and affordable. One priceless feature: draw any shape any size part and with little effort turn it into a machinable Cabinet sense component. that is resizable, parametric , add joint types that automatically transfer to adjoining parts, edgebanding , material type etc. A thorough understanding of sketchup is a requirement fortunately sketchup is easy.
---
1/13 #7: Software ...


Would one of you that are using CabinetSense mind sharing an example of what shop/presentation drawings you are able to generate?
What is your workflow from model-cam-nesting-labels?
---
1/13 #8: Software ...


What version of sketchup do you require for Cabinet sense. I haven't used it for a few years, I had a free version, but now I see they changed all their pricing to subscription based, so I am trying to figure out what version I would need?
---
1/18 #9: Software ...


Robin
This is a wine cellar that might be difficult with other programs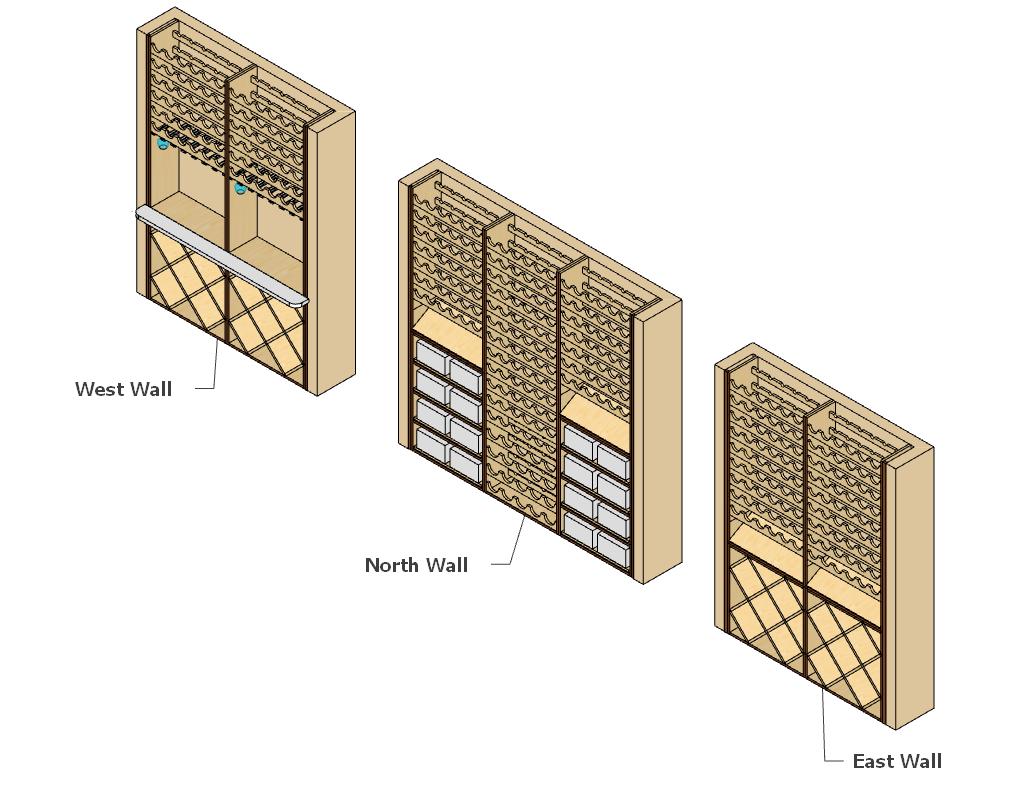 View higher quality, full size image (1009 X 808)

---
1/19 #10: Software ...


Thanks Pat, that looks good.
How are you getting from screen to machine?
---
1/19 #11: Software ...


Vectric
---
3/12 #12: Software ...


Look into Microvellum,
I've designed beds, night stands, book cases, entertainment centers, drawn full house projects (kitchens, vanities, powder rooms, pantries, closets, etc....) Very High-end industry.
Custom curved cabinetry, TV units with lift mechanisms.
You name it, Microvellum can do it. of course, based on your knowledge of the software.
It's basically Autocad. It's easy to learn the basics of inputting dropping in cabinet boxes. But has the ability to customize it as much as your knowledge allows you. It's based on excel formulas and programing custom products is very simple after you get some knowledge on how formulas work.
if you draw a custom product in 3d using autocad , Microvellum has an option to analyze the 3d product and turn it into a Microvellum product you could cultist from.
Tons of possibilities with the software. I think their pricing structure is based on how much you need in term of modules. If you don't have a cnc they wont charge you for that part of the software but you could add it down the road.
---