You are not logged in. Consider these WOODWEB Member advantages:

A personal "member history" that displays your posts at WOODWEB
Your forms at WOODWEB will be filled in automatically
Create your personal "My Favorites" page
Numerous automatic notification options
new to me cnc
2/4

Website: http://www.mahnkencabinets.com
Well I did a thing... Ive been wanting to go cnc for a long time now, but it has always been out of reach financially, and in my thinking outside of my capabilities. My other excusewas that my shop is extremely low production, just 1 1/2 guys, 8-12 jobs per year...
Between reading here and joining the cnczone forum 5 years ago I mustered up the guts to take a risk on an older, very basic, cnc router that I found for what seems to be a swinging deal ($4600 after tax) I have attached pictures. It is a year 2000 machine with very low use. It has HIWIN guides and THK ball screws on all axis, and weighs almost a ton. THe controller is a now obsolete Ah-Ha unit that is still working well. I have hooked it up to a new computer and am now running it on a program called UCCNC, which is like Mach 3 from what ive read. As of now I have only come as far as jogging the machine, and the z axix looks as if Im going to have to replace the stepper motor, but so far Im kinda happy with my beginners purchase.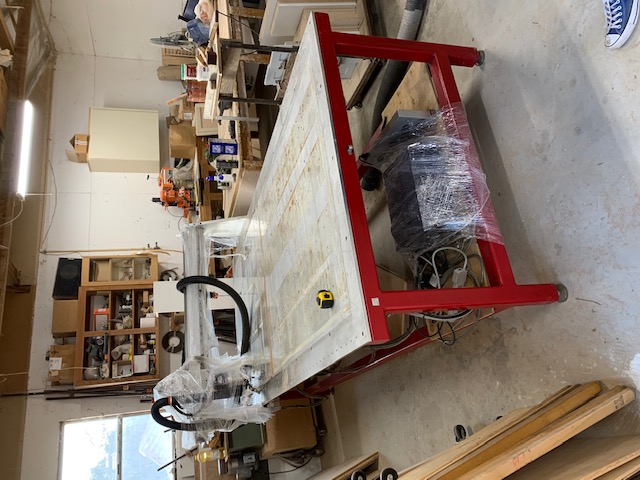 View higher quality, full size image (640 X 480)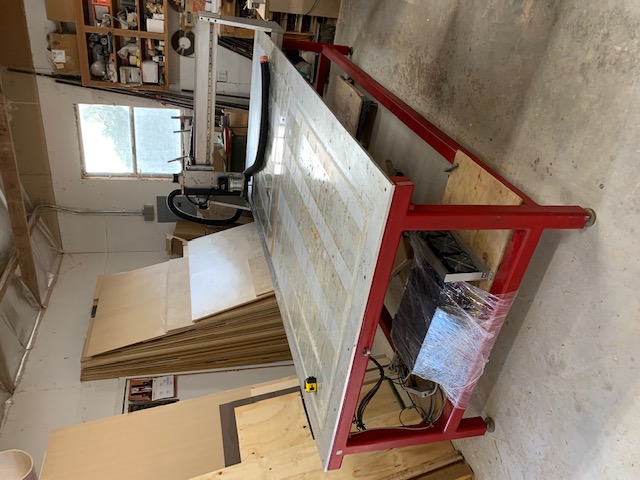 View higher quality, full size image (640 X 480)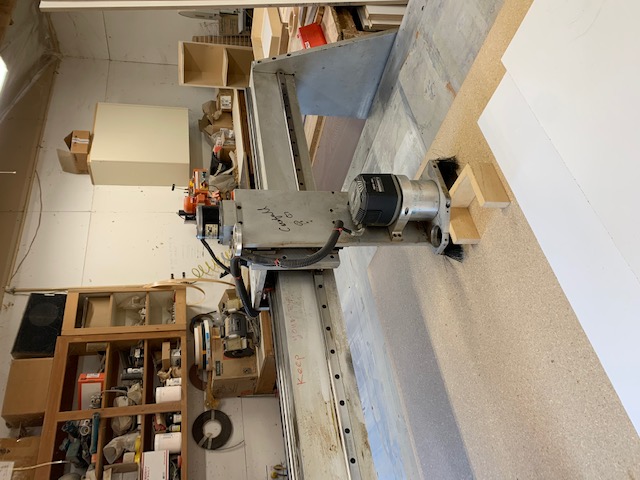 View higher quality, full size image (640 X 480)

---
2/4 #2: new to me cnc ...

Congrats. Id imagine you'll soon be looking into replacing that router motor with a spindle. For the size of the machine I suppose the price isnt to bad other than persevering through auctions. You may think about connection with someone like Gary Campbell at GCnc as you upgrade.
Welcome to the whirlpool
---
2/4 #3: new to me cnc ...

Website: http://www.mahnkencabinets.com
Thanks Mark. It was an ebay auction and I took a leap of faith and bought it only having seen pics and talking with the guy selling it. Yeah the router will go for a tool changer eventually, and probably faster motors ect.. at that time. I think for now Im focused on getting all of the axis settings correct(totally learning), and that dang Z axis issue solved. after that I will be beating the dead horse of how to set up a single phase vacuum table that works... Right now we have quite a bit of work, so Im only able to work on it an hour or two at a time at the end of the day.
---
2/5 #4: new to me cnc ...

Website: mcgrewwoodwork.com
My first machine was a 1998 "Bill Hog" WH much the same as you have there. I had mine upgraded to the current controller version , new computer and motors Belts checked etc. made enough money to sell it to a sign shop (it is still running) in Florida.
I then purchased my first new machine with ans ATC. the reason i tell you this is it is cost and value prohibitive to convert this machine to an ATC, can it be done :Yes" should it be? Well only if passion or money outweigh common sense.
Strong machine with cut cabinets and i do miss it sometimes !
---
2/5 #5: new to me cnc ...

Im not a machine builder but I would echo what James mention's. Ive watched several machine builds from scratch a few including ATC and the hard part will be spindle, rack, making it all work, vac table, in combination with what you've already got in the machine, and you will be well into the price range you could snatch up a probably like-new used machine from someone who is upgrading that is fully turn-key.
Its easy to lose track and in short order be in for the cost of a far more robust machine while having a frankenmonster. But you'll surely learn a lot along the way.

---
2/5 #6: new to me cnc ...

Website: http://www.mahnkencabinets.com
Thanks Jim and Mark! Ji, ive actually been reading your posts for a long time and its partly the inspiration for me buying this machine. Funny you should mention WH machines as I have actually been looking for one, as their power requirements are low. My shop only has single phase power up to 50 amps, so the heavier iron just wont work in my current situation. When I say tool changer, im not talking an HSD with a 10 position rack. more along the lines of this
http://www.midwestrapidtool.com/AutomaticToolChanger.htm or an air drill...
and Im all ears on ideas for a vac table
---
2/5 #7: new to me cnc ...

Website: mcgrewwoodwork.com
The man who built these is still around, I can get you his number he is still in GA messing with machines
What is the surface of the machine now. some of these were built a sign machines and the gantry runs completly across under machine. you would have to drill holes thru frame to pipe a vacuum seriously crank it up use it then look at what you have . can you em me a phot of the controller screen ?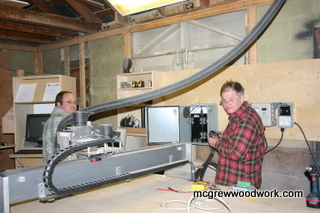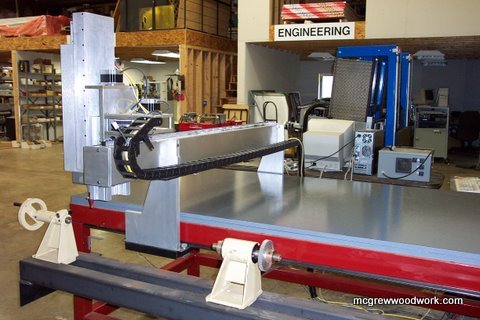 View higher quality, full size image (480 X 320)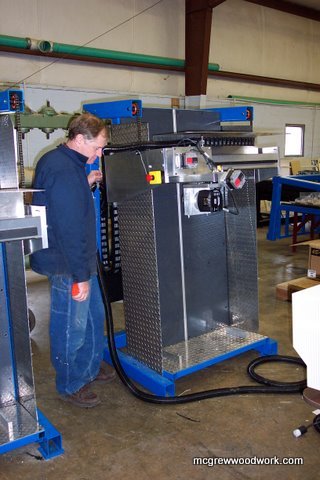 ---
2/5 #8: new to me cnc ...

Website: http://www.mahnkencabinets.com
Jim you are correct there are two cross bars running across the underside. this machine was originally cutting polymer shelving for high temp electronics ovens. Im ok with boring holes through the frame as long as it wont weaken anything. Theres no makers mark on this machine, so ive had the hardest time identifying what is what, for the motor settings ect... for uccnc. The original pc was missing, so I dont know if the uccnc screen shot will help
---
2/5 #9: new to me cnc ...

Website: mcgrewwoodwork.com
em me a mcgrew six 3 six at msn dot com
send me some piccs of under the table , the controller (inside) and any other tid bits,, I might can tell you some helpful stuff my guess is uccnc software is married to its controller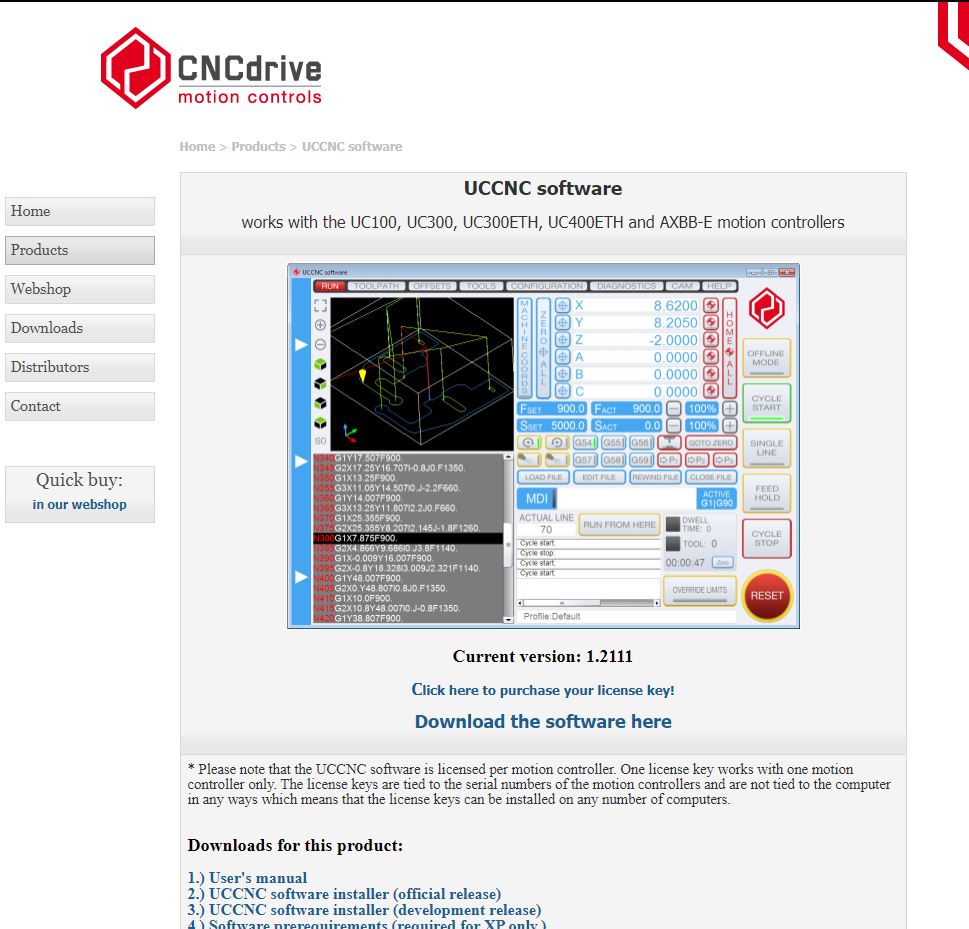 View higher quality, full size image (969 X 929)

http://https://cncdrive.com/index.html
---
2/5 #10: new to me cnc ...