Article
---
8/18 #15: sent 6 blades off for resharp ...


Coastal didnt shut down. The bank came in and shut them down, lock stock and barrel. I have dealt with Pierson Lumber for 15 years, they are not running a cobbled together operation out of parts. No different than any operation they face their challenges but they employ a large staff and their own forestry operation. Dave and his wife have had every excuse to shut their operation down in the face of adversity but have persevered.
I have dealt with several in the area from Elkins to Clonch down in Dixie.
The issues is the same, they are not making their "millions" on cobbled together equipment and if your looking for the "art" market where you are your in for a rough rough slog.
I dont know of any CNC machines nowadays that are able to "program themselves" but maybe youve operated in the realm of the terminator or some advanced society that I am not aware of. Every CNC I know of, especially in the Charleston area, still requires someone sitting at a desk to output to the machine. But again, perhaps I have been operating in the stoneage for the past 20 years.
With regards to raising a family and not providing them with healthcare and money for a college education I guess I cant comment. You have the right to do whatever you see fit to your wife and children. Its not something I would ever contemplate.
I run my business like a business. I pay my taxes. I invest in my business and my community.
To each his own.
---
8/18 #16: sent 6 blades off for resharp ...


The machines I am talking about is the next step up from a CNC. And I guess your definion of cobbled together operation out of parts is different then mine. Most people I know who have health care have all kinds of health problem,which you would think would be the opposite. For my health I just do what people did in the past before science based medicine came along. And college kids can get loans and grants and other things for college.
---
8/18 #17: sent 6 blades off for resharp ...


There is no "next step up" with regards to any form of machine that can program itself. It doesnt exist.
And again, to each his own with regards to providing for ones family.
Good Luck
---
8/18 #18: sent 6 blades off for resharp ...


here is a MACHINE can program itself,no x y z x y z axis programming required like you would have to do on a CNC.
---
8/18 #19: sent 6 blades off for resharp ...


Good lord...
Someone still has to program the machine. Tell it what they want out of the specific shapes loaded. A programmer has to tell it what each scanned shapes specific location is. It will have a menu of pre-processed parts which are simply identified by scan and it will simply take those sets of components and assemble them into a programmed end product.
Its not like the machine is loaded with some raw steel and angle and someone says "make me an xyz" and the machine figures out how to make it.
There is no self programming other than for the fact that the software scans the parts and aligns/welds them accordingly.
Self programming would be telling a computer you want a box of a given dimension and the machine would figure out on its own what parts, the joinery details, stretcher sizes and quantities, fastener locations and quantities, and so on.
The machine you posted, as with any machine, still requires programming to tell it what to do with the parts that come down the tray.
The self programming you elude to, does not exist. We are not at Terminator level. There is still a man or woman at a computer behind every machine (likely multiples)
---
8/18 #20: sent 6 blades off for resharp ...


Here is another video of a machine that doesn't need a computer progam to run.
---
8/18 #21: sent 6 blades off for resharp ...


With a CNC you have to progam the tool,where it needs to go and on and on. You would have to know lots of things like the speed for the tool to run,how deep to cut and on and on. these machines can figure all those thing out without the operater having any knowage of how where or why the machine is doing what it is doing. all the operator needs to know is that do they want for the end product. no training required. if there was a sawmill like this all the operator would have to do is tell the sawmill what kind of lumber you want and it would figure out how best to cut the logs. it would be a hands free sawmill.

---
8/18 #22: sent 6 blades off for resharp ...


For those who may not know what a CNC machine is,it is a machine that is a computerized numerical control machine. It takes many years of training to be able to set up and run one.
---
8/18 #23: sent 6 blades off for resharp ...


here is some of my art work I built back in the 90's out of hemlock and poplar. Its down leatherwood creek about 2 miles. I believe everyone has mover out of that hollow because the coal company was going to strip it but that might of changed now the the coal company has closed up shop and laid everyone off. I sold all my timberland in 2006 before the collapse 2008. I told everyone that there was going to be a collapse but i don't believe anyone believed me. the next one will be even worse then that one. those banks that were to big to fail are now a whole lot bigger then then.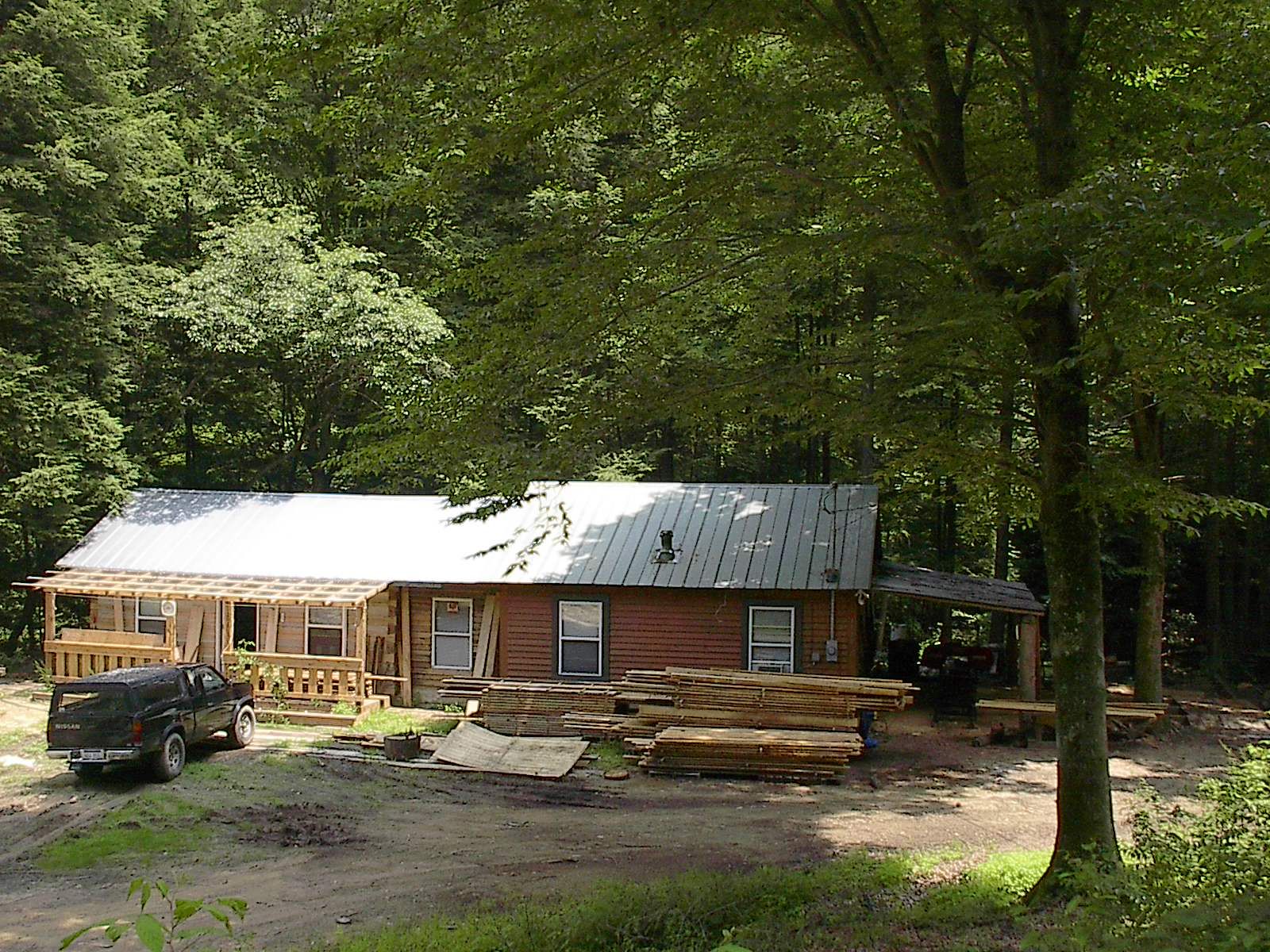 View higher quality, full size image (1600 X 1200)

---
8/19 #24: sent 6 blades off for resharp ...


Those machines are still programmed by a human. In the case of the thermwood its simply a cnc that is supplied to you with a large library of parts already loaded to the machine from the vendor. It does no "self programming". If you need a part that isnt in the library you will have to either put it in yourself or pay some human to do it for you.
Nice art. I've been building houses my entire life. But not out of rough lumber, those days are long gone and for good reason.
---
8/19 #25: sent 6 blades off for resharp ...


I guess your definition of a CNC machine is is different then mine. I myself have been building houses. I started in 1969. Bought an old grown over farm and cut it up into lots and built houses all over the place. I didn't start building out of green lumber till 1997. I really like working with hardwoods instead of pine. I like the feel of hardwood,it reminds me of walking into those old building in museums.It has that sound as you walk across the floor and that smell that hardwoods give off even as they age. Maybe other people don't notice those things but I do. I feel I am building something pass minimum building code requirements,which most build to the minimum.
---
8/19 #26: sent 6 blades off for resharp ...


Here is a picture of one of the guys who logged for Pierson lumber loading my log deck with pine and hemlock back in the day I started using green lumber to build with. I always thought his equipment looked like junk. But I guess it all depends on how a person sees things.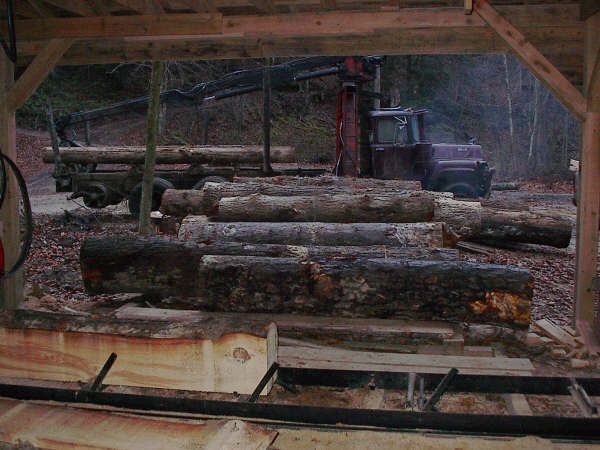 View higher quality, full size image (600 X 450)

---