http://www.woodweb.com/galleries/project/posts/1673.html
---
1/2 #7: My sawdustburner ...


I agree with Pete Moss. While there may be a safe way to build a furnace to do what you want, what you have is a bomb. For fire you need heat, fuel and air (oxygen). You are running a system in which you have way more fuel and heat that you need, your system is oxygen starved. That is how you control it. However if at any time the fuel/heat mass can get ahold of more air.....woosh....very big fire. You have already experienced that. The drum is not meant to be used that way. It is only a matter of time until it rusts or burns through....then you have a very big fire in your shop. (Remember the movie Backdraft...heat fuel and sudden extra air.)
If you have a concrete floor that is able to soak up water, then you can have a steam explosion under the unit if you have no airspace. If you have a wood floor you will set fire to it.
Check your county fire/building regs for chimney clearences and wall outlet requirements. Don't plan on collecting any insurance because you are installing an unregistered heating device. It may not even be legal to do so.
Finally, you are running an oxygen starved system. That means more heat and fuel than can be consumed by the available air. Which in turn means that you are cooking out loads of tars and creosote which are not being burnt because there is not enough air. It amounts to a 'wood still'. When that tar and creosote sees a cooler spot (YOUR CHIMNEY) it will condense out. If it gets to the right temperature up there and it gets a bit more air then you get a chimney fire.
If you want to do this get an outside furnace, set away from your shop. There is a whole art to making those and sending the heat indoors (or to a kiln.)
Trash that bomb.
gto
---
1/2 #8: My sawdustburner ...


Sorry I offended you Pete. The stove pipe is run female down because one of the plans has six inch nipples comeing off to start the run. I checked my so called professional installed pellet stove and the seam is down also. The magic heater has the female end down and male end up so we should contact the manufacturer of Magic Heaters and tell them they have it all wrong. Also I didn't throw water on the cherry pipes of the magic heater. The 'fundamentals' of fire fighting says you should extinguish a fire at the base of the flame not on the cherry red stove pipe. The 24 gauge inner barrel base didn't explode when the water hit it. I'll invest in a co2 fire extinguisher for the next time.The flame went out and I worked out the bug in my blast gate that didn't let me shut it completely.
I had a wood burner prior to this 'contraption' and my insurance company didn't cover my shop anyway because of the so called fine dust in the air even with a 2.5 micron dust collector and a seperate 1 micron air filter so I'm without it anyway. I realized what I was getting into the minute I drilled the first hole in the barrel. Thanks for the constructive criticism. Is anyone else out there looking for alternative heat sources and not affraid to experiment? That's all I'm doing. I do have quite a bit invested in my shop and It is at risk with this burner or any other kind of burner. I have had no problems burning sawdust alone and will continue because why not utilize the waste. I'll post updates next winter using the same setup.
---
1/3 #9: My sawdustburner ...


G.O.
I should get rid of it or at least put it back outside where it started. The burn through will happen on the removable inside barrel before anything so I'll catch it while packing the saw dust in. It is off the floor and no water made it to the concrete. The outer barrel is three inches off the floor and the inner barrel is another three off the bottom of the outer. But I do see the potential there. Burning just the cutt-off's is what I'm experimenting with now. I just can't let it go. Call me stubborn stupid and it a waste of time but what was once givin to local farms for cow bedding can be used for heat. All risks aside this is a packed sawdust burner and not a solid wood burner. I'm taking the risk experimenting with other fuels to burn in it and I shouldn't be.
Norb
This 12 inches. Is this just for shops and insurance? Or code?
---
1/3 #10: My sawdustburner ...


Steve - You didn't offend me. I was merely appalled at the notion a professional woodworker would consider placing such a thing in a wood shop or any habitable building. I'm all for free heat, recycling, and such, but there is a limit.
It is curious that you are not insured because of the dust in the shop air. So now you are going to have a cherry red surface in contact with that air? My friend, do you have any idea how catastrophic your proposal looks to an observer?
There are accepted, proven ways to burn wood (even sawdust) for heat, and you need to understand that you are not going to uncover the Holy Grail of woodburning - there is none to discover - the science is all known.
I also have done quite a bit of research into accepted, tested and proven methods of burning sawdust, and it is done every day, 24 hrs a day, and all UL approved. I was searching for a way to recycle dust and scrap for heat in a 20,000 s/f shop after the conflagration described below. But the proper equipment used is nothing like your bona fide contraption.
I have seen what happens when the oxygen regulation fails on a home built heater (as GTO mentions). I once worked for a self made man (read: could not be reasoned with) and he decided to build an 8' x 8' x 20' 12" thick concrete box with a 12" x 12" chimney, to burn bundles of kiln dried rippings, dropped in from the top. He added two 8'x8' 1/2" thick plate steel lids on top, that could be opened with pulleys.
I suggested a small fire to see how the draft worked. This only spurred him on to load it up completely (he referred to me a 'college boy'). The fire was set thru a couple of 6x12 HVAC dampers (seriously), and it took off almost immediately. Once the 1/2" plate steel lids curled up and let in uncontrolled oxygen, the thing roared like the space shuttle. Fire departments from all around converged. They wouldn't put water on it, but sprayed down everything nearby to prevent ignition, while evacuating the area all around. The self-made man scurried about, mumbling about how we didn't do something or other correctly, the thing should work. The concrete cracked, the concrete pad turned to powder, the thing was nothing but expensive wreckage. We never mentioned it again.
Working the bugs out, indeed.
---
1/3 #11: My sawdustburner ...


Sounds like a bad scene. I'm glad to hear past experiences. That's why I posted this thing. To see if anyone out there that has or is using this type of burner and discuss war stories. I'm going to put links of different burners with the same concept of burning.
http://www.motherearthnews.com/Do-It-Yourself/1974-11-01/How-To-Sawdus
t-Stove.aspx?page=2
http://www.repp.org/discussiongroups/resources/gasificatio
n/drew/ww2stove.html
Here are two of them so far. The design I derived mine from I haven't found it yet but will post it when I do.The articles are pretty interesting and worth reading. These have been around for a quite some time. I guess they get their bad rep. from guys like me that test their limits. Curiousity killed the cat.
---
1/3 #12: My sawdustburner ...


Steve
I have no doubt that there are excellent designs that burn sawdust, one way or another. It is the safety factor in your design that bothers me, the sites you refered to also seem inadequate. First of all the materials you have assembled are not sturdy well enginered cast iron or heavy plate but only thin metal drums, assembled on a casual 'let us see if this works' basis. No engineering, no safety testing.
But forget all that. Lets try a thought experiment. A sort of analogy. Take a regular oil furnace. I have had both drip feed and gun types. The fuel is in a tank outside. The fuel is introduced either under gravity or preasure pump through a metering system (a hole or orifice). The furnace has heat and air and the limiting element (of the heat-fuel-oxygen triangle) is the fuel which is metered or regulated. (You can even install regulating sensors that shut off the fuel if the heat is not sensed [no fire sensor] or if the temperature on the output or fire chamber gets too high.) Now let us build, in our heads what you are building, but with oil as the fuel. Now we put the oil storage tank inside the firebox (We will use a smallish one holding 24 hours of oil not one of the big 250 gallon outdoor types. Now we have a fuel tank inside the firebox with say 3 to 5 gallons of oil. We light a fire. The fuel heats up, but it can't all burn at once (if everything goes right) BECAUSE we only let a little bit of air in at a time. We have reversed the earlier oil furnace which regulated the fire by metering the fuel to a furnace that regulates the fire by metering the air. It will work just as well, except that the safety of shutting off the fuel (easy) is replaced by the 'safety' of shutting off the air (very, very hard.) The system, with its chimney is designed to suck in air from any where it can get it, and air is all around us. If your air restriction fails you have a lot of heat and fuel heated to flashpoint just ready to make a BIG fire.
Now substitute sawdust for oil in your mind and you see what the problem is.In your stove you don't have a lot of hydrocarbon fuel ready to flare from volutized oil, you have instead a lot of volutized hydrocarbons from sawdust ready to flare.
There are stoves that are designed to be packed full of coal, wood and (I assume) sawdust on the market that will burn all day because the oxygen is restricted. They are well engineered and heavily built. A homemade rig is a very great hazzard.
You are a woodworker. You do not spend hundreds of hours reinventing the table saw and come up with an unsafe cobbled together one....that would be a waste of time you could be spending earning from using your woodworking skills. You go out and buy one if it will profit your business. Same with sawdust. If you see an advantage to buying a safe burner unit, in terms of bottom line, then do so. Otherwise give the saw dust to a stable or composting operation.
gto
---
1/3 #13: My sawdustburner ...


Steve,
Your design is a take off of the stoves that the peopled of India have used for heat for the last 50 years. Theirs do not even use chimney's. They use gallon paint cans, punch a hole in the bottom, sick a pipe in the hole, pack it with sawdust, pull the pipe, set it up on rocks and light the bottom. It burns slow, produces little smoke and lots of heat.
I used to build airtight heating stoves and there are a couple of things you need to keep in mind. All wood produces creosote when burned. Your chimney joints need to have the female end up so the creosote will run inside the pipe instead of out onto the floor. You will need to clean the stove pipe every once in awhile to get rid of the creosote tar as it is very flamable. You will eventually get a fire in the chimney and it can set your roof on fire. That is experience talking by the way.
Anything that will burn must be kept away from the stove. The radiant heat from those things is intense. A customer of mine put a large airtight in his basement, filled it full of pine logs and almost burnt his house down. The 1/4 steel plate was cherry red and the temperature in the basement was over 120 degrees. That was with the dampers shut.
You are literally playing with fire,
If you want to burn solid wood (fall down) then get an airtight stove and put a blower fan across the top of it to move the heat around the shop.
Regards
Joe
---
1/3 #14: My sawdustburner ...


Steve, I can truly relate to your desire to get something (heat) for next to nothing and your drive to build this sawdust burner.
I can relate to this because I to, have been down this road. For years I have been giving away more sawdust than it would take to heat a small town. It has always pained me to "give" it away and turn around and buy fuel to heat my shop. At least my sawdust was being used for beding and not going to the landfill. That was green enough for me until LP hit $2.00/ gallon.
I decided to invest, in the proven and safe technology of briquetteing my sawdust and burning it in a commercially available outdoor wood burner.
I did consider alternative methods, most of which would have been much less cash outlay upfront. After much consideration I decided that the proven safety of existing time proven systems and the savings of my time justified the expence of the system I now have.
For me it was the right move. I burn my bi-product at my business and home. No more paying the ragheads for my heat! I love it!
I am the last one to stifil anyones drive and desire for coming up with a new? inexpensive heating system. BUT... to be honest I also share all the safety concerns and then some mentioned in the previous posts.
Please take them to heart and rethink if the direction you are persuing is worth the risks this paticular system seems to have.
9heat
---
1/3 #15: My sawdustburner ...


Sounds like some stove manufactures trying to step on a little guy.
Keep going Steve. Take notice of what they are saying, but don't let it stop you from experimenting. You aren't stupid, don't let the detractors tell you that you are.
---
1/4 #16: Re: Re: Re: Re: My sawdustburner ...


Thank you all for the insite to this thing. Here is another pic of it going with maybe three pieces of solid wood. I will take pics of it packed with dust before I start it, during the burn when it is a glowing funnel and the end. I ran it tonight with about the same amount of wood in it as the picture. I don't dare fill it up completely with solids. Only with packed sawdust do I do that. When the saw dust gets going well the flame disappears and there is no smoke exiting from the stack. It reminds me of those old hand warmers that have a solid stick you light and then blow the flame out and stick it in the insulated warmer. No flame or smoke just lots of heat. I noticed the gasification happening with the small amount of wood I put in there tonight also. When my eyes and ears weren't glued to the burner I was monitoring the chimney noticing just the heat rising and no smoke. What a clean burn! Some of the prior posts took me to a new level of awareness. I couldn't help but to constaintly crack the lid just enough to see what was going on in the burn chamber. (I didn't have the air choked off at the time creating any kid of vacuum and I didn't create any back draft that blew me across the shop by doing so.)
I haven't found anymore runs of creosote since I burnt almost complete barrels of green white oak dust about thirty some uses ago. What a waste of time and one heck of a mess that was to clean up. As I mentioned before there is no smoke or a very small amount on occasion. I took the stove pipe apart after burning the wet dust because of how bad it gummed up everything. The inside of the magic heater took forever to clean but I feel better that I did. Recently I took the pipe apart and there was no thick build up like before. Just a very fine powder of ash. I will flip the seam direction of the stove pipe anyways to prevent the mess again. In a way I'm glad it did leak out showing me what was going on. Once the weather breaks I will move it back outside to see if I can get it to melt or burn through using solid wood.
During initial start when using dust I hear a very slight rumble from the flame. After about fifteen to twenty minutes the rumble stops and I close the blast gate completely. After that it is silent for the rest of the burn except for the lid returning back to its cooled state at the end of burn. I can't seem to burn longer than 8 hours off of it without sacrificing heat from using greener loads. That's not bad though light it and no stoking or adding to it for 8 hours. That's alot more time dedicated to creating the fuel source.
If I down size the stove pipe to say 4" I imagine the draw will reduce but will the creosote build up quicker from flow resistance?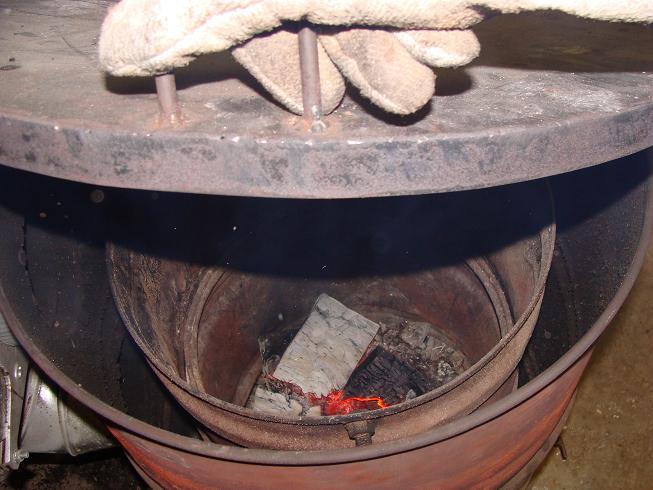 View higher quality, full size image (653 X 490)

---
1/4 #17: My sawdustburner ...


I enjoyed seeing and reading about the saw dust stove. In the late 60"s I made and used one and had great sucess with it.
What everyone forgets is that it is just a knock off from the old pot belly stove. All the air/draw is controlled thus the fire is regulated. The main fire for the saw dust is the center hole thus the walls of the inner drum is not even close to becoming damaged. Thus the inner drum is used over and over again.
My only suggestion is to reinstall the damper above the gate valve for it has a flutter action in the exhaust. and the gate valve may freeze in its position.
Well done Steve. Enjoy the heat.
By the way, Where"s the Coffee Pot?
""X""
---
5/6 #18: My sawdustburner ...


I worked in wood fired power plants for several years. These were professionally designed, built, and operated. We had fires in the woodpile, feeder system, ash system, i am probably forgetting some other places.
---
5/7 #19: My sawdustburner ...


Website: http://cellarworx.org
Well, mine survived the winter. I tore down my stove pipe completely. There was minor build-up inside mainly from the attempt to burn a barrel of 100% green sawdust. I removed everything on account of my shop floor replacement. I hate concrete work. When complete I will reinstall the burner higher off the floor even though the temp. of the floor is cold to the touch when running full tilt. You never know.
---
9/22 #20: My sawdustburner ...


I used sawdust to boil maple sap last March. I only tapped 1 tree. Got about 9 pints of syrup. This is a 15 gal burner inside a 55 gal drum. No draft control. I used fresh sawdust off the Woodmizer, and also dry planer chips. Just a big dishpan full of sap on top. The last picture shows a pot of additional sap preheating on top. Next spring I will tap 4 or 5 trees. Just doing it for a hobby. I'll go to a 30 gallon burner next year.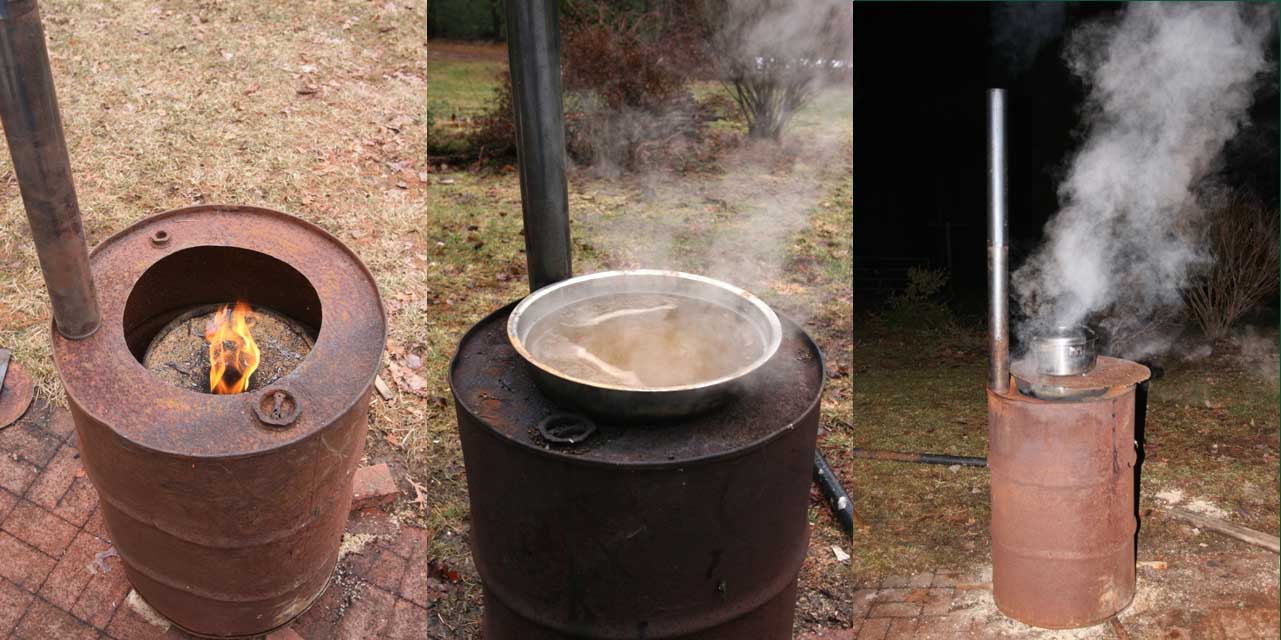 View higher quality, full size image (1281 X 640)

---
9/22 #21: My sawdustburner ...


Website: http://cellarworx.com
Mines still doing quite well. I just built a 700 plus sawdust storage hopper outside with an auger on the bottom. It makes filling my smaller barrels alot easier. The auger is run by a variable speed motor so I can control flow rate. For a while I was just blowing the dry dust outside onto a tarp. That was ok untill it rained. There went my heat for the winter. Oh well, glad that's in the past. Just have to fill my hopper again to get me through another winter.
---
11/14 #22: My sawdustburner ...


While you have that thing apart, how bout some internal pics?
---
11/14 #23: My sawdustburner ...


Looks good Steve. I've been using an experimental version in my house piped up my chimney with just a 5 gallon bucket of sawdust in a homemade stove. I can burn solid wood, sawdust for heating, or sawdust with a smaller hole for maintaining temperature. All good and fun just be careful as always. Playing with fire is always fun until we get burnt in some way. ;)
---
11/16 #24: My sawdustburner ...


Years ago I took a clean one gallon can that had a removeable lid on it and made my mini stove. I punched holes in the lid so it would have air for the flame. Inside the one gallon can was an open top can (small one about 3 1/2 inches tall). Inside the small can I placed a small candle. With the candle lit and the lid on, I had my survival stove for my truck while stuck in the snow. Worked great and I wasn't wasting gas . Found other places that I could use it at.
"X"
---
11/16 #25: My sawdustburner ...


I don't have any recent pics of it but I must say, sitting here typing next to it really makes me appreciate the presence of it in my shop. Despite some of the negativity this topic produced I have chose to continue on with it my shop. My eye's and ears are alittle more tuned in when I'm running it but it's still the same old sawdust burner. The only trouble I had with it is when I tried to push it's limits. Now I just pack it 5 gallons of wet per barrel, light it and carry out my work for the evening. Full tilt I get 78 deg. and dampered down I maintain 66-70 for 7 or 8 hours. I can't ask for anymore than that. I want to recreate it from stainless steel so it looks a little more pretty. Maybe some day.
---
11/17 #26: My sawdustburner ...


Well it will be good with the coming winter. I'm actually getting ready to retro fit water heating on mine to, so I'll have heat and hot water long after the fire burns out. Projects never end. :)
---
11/17 #27: My sawdustburner ...


I've wanted to do the heated water thing for a while. If I would have had the cash for the pvc tubing, I would have put it in the concrete before I poured and done it the right way. Please post your project if you go through with it and I will as well.
---
9/5 #28: My sawdustburner ...


Website: http://www.tablesawreviewsgeek.com/reviews/bosch-4...
I happen to believe that's the coolest little home made contraption I've seen this week. Would I put it inside the shop....probably not, but it's still cool. Thanks for sharing!
---

---
Buy & Sell Exchanges | Forums | Galleries | Other Resources | Site Map
---

Buy and Sell Exchanges

Job Opportunities and Services Exchange
Employment opportunities and services within the woodworking industry

Lumber Exchange
A worldwide buy/sell exchange for lumber and wood products

Machinery Exchange
A worldwide buyer and seller exchange for woodworking machinery and equipment.

Classified Ad Exchange
Classified advertising for the woodworking industry (for advertisements that do not include machinery, lumber products and employment listings)


---

Forums

Adhesives Forum
Discussing topics related to adhesives within the woodworking industry

Architectural Woodworking Forum
Discussing quality standards and production of architectural wood products

Business and Management Forum
A forum for the discussion of business topics: from sales and marketing to dealing with difficult customers.

Cabinet and Millwork Installation Forum
Discussing all aspects of installation issues encountered by cabinet and millwork installers.

Cabinetmaking Forum
Discussing 32mm and face frame cabinet construction including fabrication, casegoods design, and installation.

CAD Forum
Shedding light on the all-too-often shadowy world of CAD.

CNC Forum
Discussing CNC (computer numerically controlled) woodworking equipment, software, and automated product manufacturing.

Dust Collection, Safety and Plant Operation Forum
Discussing topics related to maintaining a safe and productive working environment.

Professional Finishing Forum
Finishing issues for the production environment

Forestry Forum
The science and art of forest cultivation and timber management, planting, surveying, tree diseases, silviculture and timber harvesting

Professional Furniture Making Forum
Helping professional furniture makers improve quality, save time, and increase profits

Laminating and Solid Surfacing Forum
Issues related to laminating and solid surface materials and processes

Commercial Kiln Drying Forum
Discussions covering issues faced be commercial drying operations that process at least 750,000 bd. ft. of lumber per year

Sawing and Drying Forum
Discussing topics related to primary processing and drying of lumber

Solid Wood Machining Forum
Discussing topics related to the machining of solid wood

Value Added Wood Products Forum
Learn how to improve your output, find new markets, and boost sales of your lumber products

Veneer Forum
Discussing topics related to veneer processing, manufacturing, and fabrication

WOODnetWORK
An electronic discussion group for woodworkers throughout the world


---

Galleries

Project Gallery
Where professional woodworkers can post examples of their work

Sawmill Gallery
Professional primary processing companies display and describe their sawmill facilities

Shop Gallery
Professional woodworkers display and describe their shop facilities, products and equipment

Shopbuilt Equipment Gallery
Professional woodworker's jigs, rigs, and shopbuilt equipment


---

Other Resources

Industry News
Late-breaking news from all sectors of the wood industry

Video Library
Index of industrial woodworking related digital videos on the web

Auctions, Sales and Special Offers
Advertisers offering woodworkers discounted prices on good and services, and announcements of upcoming auctions

FORUM GUIDELINES: Please review the guidelines below before posting at WOODWEB's Interactive Message Boards (return to top)


WOODWEB is a professional industrial woodworking site. Hobbyist and homeowner woodworking questions are inappropriate.
Messages should be kept reasonably short and on topic, relating to the focus of the forum. Responses should relate to the original question.
A valid email return address must be included with each message.
Advertising is inappropriate. The only exceptions are the Classified Ads Exchange, Machinery Exchange, Lumber Exchange, and Job Opportunities and Services Exchange. When posting listings in these areas, review the posting instructions carefully.
Subject lines may be edited for length and clarity.
"Cross posting" is not permitted. Choose the best forum for your question, and post your question at one forum only.
Messages requesting private responses will be removed - Forums are designed to provide information and assistance for all of our visitors. Private response requests are appropriate at WOODWEB's Exchanges and Job Opportunities and Services.
Messages that accuse businesses or individuals of alleged negative actions or behavior are inappropriate since WOODWEB is unable to verify or substantiate the claims.
Posts with the intent of soliciting answers to surveys are not appropriate. Contact WOODWEB for more information on initiating a survey.
Excessive forum participation by an individual upsets the balance of a healthy forum atmosphere. Individuals who excessively post responses containing marginal content will be considered repeat forum abusers.
Responses that initiate or support inappropriate and off-topic discussion of general politics detract from the professional woodworking focus of WOODWEB, and will be removed.
Participants are encouraged to use their real name when posting. Intentionally using another persons name is prohibited, and posts of this nature will be removed at WOODWEB's discretion.
Comments, questions, or criticisms regarding Forum policies should be directed to WOODWEB's Systems Administrator
(return to top).

Carefully review your message before clicking on the "Send Message" button - you will not be able to revise the message once it has been sent.

You will be notified of responses to the message(s) you posted via email. Be sure to enter your email address correctly.

WOODWEB's forums are a highly regarded resource for professional woodworkers. Messages and responses that are crafted in a professional and civil manner strengthen this resource. Messages that do not reflect a professional tone reduce the value of our forums.

Messages are inappropriate when their content: is deemed libelous in nature or is based on rumor, fails to meet basic standards of decorum, contains blatant advertising or inappropriate emphasis on self promotion (return to top).

Libel: Posts which defame an individual or organization, or employ a tone which can be viewed as malicious in nature. Words, pictures, or cartoons which expose a person or organization to public hatred, shame, disgrace, or ridicule, or induce an ill opinion of a person or organization, are libelous.

Improper Decorum: Posts which are profane, inciting, disrespectful or uncivil in tone, or maliciously worded. This also includes the venting of unsubstantiated opinions. Such messages do little to illuminate a given topic, and often have the opposite effect. Constructive criticism is acceptable (return to top).

Advertising: The purpose of WOODWEB Forums is to provide answers, not an advertising venue. Companies participating in a Forum discussion should provide specific answers to posted questions. WOODWEB suggests that businesses include an appropriately crafted signature in order to identify their company. A well meaning post that seems to be on-topic but contains a product reference may do your business more harm than good in the Forum environment. Forum users may perceive your references to specific products as unsolicited advertising (spam) and consciously avoid your web site or services. A well-crafted signature is an appropriate way to advertise your services that will not offend potential customers. Signatures should be limited to 4-6 lines, and may contain information that identifies the type of business you're in, your URL and email address (return to top).

Repeated Forum Abuse: Forum participants who repeatedly fail to follow WOODWEB's Forum Guidelines may encounter difficulty when attempting to post messages.

There are often situations when the original message asks for opinions: "What is the best widget for my type of shop?". To a certain extent, the person posting the message is responsible for including specific questions within the message. An open ended question (like the one above) invites responses that may read as sales pitches. WOODWEB suggests that companies responding to such a question provide detailed and substantive replies rather than responses that read as a one-sided product promotion. It has been WOODWEB's experience that substantive responses are held in higher regard by our readers (return to top).

The staff of WOODWEB assume no responsibility for the accuracy, content, or outcome of any posting transmitted at WOODWEB's Message Boards. Participants should undertake the use of machinery, materials and methods discussed at WOODWEB's Message Boards after considerate evaluation, and at their own risk. WOODWEB reserves the right to delete any messages it deems inappropriate. (return to top)



Forum Posting Form Guidelines

Your Name
The name you enter in this field will be the name that appears with your post or response (return to form).
Your Website
Personal or business website links must point to the author's website. Inappropriate links will be removed without notice, and at WOODWEB's sole discretion. WOODWEB reserves the right to delete any messages with links it deems inappropriate. (return to form)
E-Mail Address
Your e-mail address will not be publicly viewable. Forum participants will be able to contact you using a contact link (included with your post) that is substituted for your actual address. You must include a valid email address in this field. (return to form)
Subject
Subject may be edited for length and clarity. Subject lines should provide an indication of the content of your post. (return to form)
Thread Related Link and Image Guidelines
Thread Related Links posted at WOODWEB's Forums and Exchanges should point to locations that provide supporting information for the topic being discussed in the current message thread. The purpose of WOODWEB Forums is to provide answers, not to serve as an advertising venue. A Thread Related Link that directs visitors to an area with inappropriate content will be removed. WOODWEB reserves the right to delete any messages with links or images it deems inappropriate. (return to form)
Thread Related File Uploads
Thread Related Files posted at WOODWEB's Forums and Exchanges should provide supporting information for the topic being discussed in the current message thread. Video Files: acceptable video formats are: .MOV .AVI .WMV .MPEG .MPG .FLV .MP4 (Image Upload Tips) If you encounter any difficulty when uploading video files, E-mail WOODWEB for assistance. The purpose of WOODWEB Forums is to provide answers, not to serve as an advertising venue. A Thread Related File that contains inappropriate content will be removed, and uploaded files that are not directly related to the message thread will be removed. WOODWEB reserves the right to delete any messages with links, files, or images it deems inappropriate. (return to form)