Jig for beaded faceframes
Photographs of a shop-built jig. June 4, 2003
(From WOODWEB's Cabinetmaking Forum)
Here are some pictures of my jig for beaded face frames. This one is my 2nd prototype and is much easier to set up and change. It is based on a 50" square extrusion and I have built additional stops for creating drawer stacks and such. I still use the end miter setup (pictures are in the knowledge base) from the first jig, as it works well and I had no reason to change it. Overall this jig works great and is fast and accurate.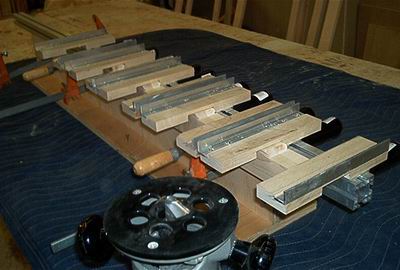 Here's another view: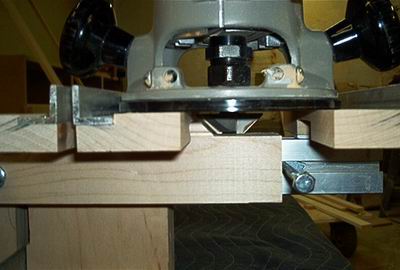 (See pictures of another jig here)

---
The comments below were added after this Forum discussion was archived as a Knowledge Base article (add your comment).
Comment from contributor A:
Don't you get tearout? I would suggest making the maple jig come out as far as the long edge of the miter. This would create a backer to eliminate tearout.
---

Would you like to add information to this article?
Interested in writing or submitting an article?
Have a question about this article?

Have you reviewed the related Knowledge Base areas below?

---



All rights reserved. No part of this publication may be reproduced in any manner without permission of the Editor.
Review WOODWEB's Copyright Policy.

The editors, writers, and staff at WOODWEB try to promote safe practices. What is safe for one woodworker under certain conditions may not be safe for others in different circumstances. Readers should undertake the use of materials and methods discussed at WOODWEB after considerate evaluation, and at their own risk.

WOODWEB, Inc.
335 Bedell Road
Montrose, PA 18801

Contact WOODWEB Copyright © 1996-2020 - WOODWEB ® Inc.